Interview: Upbeat Joel McHale And Dan Harmon Talk 'Community'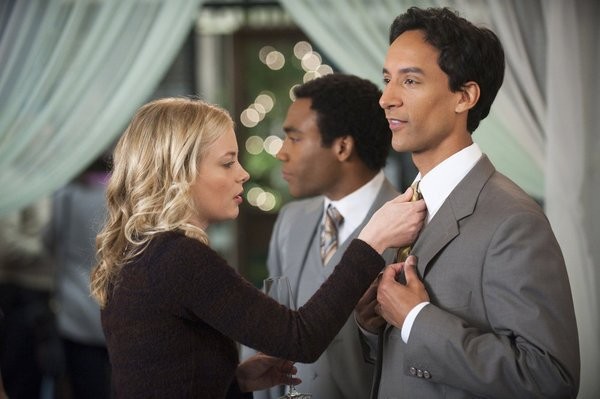 "I don't want to raise expectations, but this is going to be the greatest second half of any television show in the history of the world." He may be joking, but Community star Joel McHale's upbeat attitude perfectly echoes the feelings of the legions of fans who have been anxiously awaiting the return of TV's most inventive and creative comedy. After being put on hiatus by NBC back in November (never a good sign for a show which has struggled to increase viewership), Community returned last night with a long-awaited new episode called "Urban Matrimony and the Sandwich Arts." 
Discussing the much-publicized hiatus and the show's tenuous future, McHale, who plays former lawyer Jeff Winger, and show creator Dan Harmon both sound cautiously optimistic. Referencing the show's Thursday night timeslot opposite CBS' hit sitcom The Big Bang Theory, Harmon says, "I've always been proud to plant our feet [in that timeslot] and take a kidney punch week after week" referring to the Community's less-than-stellar weekly ratings. But the loyal fandom that rose up to support the show during its time off proves to Harmon that ratings might not be the only thing that matters. "I mean, our worst enemy has always been the Nielsen ratings, so we're eliminating that sense of our success. All of a sudden, the only way to measure us was by the fanaticism of a global audience." 
McHale agrees. Regarding the hiatus, the actor says, "If anything, it really showed the insane support for the show by the fans. I think it's really kept our show in the conversation and created even more of a buzz about the show." McHale is right as evidenced by online campaigns such as the #sixseasonsandamovie trend on Twitter and the "Save Community" Facebook page. Many fans went so far as to digitally add an Evil Troy/Evil Abed goatee to their Facebook profile pictures, a reference to "Remedial Chaos Theory," one of this season's most complex episodes. 
Speaking of "Remedial Chaos Theory," Harmon points to that episode as a perfect example of how even he and the other writers don't know which episodes will most resonant with viewers until they hear the reactions. "I didn't even know until the night it aired that [the episode] was going to be the favorite of the season. It was a conceptual episode that mainly focused on people eating pizza." If that isn't enough justification for his puzzlement, he goes on to point out that "7/8 of the show didn't exist" referring to the multiple timelines that are explored. 
So, what will fans have to look forward to in the second half of Season Three? "I know [NBC] is really excited about the Law & Order episode," McHale teases. Harmon adds, "Michael K. Williams comes back for a final triumph…He's great in it." The The Wire star made several appearances earlier in the season as a Biology professor who has recently been released from prison. Viewers will also get a little more of John Goodman as Vice Dean Laybourne who is isn't finished trying to convince Troy to join the Air-Conditioning Repair School. 
Even though Community has struggled to find a consistently large audience, Harmon doesn't have any plans to change the brand of entertainment they produce. "There's respectful pressure on me constantly to find the joy in templating the show," Harmon says referring to more traditional sitcoms like 30 Rock or The Big Bang Theory. "But [NBC] doesn't demand it. Nobody's fired me yet. At the end of it they've always given me my latitude and I've tried not to abuse it." 
The good news is Community is back, but it's not clear whether or not it has a future beyond the end of this season. If it was up to the fans, the show would get at least six seasons and a movie, but for now they would be happy just getting a fourth season.