Interview: Tracie Thoms Chats Stage, 'Wonder Woman' & 'Cold Case'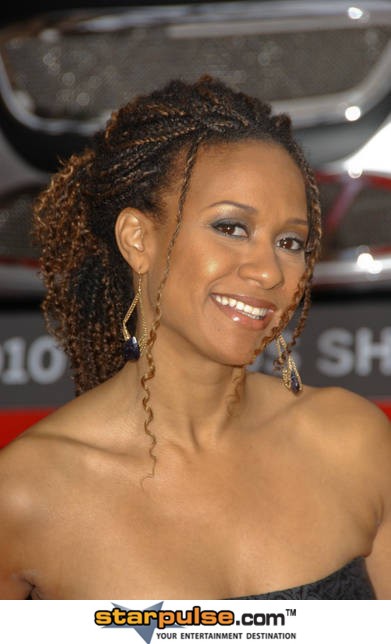 Around these parts, we know Tracie Thoms best from her recent run as Detective Kat Miller on CBS' Cold Case. She's been busy since the show left the air last year, though: she turned up as Winston's ex-wife on our beloved Human Target, has a role in NBC's much talked about Wonder Woman pilot, and is currently gracing the Los Angeles stage in For The Record: Baz Luhrmann, which celebrates the music of the Moulin Rouge director. Tracie sat down with me recently to discuss the new ventures that are part of an already prolific career.
You're back on the theater scene again. What can you tell us about this new play, and what attracted you to doing it?
I'd been doing cabaret with them on and off. Last year, [executive producer/director] Shane [Scheel] started doing this "For The Record" series, and the first one was [Quentin] Tarantino. And of course, I was in Death Proof, so he was really excited about having me be a part of that. It all just kind of fell together. It seemed like a natural progression.
How different is Los Angeles theater from working on or off-Broadway?

The L.A. theater scene is very different. The perception has been that people who love theater, do theater in New York. The people who want to be discovered, do theater on the side in L.A. But there are people who are very dedicated to theater, who love theater in L.A. In five years, the theater scene has grown immensely.

In addition to a lot of theater experience, we've seen you with a long-running TV gig and several movie appearances. Do you have a preference between mediums? Is one more challenging than the others?
I think theater will always be my first love. I've been doing it since I was nine and there's nothing quite like being on stage, having the immediate intake of energy and exchange of ideas. It took awhile for me to grasp film and TV.
Of course, we can't talk about your career without discussing your role on Cold Case. You were part of one of the best procedural ensembles on TV. What was it like working with that cast?

I joined that cast late, but they immediately embraced me. It was really like a family unit. I miss those guys and girl so much. We all got along really well. I looked up to all of them so much and learned so much from each of them. I mean, John Finn was in Glory with Denzel Washington.
It was the show that everybody wanted to be on. The storylines were really, really geared toward our guest stars, so we could get the best out of them.
After being in one role for several years like that, what goes through your mind when it ends? Is it challenging at all to move forward with your career?

It's challenging, because it's a mind trip. I try to go out of my way to make sure that while I'm doing that, I continue to do other things. But that becomes difficult, schedule-wise. It's like a whole chapter in life closes. There's a withdrawal that happens. It's incredible, but it's difficult.
You had a guest spot on Human Target this past season as Winston's (Chi McBride) ex-wife. What was that like to work on? I remember hearing that it was potentially a recurring role, but we only saw you in one episode ("Dead Head").
That was amazing. That was my first job on TV after Cold Case. Everybody was incredibly sweet. They kept trying to get me on Pushing Daisies with Chi, so when the role of his ex-wife came up, he requested me. I literally shot one day, but they're such a great, great group of people over there. So many people saw Human Target that it surprised me.
They talked about having me back. It's always fun when you have a role that may return, but the way that shows are written, it's sometimes hard to work it back in.
Now you're working on Wonder Woman, which is probably one of the most talked about pilots out there right now. How is that going so far?
It's a dream come true. What I can say about it is that I'm having a blast. Everybody is working so hard to make Wonder Woman recognizable and fresh at the same time.

What do you get recognized for most? Is it Cold Case or something else?
Rent, more than Cold Case, which is weird. I get told I look like the girl on Cold Case, because there was a weight to me [in that role] that I don't walk around with in real life.
With everything you've done in your career, what are some of your future aspirations?
Everything. I think that we're getting to a place where the separation between black projects and non-black projects is ready to come down. I'm really looking forward to developing just really fun, complex, interesting stories about people who happen to be black. So many of us have believed for so many years that black movies are for black people, and I don't think that's necessarily true anymore. What Hollywood thinks people want to see isn't necessarily what they want to see.

What TV shows do you watch?
My problem is I have a short attention span. I love True Blood. Cable shows right now have no boundaries. I was glued to Big Love and Six Feet Under. My father couldn't miss an episode of Brotherhood and then I want to get caught up on The Chicago Code. I started watching Harry's Law because I did it, and I love it. There are so many shows that I want to be into but I'm behind. I like shows that are ensemble-based, that explore the humanity of every character.

My thanks to Tracie Thoms for this interview! For more information on For The Record: Baz Luhrmann, and to purchase tickets, you can visit the venue's website at ShowAtBarre.com.