Interview: Tough Guy Dolph Lundgren On Being A Cultured Killer In 'The Package'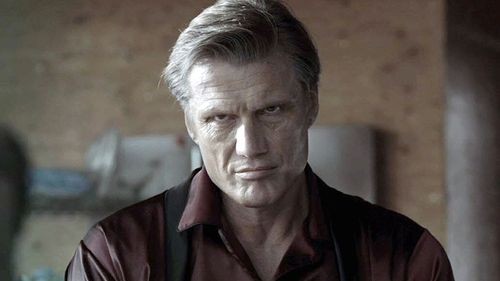 Action stars come and go but nobody has had more powerhouse staying power then tough guy Dolph Lundgren.  Blasting onto the scene back in 1985 as Ivan Drago the Russian foe to Sylvester Stallone's American Rocky Balboa in "Rocky IV", Lundgren has made a career playing some memorable and iconic on-screen heavies.  Some of his most memorable include playing the sassy Russina in "Red Scorpion", teaming up with the late great Brandon Lee in "Showdown in Little Tokyo" and the surly cop to Brian Benben's goofball detective in the cult classic "I Come In Peace."  (Not to mention Dolph was both He-Man and "The Punisher" Frank Castle – the list goes on and on!)  With the recent success of the Expendables films, Dolph has been busier then ever before and his latest project "The Package" has Lundgren back in the action saddle.  He plays a dangerous underworld figure simply know as The German, an assassin with some very refined knowledge and taste who gives hero Steve Austin some bad guy force to be reckoned with.  We got a chance to chat one-on-one with the legendary man himself who talked about working on "The Package", teaming up with fellow Expendables star Austin, plus we take a walk down past work lane to highlight the best of the best in his career.  Grab your guns and head for cover, here's...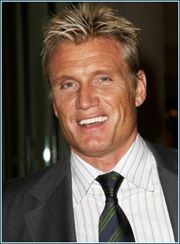 Your character in "The Package" named The German seems to be not only a lethal man but very cultured and well rounded – what are your thoughts on his past and what made him the way he is?
Dolph Lundgren: I agree with you – the script described the character in such a way that I was interested to play the person.  It was something I've done before, but it was a terrific combination of lethal and as you said cultured.    
There's a great fight scene between you and Steve Austin in this one – having previously both worked on The Expendables was it fun to team up again?
DL: Yeah, for sure.  We only had one scene in that film, but Steve is a great guy.  He's one of those actors who can really fight, so it makes it much easier and fun.  So you can fight the actual person and not a double.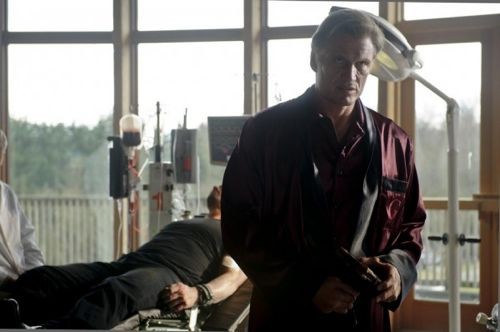 You shot this one in Canada, not only as seen by the locations but staples like actors Lochlyn Munroe and William B. Davis, what was it like to shoot in British Columbia? 
DL: I have shot there a couple of times – I directed a picture up there a couple years back.  I like it.  It's a break from LA and there's a quality to the people there.  Unfortunately they don't do as many movies as they used to in Canada because I always liked working there.
What's most interesting about your body of work is how you have done both leading man roles, but also saucy side characters – do you feel comfortable in both situations?
DL: Yeah, I decided a couple of years back after "The Expendables" that it was kind of cool to play the underdog.  And to have more of an interesting character – he doesn't have to be the lead.  It also doesn't put you under as much pressure and you can do more.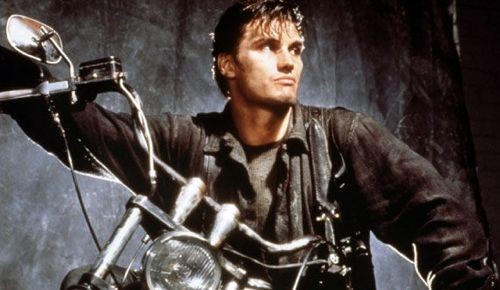 I've always liked your Frank Castle and the very straightforward focus of your portrayal of "The Punisher" – how did you see Castle as a character when you made that film?
DL: I haven't seen the other ones, but it was kind of weird to read the comic and they say this is the guy you're playing instead of reading a script.  But it was cool and there were a lot of martial arts aspects to it like bringing fighters from Japan to play bad guys.
I also loved the quirky pairing of you and Brian Benben in "Dark Angel" aka "I Come In Peace" – was there an instant chemistry between you two?
DL: Yeah, it was a good match up.  It was like M. Emmet Walsh in "Red Scorpion".  He was experienced and I was on my forth movie and I really enjoyed working with him.  I remember watching him on set and he was very much in character and you never knew what he was going to do or say.  Another time like that was Brandon Lee...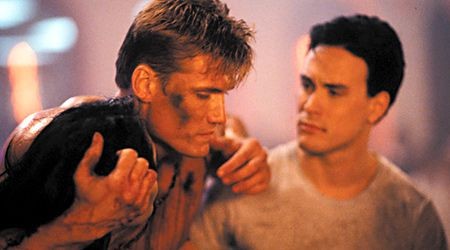 Right, you worked with the late great Brandon in "Showdown in Little Tokyo" – what was he like at that time?
DL: He was very humble, hard working, very ambitious and I think he would have been a huge star - he had whatever Bruce Lee had.
"THE PACKAGE" IS AVAILABLE ON DVD/BLU-RAY NOW FROM ANCHOR BAY ENTERTAINMENT.