Interview: 'The Theatre Bizarre' Female Serial Killer Kaniehtiio Horn On Vision Stains, Creepy Contacts And Playing Androgynous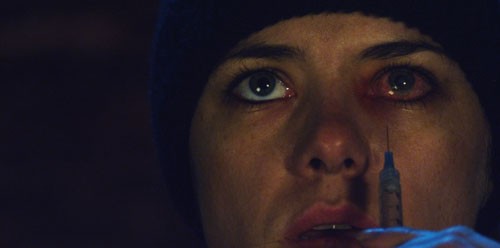 A female serial killer is odd enough, but one that drains the eyeball fluid of her victims in the last moments of death for her own fix?  Welcome to "The Theatre Bizarre."  The new sick and twisted horror anthology tale (which hits theaters for Midnight shows in select markets beginning Jan. 27 from W2 Media) features a group of six truly off the wall stories from directors like Richard "Hardware" Stanley, Buddy Giovinazzo and Makeup Legend Tom Savini guaranteed to gross out.  Lustful witches, paranoid lovers, childhood nightmares and sex and sweets are just a few of the demented subjects tackled within.  But the best of the bunch by far is the short entitled Vision Stains by "Hobo With A Shotgun" Cinematographer Karim Hussain, a highly original tale of a focused female killer who becomes addicted to absorbing other people's memories through the injection of their eye fluid into her own.  The segment is so rich, powerful and poignant (aka if it were on it's own it would get five stars no question!) that we're taking time this week to celebrate it and "The Theatre Bizarre!"  First up is a little one-on-one Q&A fun with Vision Stains leading lady Kaniehtiio Horn, who provides one of the first five-star female performances of 2012 as the psychotic maven on a mission.  So get your needles ready and raise them to your eyeballs – here's...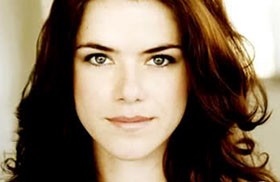 First off, you have a fantastically unique look – what's your own background?
Kaniehtiio Horn: My mother's Mohawk and my father is Scottish/German from Nova Scotia.  But my mother is Mohawk and super dark, so I think that might be part of it.  She used to model in the 60's and was part of the civil rights movement for Native Americans.  I used to live on a reserve, but I went back and forth between my reserve and Ottawa where my father lived, so I kind of had a double life growing up.  
How did you become involved in Vision Stains for "The Theatre Bizarre" and what was your reaction upon reading the script?
KH: I got an e-mail from Karim just saying we're making a film, we would love to have a meeting with you, could you read the script?  It's happened to me before where I got myself in weird positions where it's sketchy and didn't pass through my agent or a union and got it directly from the filmmaker.  But I read this one and I was like, 'Oh my God – this is so cool and f#cked up!' and how often does a female get to play a serial killer?  Plus I love doing short films - my career started with them – every frame and second counts.  But just the fact that they thought of me – that's pretty damn flattering.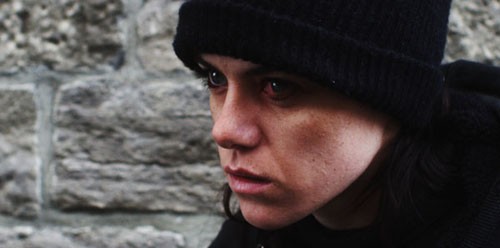 Were you able to do any research as far as your character goes or create a background on her – what was your approach?
KH: I don't know anything about the genre and that was one reason why I thought it was cool.  Also I met Karim and he was so incredibly obsessed with that stuff that he was the perfect teacher.  He made me watch one movie with a guy who thinks he's a modern day vampire and he's actually a serial killer – it was weird.  But the guy didn't talk much and it was all about his movement.  When I got the original breakdown e-mail it said this person must have a background in dance.  I don't consider myself a dancer, but I've done a lot of movement and after I watched the film I understood.  You had to have some kind of body awareness to play the part.
The look of your character and her lair – did you have an input as far as her clothes and surroundings?
KH: Karim already had it all in his head.  He had been writing the thing forever, it started as a feature film and then he made it into a short.  Plus at first it was a guy!  It's not that I didn't have input, but it felt more like a collaboration.  But I trusted him so much and I was so eager to portray the image he had in his mind.  Karim was aiming for someone androgynous and when I look at it I just see bushy eyebrows and it's not a very flattering role – but I dig that.  I hope the rest of my career is like that.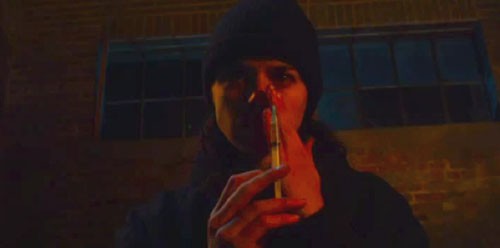 The bloodshot eye contact – was it odd having it in and did it ever prove difficult for you?
KH: I wear contacts anyway so it wasn't like…oh, there's something in my eye!  I had to go to this place and get my eyeball measured and Karim came with me and he was totally into it!  So a week later this lens came and it was only in one eye – I had my regular contact in the other – and it was so detailed and cool with the little veins and everything.  But I had to fold it and then slip it under my eyelid and slip the other side below my eyeball.  It actually didn't really bother me – I got used to it.
There is some pretty raw and emotional work by yourself in this role – including being physically naked – what was the hardest part for you?
KH: The nude part wasn't so hard, but it was in weird conditions because it was an abandoned factory.  It's funny because sometimes it gets to the point where everyone's freaking out more then the actor, but I was just in the zone.  I have a theater background, so I like finding beats, working on things and having rehearsal.  We did that for about a month, so when it came to being on set with Karim I knew how it would be.  Emotionally it was hard, but you can't let it totally consume you.      
What was the relationship between you and Karim on this project – what kind of a director is he?
KH: Thorough - he sets a good positive vibe on the set.  He's a strange cat, but I love him.   
The music by Simon Boswell, who also scored the classic "Hardware", compliments your pitch perfect performance – did Karim ever discuss his thoughts about score with you?
KH: Yeah.  He discussed every little detail with me.  I came in to do the voiceover three times, so I was involved a lot.  I love the music they put in there and Simon did an awesome job - if it were anyone else it wouldn't have worked.
So what's next for you?
KH: Right now I'm in a movie called "Penthouse North."  I play Michelle Monaghan's pregnant sister and Michael Keaton plays a bad guy in it.  Besides that I did a comedy pilot for CBC and still waiting to see if we get picked up. 
Stay tuned to Starpulse for more "The Theatre Bizarre" coverage to come!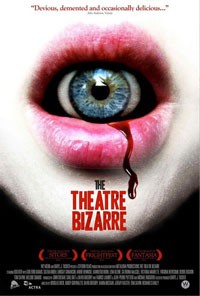 "THE THEATRE BIZARRE" HITS SELECTS THEATERS FOR MIDNIGHT SHOWS BEGINNING JAN. 27 FROM W2 MEDIA.