Interview: 'The Revenant' Star David Anders On The Ups And Downs Of Being Undead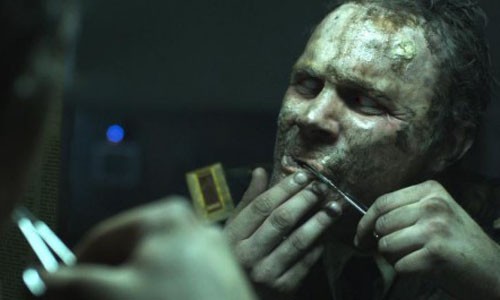 Ever have one of those mornings where you wake up and realize...you died?  That's just what faces a recently deceased soldier who returns home from his tour of duty undead in the horror comedy "The Revenant."  (Out on DVD Sept. 18 from Lionsgate Home Entertainment)  This five-star jumping genre must see flick is the brainchild of writer/director Kerry Prior and stars new comical undead buddy-buddy team David Anders and Chris Wylde as a couple of guys with guns aiming to make the streets safe for the living dead.  We are finishing our loving coverage of all things "The Revenant" with a final one-on-one interview with the bloodsucker himself Anders who talks about the films' unique tone, working well with Wylde and the joys of wearing heavy contacts the whole shoot.  Cut off the head and hold onto your blood, here's...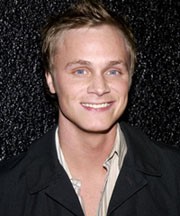 "The Revenant" lovingly jumps genres and tone often – did you see this when you originally read the script and what were your first thoughts?
David Anders: I knew when I initially read it that it was a vampire buddy comedy.  I think that's still at the core, the fact that it's about a friendship.  It's about dire circumstances and bloodlust, but as we went along it became something more and something else.  And of course Kerry putting his stamp on it and putting it together – it all works somehow!  (Laughs)  We're all very proud of the final product.   
What kind of a director is Kerry Prior?
DA:  He was great.  He can be a very intense dude and then he can be a teddy bear, but this was his baby.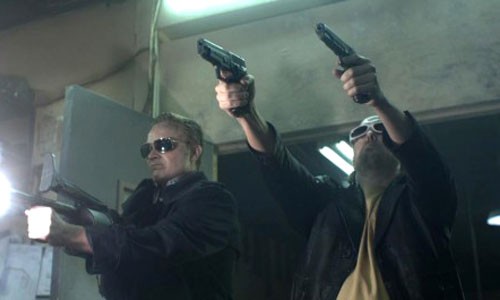 The chemistry between you and Chris Wylde is like a more twisted Simon Pegg and Nick Frost ala "Shaun of the Dead" – did you guys click right away?
DA: Yeah.  He's a very funny guy and I like to laugh and it was just a treat to work with him.  Chris and I would deviate often and always from the script just to keep it real and organic.  But we became fast friends and he's one of my best friends now.  Sometimes when we were working together we would do our version – it was great.  We've actually been batting around ideas for a TV show together because we love working together.  We could become the new De Niro and Pesci – well, maybe we're the next Frost and Pegg!
I was surprised to learn from the DVD that the fantastic opening scene was not in the original festival cut of the film – we're you surprised it wasn't in at first?
DA: Oh, yeah.  You need that.  You need to see how he died and then with the final scene it's a perfect bookend.  There are so many variations of this movie, there are so many cuts and the first one was way over long.  You needed the core to be about me and Chris, so I think by the third or fourth cut I was like, 'Okay, now we got something!'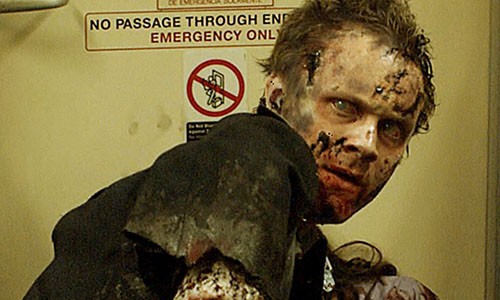 The creepy eye contacts – how was it wearing them throughout the whole film?
DA: It was the only quarrel I had before I agreed to do it.  I had very sensitive eyes and I didn't know if I could do a full shoot in them.  And they were like, 'Oh, don't worry about it.  Do not even think about it – we're gonna do it in post.'  And cut to day one and I'm wearing the contacts!  Then in re-shoots I didn't wear contacts at all and he did it in post!  (Laughs)  But it helped me in that it served the character, was a great to hide behind and was freeing as an actor to be in the makeup and not being able to see.  As uncomfortable as it was, it was freeing, but there were days that I wasn't a treat to be around.  Thank God for Chris Wylde because he cheers me up.
Loved your guys' drinking commentary track on the DVD...
DA: It's probably the best DVD commentary in the history of commentaries!  I'm really interested to get the DVD and hear it because I think I remember some of what I said!
What's next for you?
DA: We're in the second season of Once Upon A Time on ABC and the first episode is on the 30 of September.  And we just wrapped episode 205 which is going to be the Halloween episode and it's gonna knock your socks off I promise!
"THE REVENANT" HITS DVD SEPT. 18 FROM LIONSGATE HOME ENTERTAINMENT.