Interview: 'That's What She Said' Sassy Gal Anne Heche On Playing Caustic, Gus Van Sant And Volcanoes in L.A.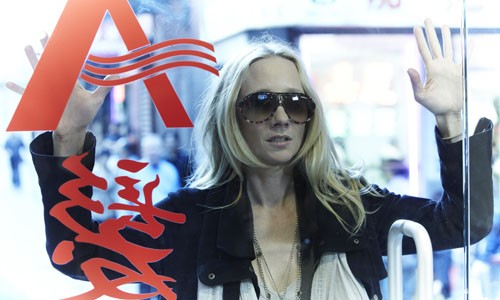 It's official – we love actress Anne Heche.  And not just because of her very notable past work in films like "Walking and Talking," "Donnie Brasco" and Gus Van Sant's shot-for-shot remake of "Psycho" or even her tasty turns in such recent outings as "Spread," "The Other Guys" and "Rampart."  No, the big reason we've become such uber-fans is because nobody of late has been cooler, funnier and more gracious in an interview then the humble Heche – a pure delight is an understatement.  It's fitting because the current project being discussed, a dark comedy titled "That's What She Said" (opening Oct. 19 in L.A. and VOD from Phase 4 Films), features a real tour-de-force performance by an inspired Heche – by far the best work of her career.  She plays the equally caustic and funny Dee Dee, a New York gal who alongside her best friends Bebe and Clementine (played with natural feminine gusto by actresses Marica DeBonis and Alia Shawkat) spends an unforgettable day embarking on some amusing and not so amusing misadventures.  As previously mentioned, Starpulse got the rare and joyous opportunity to chat one-on-one with the hilarious Heche, who happily talked all about playing the very memorable Dee Dee, the reactions to her very direct character, plus a quick peak into some of her most prolific past work that we love.  (And she's got amazing stories you won't want to miss!)  It's our distinct pleasure to bring you the vivacious and candid...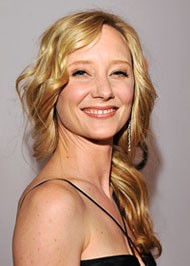 First off, I have to say you are fabulous in this film, plus the script is amazing!  I'm a guy and I laughed my ass off watching this film!
Anne Heche:  Thank you so much!  James (Tupper, husband) laughed harder then anybody else when we first went to the screening and I was like, 'Why do guys laugh so hard?'  I think it's such a relief to see girls behaving this way – it seems so absurd and out of control.  And then I thought wait, maybe it's not that.  Maybe it's that guys are finally seeing the girls that they're used to seeing...on screen!  Like what a relief!            
Your character Dee Dee has a candid and caustic exterior, but with a raw emotional inner core – what was your approach to playing such a complex character?
AH: When you read a character that smokes and brushes their teeth at the same time, you are both completely attracted and completely repelled.  And I felt I needed to do both of those things every second I was on screen.  You have to get really, really, really down and dirty about the truth of someone who would treat themselves that way.  Then get really, really, really funny about allowing somebody to have a point of view on that that would make you laugh and not just...die.  (Laughs)  I gotta say I put in a lot of hours to try to figure her out to be honest.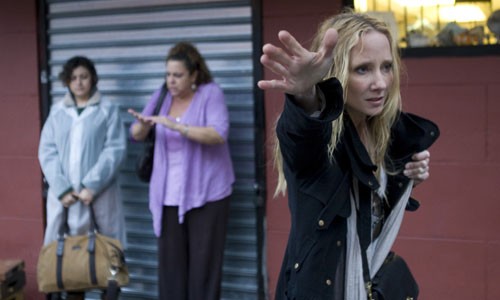 Dee Dee has some amazing laugh out loud quips – how much of that was from Kellie Overbey's script and how much did you bring to the role?
AH: Kellie wrote me such an amazing character.  I will tell you that this is Kellie's script.  They did it nine years ago in a play called "Girl Talk" and they of course adjusted it for screen, but not so tremendously that they were lying about it not being a play.  They really did want to bring a play to the screen and so many of those jokes were there.  I have got to give it up to her – I read her script, fell in love and said I would do it.  I did not come after it with 'this needs to change and that needs to change.'  There were some things that were still adjusting based on making it really work for the three of us and all the locations we had, but it was there.  She wrote Dee Dee as this extraordinary wild woman and I poured myself into it.   
What's most interesting about the film is that while men are talked about, there are none featured in the film – was this a choice made to enhance the idea that this is a story about what it's like to be a woman?
AH: I think very much so – for sure.  As funny as this movie is it's also an intimate experience that women have watching it because the three lead characters have all given away their power to men.  So in defining those men, I think Carrie (Preston, Director) probably thought that would not allow the audience member to have their own experience around and about their own giving away of power.  Creatively it was a really bold choice and Carrie is nothing if she is not bold and creative in her choices – she wanted to be fearless.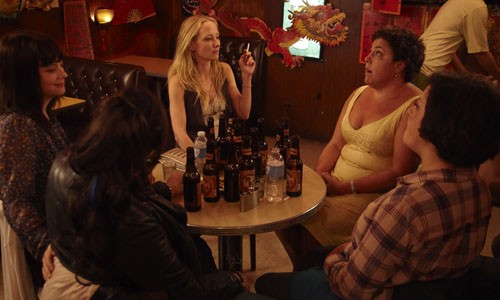 The film isn't afraid to show all things good, bad and ugly –was this a conscience choice by Director Carrie Preston?
AH: Of course.  She knows the complications of women – we're not always pretty.  And to push that even further and put us in a real position of fear and doubt, for Dee Dee self-loathing, insecurity, it's watching at the underbelly.  Finding each other through that is a love story of women.
You choice of roles are so varied and bold – what goes into your decisions?
AH: Some of it is luck and being offered things that are so uniquely different and some of it is what I seek out.  I think I've had incredible luck of working with such extraordinary people and artists – this community is shaped by how the river flows.  And sometimes it's that I really want something and I fight my tail off for it and go and audition and read and show what I feel like is the best way to interpret the woman for the story that I'm trying to tell – then sometimes I'm lucky to get them.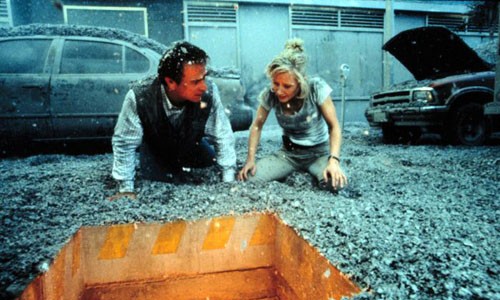 Past work - I've always been fascinated by Tommy Lee Jones as a performer – having made "Volcano" with him what kind of actor is he on-set?
AH: I would never put him into any sort of box - I would say that he's true.  He's true to that person and of course we were doing "Volcano," so the whole premise of it was so absurd.  (Riffing and joking)  I was like a Seismologist and you're like come on!  A volcano?  Really?  Really?  We're really talking about a volcano on Beverly Boulevard?  Okay!  So you want to make fun of it, you're kind of compelled to make fun of it, but with Tommy you can't.  He won't.  You don't.  Because for some reason he's a rock.  So you're like you know what, Tommy Lee Jones is doing it?  There could be a volcano, right here, in Los Angeles.  It's gonna happen and it's gonna happen today because you look at him and you're like it's happening right?  This is it – we're afraid of this and that's what we're doing.  (Laughs)  Tommy.  A person who makes you not even be able to make fun of such an absurd thing as a volcano in Los Angeles.
"Donnie Brasco" is a powerhouse flick actor wise, can you talk about making that film?
AH: I always say I got that movie totally by accident – I wanted that part so badly.  That was basically a script that came to me and go and audition.  Put yourself on tape and go sit there and fight for the role.  I remember I went to a restaurant and Catherine Keener was sitting there and of course she and I had just done "Walking and Talking."  So I went up and threw my arms around her like, 'Catherine, Catherine!'  She's like, 'What are you up to?'  'Oh my god, I just did the funniest audition!'  And I told her about it and she was like, 'I auditioned for that too!'  I was like, 'Oh really?' – then I'm like I'm never gonna get this!  And I said, 'Was that Jersey accent hard for you?  She's like, 'Jersey accent?  What are you talking about?'  I said, 'The wife, right?  You auditioned for the wife?'  And she was like, 'Yeah, but she's not from Jersey, she's from Florida.'  I thought oh my God.  So I was mortified of course because I hear characters and I thought that's so bizarre.  Then I got the role!  They said, 'We loved what you did so much, we want you to do the same thing.' (Laughs)  That was a moment in my life that was so amazing because I thought I had made such a huge mistake.  Really when I hear characters I can't really do anything about it, it's like they exist and I find them or they find me.  But that was the most extreme and I'm sure it's gone about my life the same way - I hear them, I see them, I feel them and then they have to come out.  Sometimes they're right for other people and sometimes they're not.  Sometimes you do a Jersey accent and you're supposed to be doing Florida, but you still get the job!  (Laughs)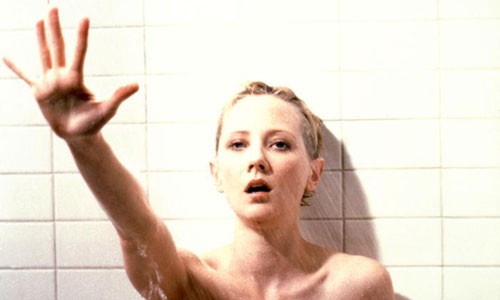 The original "Psycho" is an iconic movie experience – what made you want to play the Marion Crane role for Gus Van Sant?
AH: Gus.  Oh my God, Gus's passion for it was so extraordinary.  He loves Hitchcock so much that he wants to do this shot-for-shot remake.  I actually just gave him a lifetime achievement award at the San Diego Film Festival and so I was looking up all this stuff about him and I'm a tremendous fan.  I wanted to find out some fun things that people wouldn't know and he was asked about "Psycho" at one point and why he would make a shot-for-shot remake.  He said, 'Well, so that no one else would have to.'  So you can imagine meeting him, you're like, 'You are this film guru and I will do what you say, thank you.  You want me to play Mary - I'm playing her.  And not only am I playing her, I'm going to walk like her, I'm going to move my hands like her on the steering wheel, I want to do and respect and honor what you're doing in this tribute as much as you are.'  And that in of itself is so interesting and such a challenge and so unique and never before was anybody or since probably have that offering of experiences in my life – and he did.  I'm just so happy I got to do it.       
With your character in "Six Days, Seven Nights" more on the comedic side – thought not the caustic side of Dee Dee – did you feel that helped in terms of your comedic timing?
AH: For sure it did.  I'm going to do a half-hour comedy for NBC right now more on the joyous side of comedy, not the dark side of Dee, that's born out of positive and spirit and fast-talking, gum-cracking comedy.  But that was...I mean how do you describe working with Harrison Ford in Hawaii as anything other then miraculous.  But I sat down with Harrison and I remember getting the script and going I can do this with my eyes closed.  And I remember saying that to my agent and going, 'Who's the guy?'  They said Harrison Ford and I'm like, 'I'm not getting this!'  And they're saying, 'No, they want to meet you,' which I thought was so bizarre anyway.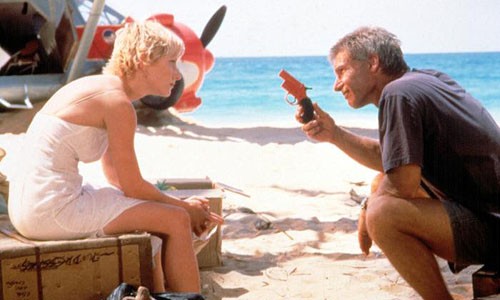 And like the actress who stuck my foot in my mouth, like I have many times and never stopped doing for some reason it always happens to me, I sat down with him and blurted out that "Star Wars" was the first movie I ever saw.  And he's like, 'Excuse me?'  (Laughs)  'I think there might be an age difference here that we should talk about and if you get the job we're gonna talk about it in the movie.  Gosh, I guess if she's bold enough to say that to me, she's bold enough to play the part.'  It dictated our relationship to this day - that he championed me for that role and every day I was in gratitude for it.       
So what's next for you?
AH: Let's see – "Arthur Newman" should be coming out very soon.  It's with Colin Firth and I'm very excited about that.  Also my husband and I just created a new Sunblock for kids called Tickle Time – it's the first powder mineral Sunblock.  So that's a big part of my life right now, is helping kids have fun putting on Sunblock.  You can check us out at www.tickletimesunblock.com!
"THAT'S WHAT SHE SAID" OPENS OCT. 19 IN LOS ANGELES AND VOD EVERYWHERE FROM PHASE 4 FILMS.