Interview: Thad Luckinbill Is 'Nikita's' Rare Normal Guy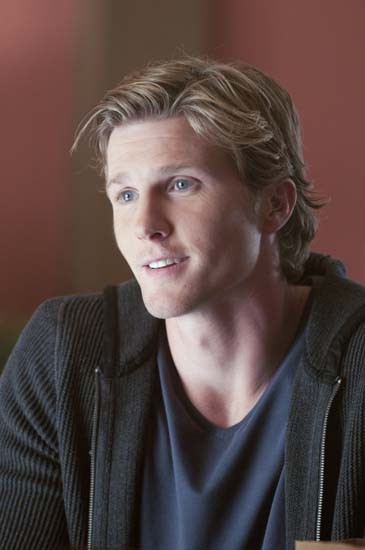 Tonight, actor Thad Luckinbill joins The CW's Nikita as Nathan, who becomes a new love interest for Alex (Lyndsy Fonseca) once she begins a new life outside of Division's walls. He sat down with me Tuesday to talk about his arrival on the spy series and what role he has to play in the big picture.
Almost everyone else on Nikita is in the spy business. What's it like to play the one person who's a relatively normal guy? Do you wish your character was "in the game"?
It's fun, that's the short answer. I'm a little jealous [but] Nathan's a fun character. He's the kind of normal person that they haven't met yet, that Alex certainly hasn't been around.
I'd be open for anything. I've certainly enjoyed where they've taken the character so far.
When you're coming into a show for a guest arc - especially one with as dense a mythology as Nikita - how much preparation do you do? Do you want to know the big picture, or do you focus on strictly your piece of the puzzle?
I focus really hard on the particular episode I have. Whatever anybody would tell me is great; however, a lot of times you don't know. They kind of keep a lid on it. I honestly don't know much more than what you guys know. It almost plays better, as Nathan comes into it knowing very little.
You've done guest appearances on plenty of shows (including Ghost Whisperer, Without A Trace and all three CSI series) while also recently concluding an eleven-year run on The Young and the Restless. How do you manage it? (Other than the fact that all those series appear on the same network.)
Several years ago, I had the Young & The Restless job, a movie, and I was shooting a pilot for The CW. Believe me, I didn't sleep. After that, two at the same time was fine.
Speaking of Y&R, your Nikita role reunites you with Lyndsy Fonseca, who worked with you for four years on the soap. Six years later, what's it been like to reconnect? Has working together been the same or different from when you worked together previously?
In the sense that she's playing a very different character. We're older, and that brings a different dynamic. There's so much that's the same, because we still have that same connection. There's some really great stuff between Nathan and Alex, but I can't give it away.
There's a really fun scene in the second episode I do where Alex and Nathan and Shane [West]'s character Michael all interact. I think the audience will get a kick out of that. It's a bit awkward.
What shows do you watch?
I loved Lost. I like The Office. I'm really into Deadliest Catch. When I got this part, I started watching Nikita and I got hooked. It's a great show.
My thanks to Thad Luckinbill for this interview. Check him out when Nikita returns tonight at 9 PM ET/PT on CW. If you need to catch up before then, visit the show category at my blog, DigitalAirwaves.net.