Interview: Teck Holmes Chats About His Versatile Career
Ever wonder where the reality TV craze started? Well, a good possibility is MTV's The Real World. After appearing on that show's wildly popular first season in 1999, Teck Holmes has tried his hand at a variety of different roles in show business, from actor to DJ to, currently, the host of Cartoon Network's version of the game show Hole In The Wall. Teck sat down with me Thursday to talk about life after reality TV and all of the opportunities that have come since.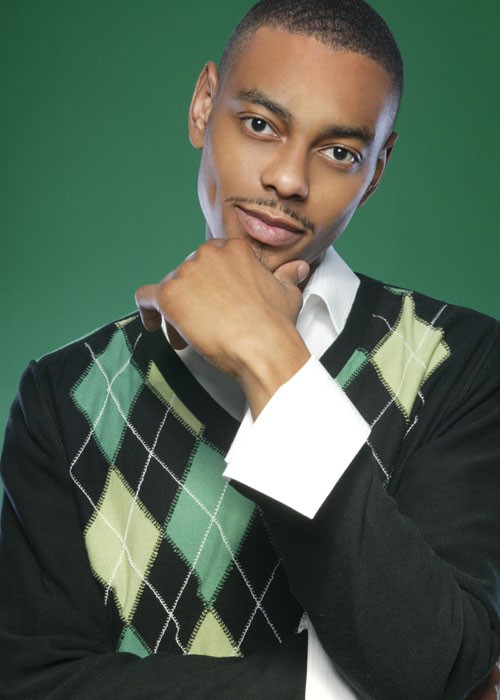 Since you're the host of Hole In The Wall, I can ask you the question my family blurts out every time we watch the show: how exactly do they come up with the shapes? Some of them are downright ridiculous.
You know, I don't know but I think they interview the contestants and match the walls up with what the contestants like. It probably has to do with the contestants and then the creativity of the wall-makers. They like making them a little difficult.
Have you ever tried any of them yourself?
No, but I have jumped in the water.
How did you get involved with the show? What made a hosting gig like this appeal to you?
They called me in, gave me the chance to audition. They said they were looking for me - that's what my agent told me. It's funny because I got an email to be a contestant, and jokingly, I hit them back and said, "I don't want to be a contestant, but do you need a host?" Two weeks later. my agent was like, "You got a call." The whole synergy just happened.

You got your big break on one of the first reality TV shows to grace our airwaves (Real World: Hawaii). What made that something you wanted to do? I couldn't imagine anyone wanting to watch me on TV every week.
If we exclude Cops, then we're first. I had people tell me "You should be on The Real World," and I sort of connected it. I was in college studying communications, so I knew I was going to use The Real World as a springboard. I had a ten-year plan going in. I didn't have any expectations before ten years. I said, "Whatever happens between now and ten years, it's my training. It's water under the bridge." But it's been a great ten years so far.
How's the reality TV experience stuck with you over the ensuing twelve years?
It's been the best experience of my life. I wouldn't change a thing. I haven't had to technically work since 1999. I've traveled around the world, met fantastic people. I jumped off the Stratosphere in Las Vegas. I'm living my dream, and it's a beautiful thing.
If you could be on any other reality show or game show, would you? Which one would it be?
I'd love to go on Top Chef and be one of those people that critiques the food. I wouldn't be an expert or anything, but I know what I like. Or The Amazing Race. I'd love to be on Celebrity Jeopardy. I'm pretty good. I feel good if I can answer my five questions a show.
Other than the obvious, do you find there are any major differences between playing yourself  (as a reality TV show cast member or game show host) and playing someone else (in your acting career)?

I like playing different roles. I just did a movie called Douglass U where I get to play a stern RA, and I'm kind of a loose guy. I really enjoy playing those parts, because I want to show that I have chops, and play something different from me.

In your acting career, you've done both comedy (National Lampoon's Van Wilder, Friends) and drama (NCIS, Lincoln Heights). Is one genre easier to you than another?
It's just about acting. I don't compartmentalize things. I just see it as work. A good part is a good part. They take you on a rollercoaster. I just saw the recent Tyler Perry movie and I heard people behind me crying. That's a good movie.

You've done a real assortment of projects across all genres and mediums. What do you look for when it comes to acting roles?
I rarely turn down a project. I've turned down like two projects. A good project, it just finds me. Most of the time I audition for pretty good stuff. Once you get good auditions, you get good roles. People recognize that I do good work.
If you could have your pick of any next project in film or TV, what would you love to do?
I'd want to do a buddy cop movie. Get my Chris Tucker or Eddie Murphy on. If it wasn't that, I'd love to do a voice-over [in an animated] movie.

Tell me about your philanthropic work with Eracism Erasers. What motivated you to get involved?
It's a project I started because in the inner cities in Los Angeles, there's a matter of racial tension. I wanted to have something that affected my community, and it came across my desk and I was like, "It was perfect." We're fighting a quote-unquote "war" against other races, and it affects our subconscious. We have a black President and I've heard racial slurs. That trickles down to the kids. I want the kids to grow up not seeing colors.

What else do you do in your free time?

I own a production company, Tecknology Enterprises. I shot a film and released it last year called Nobody Smiling. I do music videos. I just recently shot a video for my new single. I'm an all-around artist.

What shows are you watching?
I'm really watching Hot In Cleveland and Retired At 35. They are great shows. Excellent writing, excellent cast. I watch The First 48 and Top Chef. If I'm watching a movie, it has to be an Eddie Murphy movie.

My thanks to Teck Holmes for this interview! Catch him when Hole In The Wall airs on Cartoon Network Wednesdays at 7:30 PM ET.