Interview: Starpulse Goes Mano-A-Mano With Machete Danny Trejo For 'Machete Kills'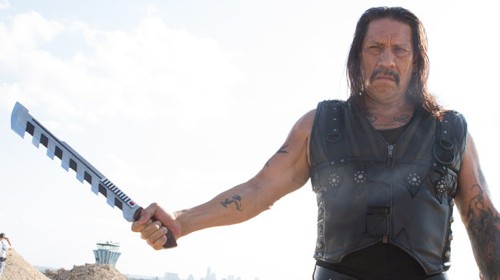 Even though he's been featured in a ton of cool and tasty flicks over the years, the seasoned Danny Trejo has become synonymous with one large knife wielding grindhouse character – Machete.  From the mind of Latin filmmaker Robert Rodriguez and featuring the sullen work of a magnetic Trejo, the "Machete" series has become as well known as apple pie.  On the eve of the release of the latest savory outing entitled "Machete Kills" (out Jan. 21 from Universal Studios Home Entertainment), which has the likes of Amber Heard, Cuba Gooding Jr. and even Carlos Estevez aka Charlie Sheen as of all things the president, we got a chance to chat one-on-one with Machete himself Danny Trejo all about playing the ultimate Mexican badass, the existence of a baby Machete and his very busy work schedule.  Duck before he swings – here's Machete…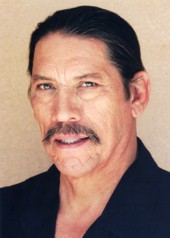 It's a pleasure talking to Machete!
Danny Trejo: Don't ever talk about me!  (Laughs)
Looking back at that first time that Robert brought up the idea of doing anything "Machete" did you ever think it would go this far and become this popular?
DT: No.  The first time Robert talked about "Machete" we were doing "Desperado."  We were doing "Desperado" in Acuña, Mexico and the way it came to me was Robert said 'They think you're the star of this movie.'  And I said, 'I'm not?'  And so he said, 'Danny I've got this character for you that is perfect.  It's you.  It's the way you walk, the way you talk – you don't even have to act!'  (Laughs)  I said, 'OK.'  He said, 'Machete!'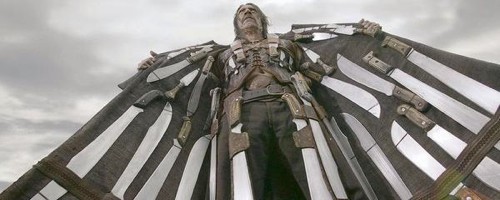 And we started talking about it and when we did "Spy Kids" we called him Machete.  I figured that was the farthest it was going to go and it was cool because we did four "Spy Kids."   Then Robert and Quentin did "Grindhouse" and they needed a fake trailer and Robert said, 'Let's do Machete.'  Again, that's as far as I thought it was going to go until I walked out of the theatre for the premiere of "Grindhouse."  Everybody said you gotta do this movie – so really it came out of the audience demanding it.        
"Machete Kills" seems to take the camp of the first film and infuse it with extra grindhouse-esk nitroglycerin – was it always the intention to go even further with this second "Machete" helping?
DT: What's funny is the audience demanded we do the first one.  Then the audience demanded we do the second one and we did a second one.  Now everyone is like is there going to be another?  Yeah, there's gonna be more and more!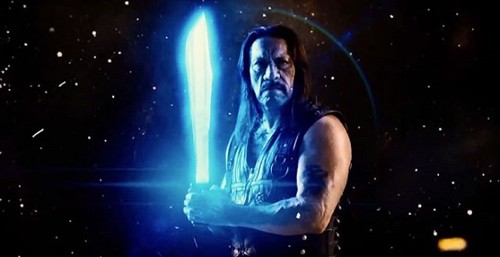 I loved the campy "Machete Kills In Space" trailer at the beginning of the film – is there any place Machete won't kick ass?
DT: No.  He's gonna be kicking ass under sea pretty soon! (Laughs) Killing zombies!  Actually people don't know it but with a zombie or vampire a machete is the best weapon because you actually cut them in half.
The deleted scenes on the "Machete Kills" Blu-ray feature a baby Machete complete with tattoos and a moustache – what was your reaction seeing it the first time?
DT: (Laughs)  Wow – a Mexican Chucky!
My favorite Machete-ism is 'Machete don't text!'  We see him do a little here, so does Machete text or not?
DT: The way that came about is I was trying to get ahold of Robert and I kept calling and calling and he wouldn't answer my calls.  So then I ran into him and I said, 'Robert what the f#ck – you won't answer my calls!'  And he said, 'Danny I swear to God every time you call me I'm either in a meeting or doing an interview – text me.'  And I looked at him and said, 'Machete don't text.'  And it ended up in the movie.  Me?  I can text two words faster then anybody in the world – call me.  (Laughs)  
I have to say the number of films coming up on your IMDB page is a list longer then my arm – when do you find time to sleep?
DT: You know what, I can sleep on planes!  Because I'm a guy who is really blessed to love what they do and do what they love.  I love working and the kind of work I do. 
"MACHETE KILLS" HITS DVD/BLU-RAY ON JAN. 21 FROM UNIVERSAL STUDIOS HOME ENTERTAINMENT.