Interview: Snoop Dogg On The Set Of MTV's 'Dogg After Dark'

The President of MTV Networks recently described one superstar artist as "pushing the boundaries of hip-hop with his signature antics, incredible catalogue of music, legendary videos, larger than life personality and even a little controversy."
So, what's this particular artist's 'motherfu*king name'? Hint: He's slim with the tilted brim, frequently has his mind on his money (and yes, his money on his mind) and he's not afraid to drop it like it's hot.
In fact, it's these attributes that compel a group of reporters - yours truly among them - to the upscale Hollywood nightclub The Kress, past the line of scantily clad ingénues waiting to get in, up several flights of stairs and onto the rainy, rooftop deck of the art-deco hot spot to wait for the man of the hour. When he finally appears, lanky in his tux and sporting shades in the evening darkness, he's an hour late. Doesn't matter: He is, after all, the Doggfather.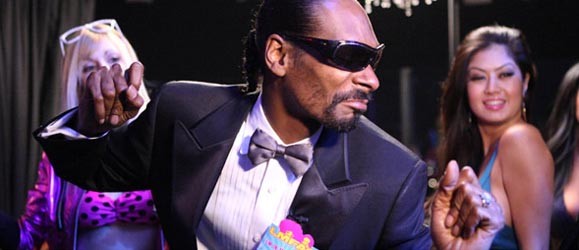 At only 37,
Snoop Dogg
(nee Calvin Broadus) has evolved several times over: A Rap star who burst onto the scene in the early 90's with his collaboration on Dr. Dre's album "The Chronic" and the subsequent release of his own hit album "
Doggystyle
," Snoop has also worn the mantle of producer, entrepreneur and clothier. Considering his recently inked multiplatform deal with MTV that includes his late night variety show "
Dogg After Dark
," exclusive release rights for his upcoming album
Malice in Wonderland
and even inclusion in the 'Rock Band' videogame franchise, the title Master of Media may not be an overstatement.
So, how does Snoop keep all the irons in the fire?
"This is me. I was born to do this. It's not a juggle, it's not an act. It's just what I do."
For a man who coined a thousand catch-phrases (Refraining…For now), Snoop is soft-spoken, articulate and mellow. If he's worried at all that his new MTV variety show "
Dogg After Dark
" is a gamble (remember Thanksgiving's turkey "Rosie Live" anyone?), he doesn't let on.
"My show is a show that's not about me bringing people on here to dig dirt on 'em and talk bad about 'em," Snoop says firmly. Instead, he makes clear it's a forum for celebrity friends to "have a comfort zone and do what they feel on the show. Any time you can hang with me, we gonna have a good time at all times."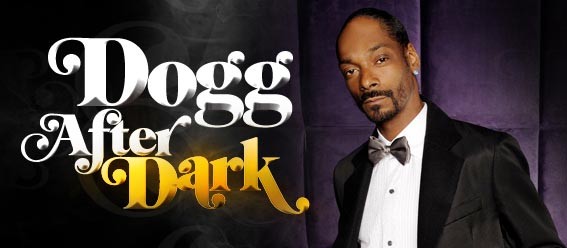 The show's format is certainly aimed to give audiences that good-time feeling: A mix of interviews, performances and comedy segments, the show features host Snoop roaming around all four sexily-lit levels of
The Kress
, interacting so smoothly with guests and club goers, it feels less like a live set and more like an memorable night out. It's reminiscent of the 1959 show "Playboy Penthouse" in which
Hugh Hefner
chatted up guests on a set designed to look like his apartment. Snoop respects Hef and the show that came before, but shrugs off most comparisons. "Hugh Hefner had 'em jumping outta swimming pools. I got 'em jumping outta Cadillacs."
If anything, Snoop would more closely align himself with bygone comic idols like Flip Wilson and
Richard Pryor
. "I can't touch them," Snoop admits, "(but) they inspired me. (They were) so cutting edge and timeless. I try to add my element … When I'm done with it, somebody's going to be inspired by me and do what I couldn't do with it."
As for what Snoop can do with it, one goal is to continue exposing his "
Dogg After Dark
" audience to up-and-coming talent. The show has featured
Kid Cudi
,
LMFAO
and soon, says Snoop, we'll soon be introduced to a new group from his hometown of Long Beach. "I'm really into breaking that new talent and giving that shot to a new artist," ventures Snoop. "They might be the next great whoever-it-is."
Full LMFAO Performance
Having a good time, bringing something new to the variety format and breaking new artists are worthy reasons for embarking on this new television venture, but does Snoop have an ulterior motive for hanging at The Kress? On his E! reality show "
Fatherhood
," it's common to hear his wife Shante haranguing him about his diet. Here at The Kress, Snoop D-O-Double G often indulges in barbeque ribs and chicken wings cooked up by his Uncle Reo.
"This is my time to play, you understand me? Fatherhood is more about taking orders and being in line in the house. When I'm outside the house, I'm basically giving orders and doing my thang. "Snoop pauses, then chuckles. "Don't tell on me."
There doesn't seem to be much Dogg is unwilling to tackle, but the jack-of-all-trades does demur when asked by a reporter (not this one) whether he'd have the embattled
Chris Brown
and
Rihanna
on the show. "I'd have anybody on the show who is in the music/entertainment world," Snoop says mildly.
When pressed to give the young couple advice on their alleged domestic altercation, Snoop keeps his good humor. "That's not my department. I'd bring
Dr. Phil
in… Or Dr. Drew. (Even)
Dr. Dre
!"
Later downstairs, the full house is hushed as filming of the fifth episode commences. Snoop slides into a banquette to chat with singer/songwriter The Dream (whose rumored girlfriend
Christina Milian
watches off-camera nearby). Dogg is undeniably charming and he manages to make interviews feel unscripted and effortless. As he moves to the next set-up with a relaxed air, it's easy to forget that this is actually work for him and the crew.
When asked if there are any drawbacks to hosting "Dogg After Dark," Snoop smiles slyly. "The Press."
No word yet on whether the series will be picked up for additional episodes beyond the seven MTV ordered (the premiere drew a less-than-stellar 587,000 total viewers) but Snoop is pretty clear about what makes "
Dogg After Dark
" must-see TV.
"It's not the whole sitting behind a desk interviewing a guest all night. It's flowing, it's floor-to-floor, it's action, it's movement, it's pretty girls. It's a great time. It's '
Dogg After Dark
'."
Fo shizzle.
'Dogg After Dark' Airs Tuesdays @ 9pm ET/PT
Interview by
Shannon Peace
Starpulse contributing writer