Interview: 'Once Upon A Time's' Jennifer Morrison And Producers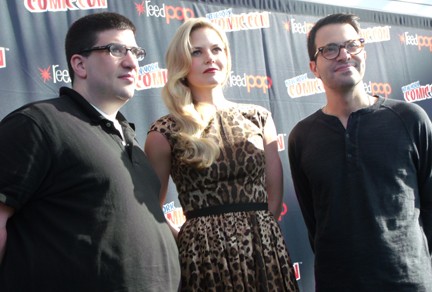 Yes, my job is awesome. Yes, my job is cool. While at New York Comic Con I snagged pressroom roundtable interviews with 'Once Upon a Time' star Jennifer Morrison and its awesome producers, Edward Kitsis and Adam Horowitz. Jennifer talked about Emma's potential romance with Hook while the producers described their Giancarlo Esposito love.
Interviewing Jennifer Morrison
Over the past nine years, I've enjoyed watching Jennifer Morrison's acting career rise from supporting actor on 'House' to leading lady on 'How I Met Your Mother' to the lead actor on 'Once Upon a Time.' Since the 90s Morrison worked non-stop with early TV roles in 'Touched by an Angel,' 'Dawson's Creek,' 'Chase,' 'The Super Hero Squad Show' and 'Any Day Now '. Now, with cameo roles as Winona Kirk on the 'Star Trek' films and earlier roles in 'Table for Three,' 'Mr & Mrs. Smith,'  'Grind,' and 'Urban Legends,' she's clearly building an equally strong film dossier.
From Adam Baldwin to Julie Benz, I respect thespians that view themselves as "working actors," under which I categorize Morrison. There are some actresses that overwhelm you with their Hollywood glamour. However, despite her loosely curled blonde hair and leopard print dress, she didn't try to glamour us. While swathed in a black coat and cradling a cup of coffee, Morrison talked to us as colleagues there to interview her, which I appreciated.
Emma/Hook Hook Up?
Morrison detailed the Emma/Hook relationship without giving away too much. Whenever I ask potentially spoiler-esque questions, producers/actors typically pause before answering. Although Jennifer did the same, her response illuminated the currently developing Hook/Emma relationship. "She would never spend this much time with him willingly before Neverland … The circumstances of trying to save Henry and being in a place where he knows the territory and she doesn't. There's a certain level of reliance and trust that she has to have in him and on him [that] puts them in a situation they would never be in otherwise. He's surprising her by following through on things he promises and actually being helpful which is not what she expected. Her opinion of him and her view of him as a person definitely" changes.
Emma as Savior
Morrison also discussed Emma slowly growing into and accepting her position as savior. "She's just reached her limit when it comes to saving Henry. She's a very efficient person … She's going to do whatever it takes … Sometimes people just have to get pushed to their limits before their true identity surfaces." She was careful not to speak for another person's character, when responding to another interviewer's question about Mary Margaret forcing a maternal relationship, acknowledging it isn't about "unforgiveness" but their needing to build a "history" with each other. While she didn't share Emma's troubled past growing up, she read several "heartbreaking" foster children memoirs to build "memories" for her character. While she acknowledged many don't undergo negative experiences in the system, she feels it's horrifying that multiple memoirs exist detailing negative experiences and hopes that will change.
Want to know more? Watch the interview here, http://youtu.be/Dsm7xTEjAU0, or below!
Interviewing 'Once Upon a Time'/'Once Upon a Time in Wonderland' Producers
I always say this, and I'll still say it -- I love, love, love interviewing producers as they provide the overarching plot insight and inspiration for character creation. I had a ton of questions for them. In 'Once Upon a Time' will we see Pan further influencing the outside world? In 'Once Upon a Time in Wonderland,' why is Alice not restricted by Victorian social mores? Finally, will we see more of Giancarlo Esposito in either show?
'Once Upon a Time' Hints
Peter Pan is definitely this season's villain. If you grew up loving the Disney cartoon portraying him as a fun-loving eternal child, the 'Once' producers invert that ideology. Having shown that Captain Hook and the Evil Queen aren't the one-dimensional villains we expected, they apply that reverse logic to a known "hero." Viewing Neverland as 'Heart of Darkness' meets 'Apocalypse Now,' they believe a character who deliberately stunts his development must contain an inherently warped perspective. They admitted we'll definitely see Pan continue to interact with the external world.
One question I wished I had asked surrounded Pan's interest in Henry. Sure, Henry is the truest believer, but wouldn't Pan's desire to corrupt him corrupt his ability to believe? Is he interested in Henry because Henry is technically the child of two people that view themselves as orphans (who are ALSO the offspring of the most powerful fairytale characters)?
 'Once Upon a Time in Wonderland'
On 'Once Upon a Time in Wonderland,' I noticed that Alice is way more sexually free and more knowledgeable of combat capabilities, than women in her period. Edward admitted that we'd see her struggle with period mores.
Giancarlo Esposito Love
I have a major crush on Giancarlo Esposito. I loved him as the sneaky mirror/lovestruck genie in 'Once Upon a Time.' I worshiped his vulnerable evil on 'Revolution.' And, I swooned at his 'Community' guest spot. However, lest Edward Kitsis and Adam Horowitz view me as a stalker, I underplayed my Giancarlo love by claiming I had a "mini" crush. Surprisingly, they burst out laughing and admitted to having a "major crush." "We love Giancarlo. He doesn't have any bigger fans than us." While we might not see Giancarlo on 'Once' or 'Once (Wonderland)' or see a direct 'Once'/'Once (Wonderland)' cross-over anytime soon, they admit they love whenever they can grab him. I wondered if Giancarlo's portrayal inspired the decision to place a genie as the central love interest in 'Once Upon a Time in Wonderland.' "The impetus is when you spend your life a prisoner of a bottle … love becomes more important because they don't have a chance at it … So with us, with that character we always loved the idea of what's it like to watch life from the outside." They closed out the 'Once' interview further detailing how Giancarlo's "amazing," "so good," and "the sweetest man."
For the full interview, check out http://youtu.be/2FkcIqRph2Y or watch below!