Interview: 'Mighty Fine' Actress Andie MacDowell On Playing Polish, James Spader And Changing Minds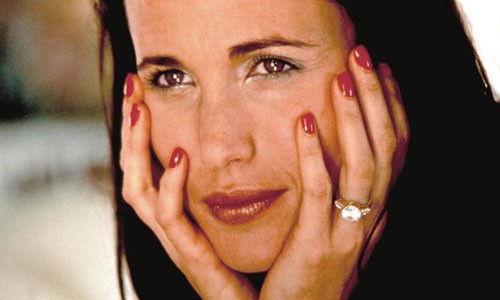 For a sheer body of memorable movies, nobody has more quality films in her cache then actress Andie MacDowell.  From playing a repressed southern housewife in Steven Soderbergh's debut "sex, lies and videotape" to Bill Murray's object of desire in the Harold Ramis classic "Groundhog Day," MacDowell has proven herself as an actress with much diversity.  Taking on yet another acting challenge, MacDowell portrays a polish mother forced to confront her husband's demons in the new 1970's based drama "Mighty Fine," out May 25 from Adopt Films.  The film, which also stars Chazz Palminteri, is a dark yet optimistic drama taken from personal experiences of writer/director Debbie Goodstein-Rosenfeld.  We're finishing our coverage of "Mighty Fine" with a one-on-one chat with the lovely MacDowell who talks about conquering the polish accent and playing mom opposite Chazz, as well as insight into some of her most memorable roles of all time.  Here's the ever talented...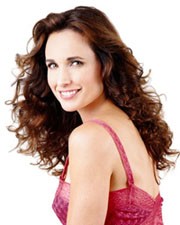 What were the difficulties in trying to master the thick Polish accent of the character?
Andie MacDowell: I think the hardest part was the time constraints and the short time for preparation.  I worked with a dialect coach that I've known for twenty-five years who sadly passed this year.  He was a very well known and respected dialogue coach in New York City named Sam Chwat, so I worked with him.  But the part that helped me the most was I found a woman living near me who was Polish and who had been in America the same amount of time that Stella had been.  So she was very helpful for me to listen to and I ended up having her voice on my computer so as I was preparing I used her as my resource for what I needed to do.  
How hard was it playing and going through the emotional journey Stella takes throughout the film?
AM: Mostly the hardest part was we had very little time.  We worked eighteen days and we had a lot of material to work on and we had to do it really fast.  But at the same time that can be a lot of fun because I think it sparks creative juices and a certain amount of energy.  There are a lot of dark moments – it's an amazing story and a very interesting role.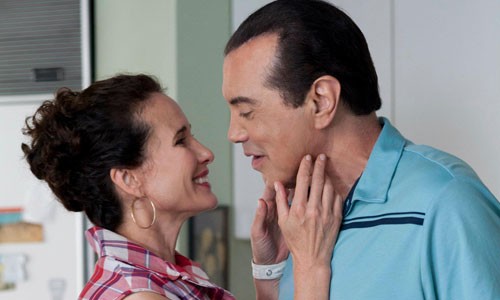 The story seems to deeply personal – did Debbie ever discuss the origins of the ideas with you?
AM: She did a little bit, but I think she took a lot of creative licenses too in making the story partially fictional because as you know she is a writer.  The resources come from her own personal life, a lot of it, but she had creative licenses as well where she could embellish it in some sense. 
You have a credit on this one as Co-Producer – what is hard wearing multiple hats?
AM: (Laughs) Associate Co-Producer has happened to me in the past because after you've worked a certain while and you've had success they can use your name to go out and make money.  But I ended up doing more; I think Chazz and I participated as guidance and on-set workers just because we had more experience than a lot of people we were working with.  We did help as much as we possibly could.  I think we gave more than normal and worked really hard just to get the movie made.  Plus to be supportive of Debbie and the great crew – they were very thoughtful, giving and worked overtime.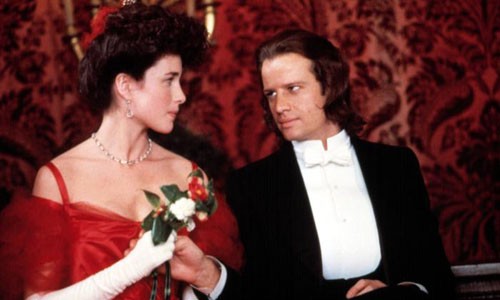 Past work- I remember hearing the story about how in Greystoke they dubbed your dialogue with Glenn Close due to your heavy southern accent.  After doing all the great acting work in the film was this something that bothered you at the time?
AM: (Laughs) That's a really funny way to put it.  Yeah!  I'd say it bothered me – that was disheartening.  The best part of that whole story was not that it happened, but that I overcame it.  I don't think anybody expected me to and there was a time period where I was hopeful that I would be able to change history and be able to have something I was proud of and prove to people what I was capable of doing.  But that was a really hard journey because I did that movie when I was twenty-three and I got sex, lies when I was thirty, so it took me that long.  Even though I did St. Elmo's Fire in between it was many, many years of auditioning and trying to change people's minds one small step at a time.
And you did indeed!  "Sex, lies, and videotape" turned out to be ground breaking in terms of the Indie film movement in America. Did you ever feel like it would become so important while shooting and what are your thoughts about the film looking back now?
AM: Nobody really knew it was going to be what it was going to be.  It was made for a million dollars.  We did have a really nice shooting schedule, but nobody expected it to be what it was.  I most certainly did not, but I knew that the work was good.  So my expectation was I had something to show to people – it far outdid that for me and for everybody in the movie.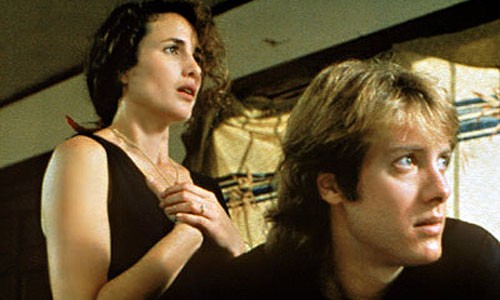 James Spader is an actor that always amazes me and since sex, lies was what I consider to be some of his best work what was he like to work with as an actor and specifically what was his process?
AM: I really loved working with him.  At that time I had been studying a lot and was very much a method actor.  I liked spontaneity, I liked to see what would happen and I liked being in the moment.  I had also studied Meisner, so it was very easy to just stay present.  And he was exactly like that.  It wasn't an overly executed type of style, real technical - he was really in the moment.  Each moment was alive and different and spontaneous.  He was great fun to work with.  If there was a mistake, he was happy.  I remember making a mistake when he first shows up at the house and I was supposed to show him where the bathroom was.  And then we got in and I didn't, I just kind of turned and looked at him and he goes, 'You were gonna show me where the bathroom was?' and I was like 'Oh, yeah, yeah!'  That was not in the script – that just happened.  But anytime something like that happened, James was happy.
There was a really interesting and unusual chemistry between you and Gerard Depardieu in "Green Card" - what was it like meeting and shooting that film with him?
AM: I was in awe of Peter Weir.  I was terrified when I first got the job because I was so in awe of Peter Weir's work – I was a huge fan of his.  And Gerard I was also in awe of, but he wasn't as intimidating surprisingly enough to me as Peter Weir was.  But they were both beautiful men and I ended up feeling really comfortable with them.  It took me a moment to get there, but Gerard to me is not intimidating, he's just hysterical.  It was wonderful to watch him work because he's completely confident.  He's very laid back – it's different then working with somebody like James Spader or other people that are always working on it and thinking about it.  Gerard just sort of walks in and he's just there and does it and that's it.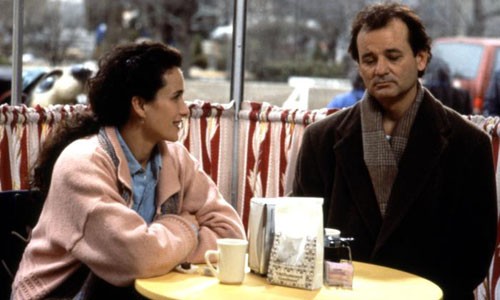 On the surface "Groundhog Day" could have been just another comedy, but it was so amazingly executed by everyone involved.  What were your expectations going in and what do you feel about the runaway success of that movie?
AM: The script was perfect and I had been around long enough to realize it was a perfect script.  Also Harold Ramis had such a good reputation, Bill Murray – I expected it to be successful.  I didn't know how successful or how beautiful it was gonna end up, which I think to this day is still considered one of the best comedies ever made.  I didn't realize it was going to become a national holiday film and everybody would be seeing every year and still love it – I couldn't have guessed that.  But it was a beautiful script and I knew how lucky I was.
You did a few films with the late great Robert Altman ("Short Cuts," "The Player") – what kind of a director was he?
AM: He was a master.  A very secure man, knew exactly what he wanted and I think the thing that was wonderful to watch him was how he would have one thing melt into another thing melt into another thing and how he would use a camera.  That's the scenes that really stand out and those long scenes I watched him do that and that was amazing because I'd never seen any director do that before him nor after.  It was a way that was fluid and extremely masterful – it was a great honor that I got to work with him.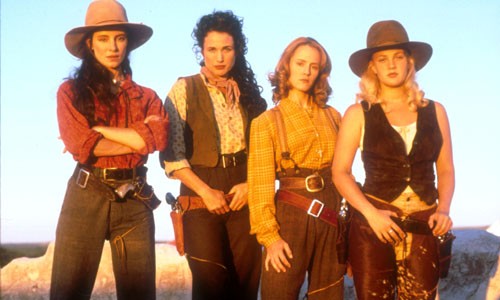 I asked Mary Stuart Masterson this one and was curious of your take – "Bad Girls" was originally helmed by Director Tamra Davis who was then replaced by Jonathan Kaplan. Do you think the film would have had a different vibe with a female director at the helm?
AM: Well, they re-wrote it too, so it would have had a different tone and different vibe because it was a different script!  (Laughs)  But I would say it has to be different, yeah.
So what's next for you?
AM: I'm working on a TV show right now called "Jane By Design."  I'm having a lot of fun doing that and I love the writers.  It's a completely different character for me to play – a fashion diva.  Not a very nice person and I've never really done that before.  So I'm enjoying that and I'm learning what it's like to work on television.  I haven't done constant work on a television show, so the pace is interesting to me and I'm having fun with that.
"MIGHTY FINE" HITS SELECT THEATERS MAY 25 FROM ADOPT FILMS.