Interview: Melissa Leo Channels John Wayne in Sundance Hit 'Frozen River'

(HollywoodChicago)
–
Melissa Leo
is a familiar face to admirers of the TV show "
Homicide: Life on the Street
". After playing Sgt. Kay Howard for five years on that popular series, she left the show to pursue character roles in such films as "
21 Grams
" and "
The Three Burials of Melquiades Estrada
". Taking on a leading role in her latest film "
Frozen River
," Leo captures the desperation and strength of a woman with everything to lose.
"Frozen River" star Melissa Leo in Chicago on July 16, 2008.
Photo credit: Patrick McDonald, HollywoodChicago.com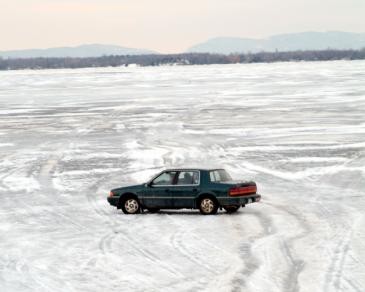 HollywoodChicago.com recently interviewed Leo in anticipation of the film's release. The actress candidly talked about her character's direction and the nature of the unusual film.
"Frozen River," which is an acclaimed Sundance Film Festival drama, refers to an upper New York state tributary that freezes so hard in the winter that vehicles are known to drive over it. Leo plays Ray Eddy: a resident of that Canadian border town whose husband has abandoned her with two children.
He also has stolen savings that would have been a down payment for a new trailer in which the family could have lived. Leo speaks about how she landed the role and how she collaborated with writer and director Courtney Hunt.
"The first thing Courtney said to me was: 'Will you read my short?' I happily did," Leo said. "Then I called her and said: 'Let's do this.' We shot the short. She edited it, showed it to me and said: 'Good job.' Then she said: 'Would you like to do the feature?' I didn't even know she had a feature."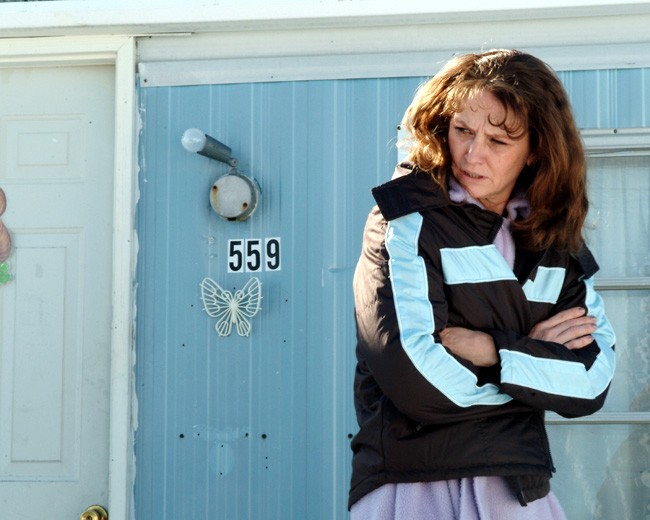 Melissa Leo as Ray Eddy in "Frozen River".
Photo credit: Jory Sutton, copyright Frozen River Productions
"Courtney knew much more about the characters," Leo said. "There were unanswered questions in the short we didn't even know. The characters at that time were the 'native' and the 'blonde'. They had no names."
Ray Eddy became the character's name. She lives desperately hand to mouth. With her husband gone and her savings wiped out, she decides to begin running illegal immigrants in the trunk of her car. The way to Canada without a border check is by directly driving over the frozen river.
"Courtney gave me a valuable piece of direction right before we shot the feature," Leo said. "Watch '
The Searchers
' (1956) and '
Rio Grande
' (1950). Watch
John Wayne
. That's probably the most consistent piece of direction throughout the rest of the filming process. It's a little bit of the Duke."
Eddy partners with Lila (
Misty Upham
): a Native American who lives on a nearby reservation.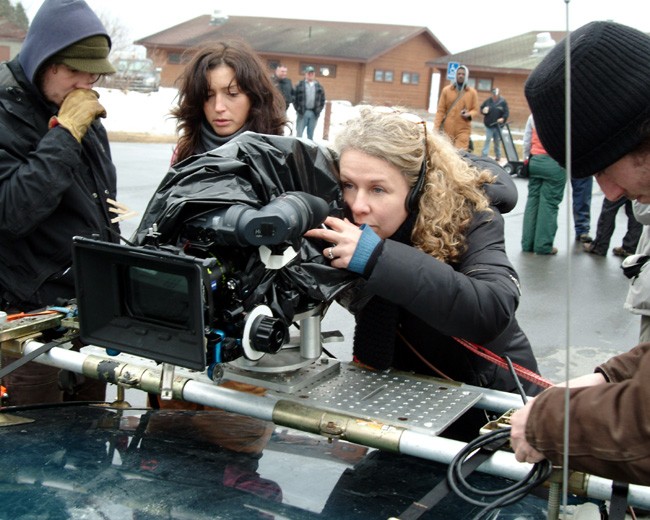 Director Courtney Hunt on the set of "Frozen River".
Photo credit: Jory Sutton, copyright Frozen River Productions
Lila knows the particulars of the immigrant running. She and Eddy have parallel lives with Lila having a husband who recently died and a son being raised by grandparents. Both women are looking to make a quick score and get the money they need to move on with their lives.
"This was actually a matriarchal story," Leo said. "The natives have a lot of female tribal heads. You see the portrayal of the tribal meetings in the film to be heavily female, which is an accurate portrayal of those types of meetings."
Leo added: "In our film, this is women doing what women do to get by especially when the men have let them down."
The film is heavy with thematic symbolism involving race, gender and class. Leo spoke about those elements while emphasizing another aspect of the overall experience.
"The strength of the film is the story – a story that most people haven't heard before," Leo Said. "It's a rich story because it encompasses all those themes."
The "rich story" also has – in what Leo describes – a "satisfying" ending. She added: "The two women have learned something, have grown and are better people by the end of the film because of the journey the audience watches them go through."
She concluded: "We are here to grow into our best selves. That is my religion. Whatever can get you there and whatever the trials, that is what betters us. That is how the story of this film is played out."
"Frozen River" from writer and director Courtney Hunt stars Melissa Leo, Misty Upham and Michael O'Keefe opens in limited theaters on Aug. 15, 2008.

HollywoodChicago.com Oscarman rating: 4.0/5.0
Rating: 4.0/5.0

By
PATRICK McDONALD
Staff Writer
HollywoodChicago.com
© 2008 Patrick McDonald,
HollywoodChicago.com