Interview: 'Love Me' Lead Lindsey Shaw Talks Dark Romance, Being Goofy and Looking For Uncomfortable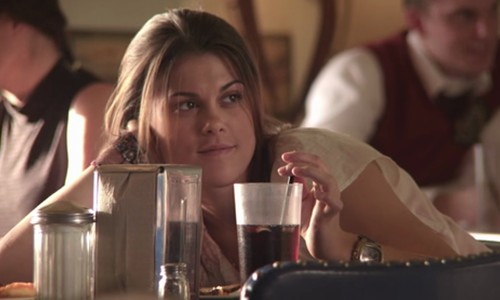 When it comes to up and coming female talent to watch for nobody comes to mind faster then charismatic actress Lindsey Shaw.  A notable part of such past TV shows as "Aliens in America" and ABC Family's "10 Things I Hate About You," Shaw is currently very well known for playing the complex character of Paige McCullers in the hit drama "Pretty Little Liars."  But for us it's been the amazing film work that has starting showing even more savory sides of Shaw - her captivating turn as the aggressive yet sweet Eliana Wynter in 2011's "The Howling Reborn" is without question truly entrancing work.  Shaw's latest film is another story of love with strange twists in the form of the new thriller "Love Me" (out Jan.15 from Anchor Bay Entertainment), with Shaw playing a high school gal who falls in love with a local bad boy who might just be a killer.  We got a rare and exciting chance to chat one-on-one with the revealing and refreshing Shaw who candidly talked all about "Love Me," the reoccurring theme of dark romance in her films and what's on the horizon in terms of more cool film work.  So without delay, here's the gal we love...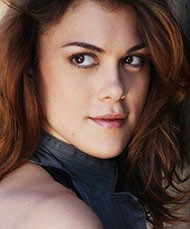 With only a small amount of feature films under your belt what made you ultimately decide to make "Love Me?"
Lindsey Shaw: I read "Love Me" and it was just an interesting fun little project.  It came to me in the fall, which is kind of a time that's not that busy, and it reminded me of that movie "Fear" with Mark Wahlberg and Reese Witherspoon which is one of my favorite suspense/horror films from when I was younger.  Plus I got to go up to Calgary and I love Canada. 
In both "The Howling Reborn" and new "Love Me" you play characters who seem to be searching for true love – is this something you consciously look for in a character or a project?
LS: I think every character probably comes back around to that at some point.  But absolutely – subconsciously obviously it is something that's coming to me a lot.  I think you gravitate toward and end up eventually making those projects that you're really supposed to and you learn so much from them personally as well.  So obviously the universe is trying to tell me something about true love – I better listen.  (Laughs)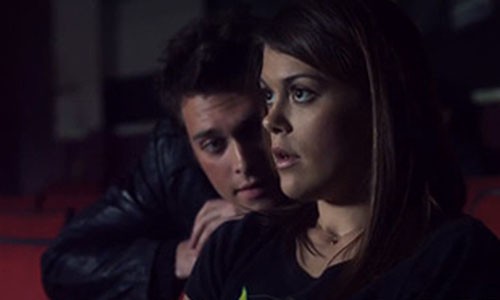 The featurette 'Stories From The Set' on the "Love Me" Blu-ray seems to show a bit of different and goofy side to you...
LS: (Laughs) What?!
People interviewed explain that you're a bit of a joker on the set...
LS: You know what, I need to go back and watch this!  (Laughs)  I haven't quite seen that yet and I'm wondering what they said about me...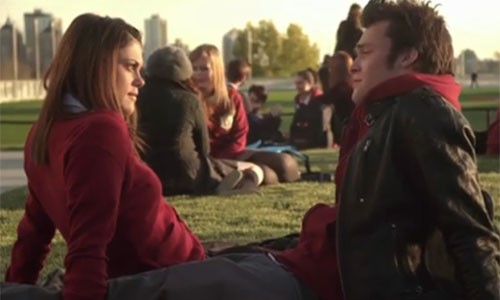 It's interesting because you play such romantic, dramatic and somber characters in your films and I think they're saying there is a funny aspect to your personality that some people might not see - are you a bit of a joker in real life?
LS: Oh my goodness – yes!  And all my TV, minus "Pretty Little Liars," has been comedies.  I love comedies and I just want to end up on Showtime one day doing amazing silly awesome comedy or dramedy.  So yes, there's absolutely that crazy side to my personality.  Sometimes I feel like I leave the earth completely or leave Lindsey's body completely – I go a little crazy sometimes.  But a lot of people have seen that and I don't try to hide it. 
You fall for both bad boy Jamie Johnson in "Love Me" and seemingly innocent good guy Landon Liboiron in "The Howling Reborn" – which do you think is a more appealing?
LS: But see those are two sides of the same coin, you know what I mean?  The innocent awesome sweet boy that you just want to corrupt and then you have Lucas Green in "Love Me" and he's this guy you want to save and hold.  It's a balance and I think for me I was a juxtaposition of those characters as well in the two movies.  So neither is more appealing - they're just really great opposing forces for those two archetypes.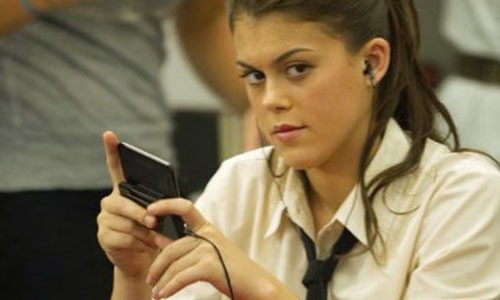 I must go back and talk about your amazing and scene stealing work as the captivating Eliana in "The Howling Reborn."  At the time of my review I likened your work to both Samantha Mathis in "Pump Up The Volume" mixed with Martha Plimpton in "Running On Empty" as you go from aggressor to supporter in your character – was it your intention to have such a dazzling layered arc?
LS: You are so kind – thank you.  I very much appreciate that.  I'm gonna start off this way – "The Howling Reborn" was a project that came to me and it really changed itself throughout being made.  There were budget setbacks, there were weather setbacks, and there were people that we didn't get to cast, so it was a process that film.  It really, really was.  And the one person that I really connected to the whole time I was up in Montreal doing it was Landon.   We really just had each other to keep each other consistent and honest in our performances – it was just a little chaotic around us.  So if I can attribute any kind of beautiful arc to anybody it's to the atmosphere, the actors and the crew, because all I did was truly just try to be very honest with Landon and he with me.  I think we really pushed each other to make a beautiful relationship and I appreciate that that's what you took it as.  Everything that I do is a conscious decision, but I'm not conscious of it.  It just comes out on set.         
What kind of characters do you want to tackle in the future and any more feature film work on the horizon?
LS: Well, I'm looking for the next thing where I'm very uncomfortable.  I came to "Pretty Little Liars" and that's what I was doing.  I came out of a lot of comedies from TV and doing that and being able to cry on TV and watching that was amazing.  So I don't know what's next.  I don't know if an amazing half hour on ABC is next – I don't know.  But I want the next thing to be something that just pushes me to the next level.  As far as the next work coming out I have (laughs) another horror film called "No One Lives" coming out – Anchor Bay just picked it up.  It's a pretty gruesome horror film directed by Ryuhei Kitamura ("Midnight Meat Train") the Japanese director.
A quick follow up to that – in feature films you've been taking on a lot of stuff in the horror genre be it with romantic elements.  So is this a genre you feel comfortable in?
LS: Well obviously!  (Laughs)  It's so funny – hearing that from your perspective I never would have looked at it like that.  But yeah, obviously in the universe that's where I'm at right now.  (Laughs)  Twisted sort of dark love.  But I like that perception – I'm gonna take that with me.
"LOVE ME" HITS DVD/BLU-RAY JAN. 15 FROM ANCHOR BAY HOME ENTERTAINMENT.