Interview: Kid Q&A With 'Regular Show' Creator J.G. Quintel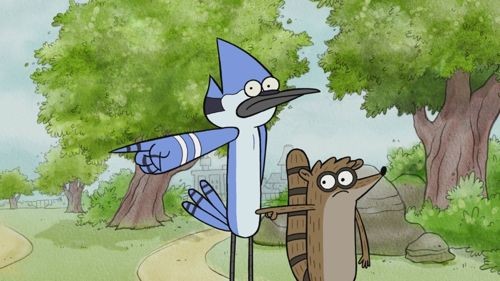 For those who have Cartoon Network on their favorite channel settings, the name J.G. Quintel should be very familiar.  As an animator and writer who has worked on such hits as "Camp Lazlo" and "The Marvelous Misadventures of Flapjack", Quintel ultimately took the toon world by storm with his own creation "Regular Show." And not only does Quintel write and animate the hit show already in its fifth season, but he also provides various voices for the show, including that of Mordecai the lazy lead blue jay.  "Regular Show" is coming out in a lush-packaged Complete First and Second Season (on DVD/Blu-ray July 16 from Cartoon Network and Warner Bros. Home Entertainment) and Starpulse.com got the rare opportunity to chat with the busy Quintel one-on-one.  But not wanting to waste the opportunity of a true fan, this interview is conducted by my twelve-year-old son Will Graham Coleman, who is himself a HUGE fan of "Regular Show" and all its wacky animated wares.  So to get the full kid fan perspective, here is his cool Q&A that the other youngsters out there will surely dig.  Will welcomes "Regular Show" creator...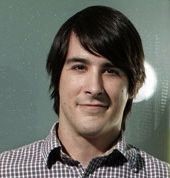 What made you start this show?
JG: I've always wanted to make cartoons and I went to college to learn how to make them.  While I was there I made these two shorts - one was 'The Naive Man from Lolliland' which is actually going to be on the new set - and a bunch of the characters from those shorts I ended up using in my pitch to Cartoon Network.  I wanted to use those characters again, so I pulled Pops and Mordecai and Benson and made up Rigby and Skips and a couple others like Muscle Man and Hi-Five Ghost, put them together and what came out was "Regular Show."
One of my friends pointed out that in every episode something supernatural happens – is this on purpose or a coincidence?
JG: Oh, it's on purpose for sure!  (Laughs)  "Regular Show" when it started I wanted it to be something that was just normal and real.  That's why at the beginning of every episode it's something really mundane and simple that everyone can understand like playing video games or busting a hole in the wall.  And then it causes something completely crazy, something that could never happen in real life so we can take advantage of the animation – although we try really hard to make it make sense.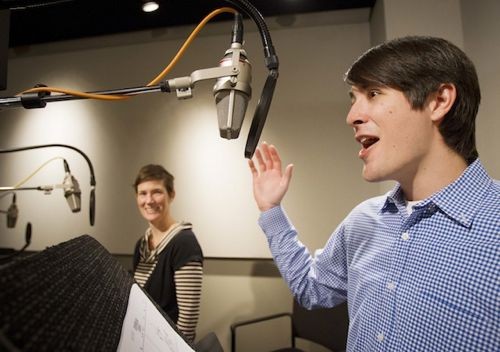 Why did you decide to be the voice of Mordecai in the show?
JG: I had done the voice of Mordecai in my student film, so when it came up and I was making a short I really wanted to do the voice again because I felt like he was already done.  But the studio actually made me try out real actors because I'm not an actor and we did a whole casting call.  We tried out a bunch of different voices, but at the end I really wanted to be Mordecai and I got to be, as well as Hi-Five Ghost. 
Which is your favorite episode so far?
JG: Oh, no!  There's so many now – two hundred and sixty episodes and I've forgotten what some of them are called!  (Laughs)  I used to know every episode when we first started.  My favorite actually is 'Eggscellent' because I storyboarded that episode myself and we ended up winning an Emmy for that episode.  It's sort of based on real life because there's this place where my brother lives, it's a restaurant that has a challenge where if you can eat a twelve egg omelette with biscuits and a fruit bowl and all this stuff in an hour you get a shirt for free – and I tried and I failed.
Which was the most challenging episode?
JG: Coming up, it hasn't aired yet, but the 'Thanksgiving Special' that was probably the hardest episode to make yet.  It has some really awesome songs, but we ended up having to record the people in the songs all at separate times and that was really challenging.  Also there's some crazy stuff in that episode that I'm really excited for people to see.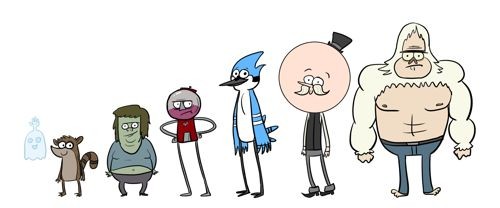 How did you get the ideas for the various characters?
JG: The characters are just based on me in college and my friends.  So a lot of the characters are people I went to school with.  Like Mordecai is pretty much me and then my friend Sam who I went to school with does the voice of Pops, Benson and Muscle Man with those characters based on the fact that he could do those voices.  But I wanted it to feel like a bunch of friends hanging out. 
Why are there more episodes in Season 2 than Season 1? 
JG: When we first got picked up we were picked up for only twelve episodes because I'm not sure the studio really understood what they were getting into.  Because it's a really bizarre show, it's called "Regular Show," it's got a blue jay and a gumball machine – I don't think anybody knew what it was.  So they did a really small run just to test it out and when they liked those episodes they gave us a little bit more.  And after the next pick up I think they were sold because now we've been getting forty episode pick-ups at a time ever since.   
Why does Mordecai have a bed while Rigby sleeps on a trampoline?
JG: (Laughs) I had a roommate in college who slept in a pile of his own clothes, so that's just based on reality!
And finally...can you make the oooooo noise for me?
JG: Of course!  OOOOOO!
Nice!  Thanks J.G.!
"REGULAR SHOW: THE COMPLETE FIRST & SECOND SEASONS" HITS DVD/BLU-RAY JULY 16 FROM CARTOON NETWORK AND WARNER BROS. HOME ENTERTAINMENT.