Interview: Joel McHale And Guest Star John Goodman Joke About Third Season Of 'Community'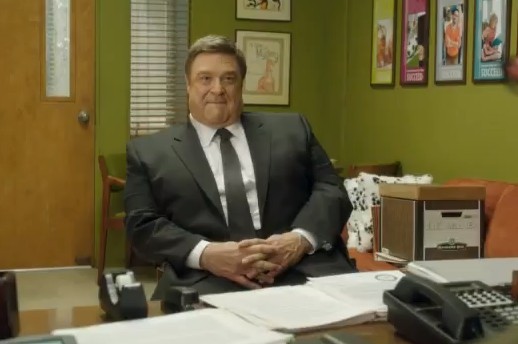 "John [Goodman] is terribly disruptive. He parked his car on the stage and said 'This is my parking space,'" Joel McHale says of the sitcom legend who is guest starring on this season of "Community." Goodman clarifies, "I parked it on a stagehand." The two are joking, obviously, but this back and forth banter is a perfect example of the hour-long "gush fest" the two actors engaged in when discussing the new season of "Community."
McHale returns for Season Three as Jeff Winger, the cocky ex-lawyer who runs a small, ragtag study group at Greendale Community College. Goodman will appear as Vice Dean Laybourne who runs the Air Conditioning Repair School Annex at Greendale and will challenge the (minimal) authority held by Dean Pelton (Jim Rash). "[Laybourne] has Dean Pelton's privates in a vice," Goodman says of his storyline involving the supposed head of Greendale. "He's an unseen, unknown force on campus and Dean Pelton was sowing his oats over the summer and now he's having his oats fed to him."
Goodman, who is known for his work in film and especially his role as Dan Conner on "Roseanne," says his character's arc should be about six episodes but would be thrilled to do more. "I'm dying to get back into comedy again," he says. "That's what I like to do. I enjoy it. I've been doing pretty heavy guys lately, so it's nice to lighten up." The "heavy guys" he is referring to are his recent appearances on the dramas "Damages" and "Treme." Though he has been offered sitcoms since "Roseanne" ended, he says he hasn't been able to find one that will work.
McHale, on the other hand, has been having an unbelievable couple of years. Between filming "Community" and hosting "The Soup" on E!, he has also managed to find time to appear in several films. So what does he think is the reason for the success of "Community"? "I think the originality of the show is not like anything else on TV, if I do say so myself," McHale points out. "And I think going back to shows like 'MASH' or 'Cheers' [it works because] it's an ensemble. They care for each other and the world around them changes."
McHale is hesitant to answer questions regarding what will happen between Jeff and Annie (Alison Brie), which was one of the lingering questions from last season. "I can tell you that their relationship will develop further on the romantic end of things, much to the chagrin of half the audience," he jokes. He is referring to the obvious, but never addressed, difference in the ages of the two characters. Jeff is in his 30s and Annie is only about 19. "On message boards, it's divided right down the middle. They'll be like, 'Oh, that's sweet' or they're like 'That's disgusting.'" Disgusting or not, it's a relationship that will likely be a key part of the new season.
As the evil Dean Laybourne, Goodman says that there may be one of the members of the study group leaving to go to the "dark side" of the Air Conditioning Repair School. "They're trying to seduce one in particular," Goodman admits. McHale adds, "It's like [Laybourne is] Darth Vader and Donald Glover's character Troy is like Luke Skywalker." Nothing else is said, but it sounds like there could be a serious rift getting ready to develop in the group.
Another major conflict will involve Jeff and Professor Kane, played by "The Wire" star Michael K. Williams. "He plays an ex-con Biology teacher," McHale says of Williams. "I think it will be a good rivalry between the two because he has a lot more power over Jeff." Working with Williams "can be really scary," McHale says. "His acting is just great because it's scary and intimidating."
If nothing else, it's clear that Season Three will be the most intricate and entertaining season of "Community" yet. With some wonderful guest stars and plenty of good storylines, it's likely that the show will continue to satisfy its fans and draw bigger audiences each week.
John Goodman made his first guest appearance last night on the show's season premiere; "Community" airs Thursdays on NBC at 8:00 p.m. ET/7:00 p.m. CT.