Interview: Jason Biggs, Sarah Chalke Are In 'Mad Love'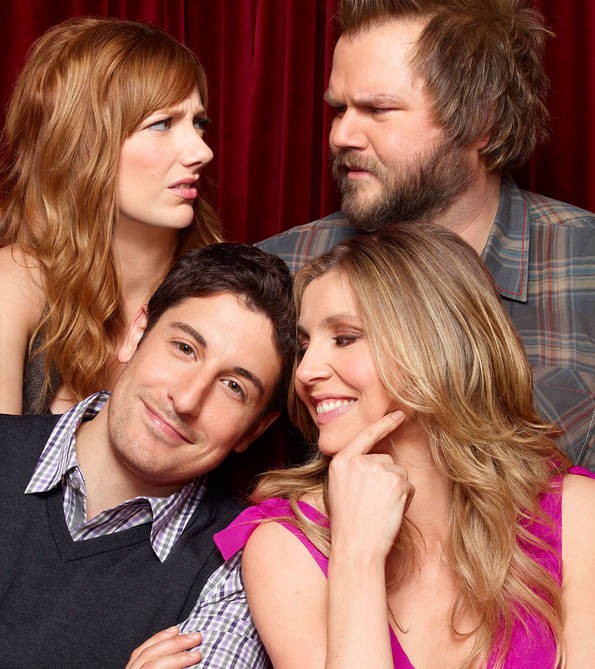 Consider it an early Valentine's Day present:  I recently had the pleasure of sitting down with Jason Biggs and Sarah Chalke, two of the stars of CBS' entry into the "relationship comedy" bonanza, Mad Love. The series, which drops oh so perfectly on Valentine's Day, focuses on Biggs and Chalke (pictured on the lower left) as a couple in love - while his best friend (Tyler Labine, top right) and her roommate (Judy Greer, top left) hate each other, but not entirely. Here's what the guy from American Pie and the lady from Scrubs had to say about embarking on a new series together.
First things first, let's get the basic question out of the way: how did the two of you get involved with this show?
Jason Biggs: I'd met with Matt Tarses, the creator of the show, and his sister Jamie, the executive producer of the show, a long time ago when it was sort of one incarnation. And then it sort of became something else and everyone, myself included, wanted Sarah Chalke so badly to play the part of Kate. And we begged and begged and begged. I went and begged because I so badly wanted to work with her. I took her to Sushi and begged her some more. And I'm pretty sure that it was the Tuna Tataki and the seven bottles of sake that she downed. I don't even drink. I don't drink.
Sarah Chalke: It was lunch. I had water. No, I was so excited to do it. I mean, I knew Matt for a decade. He wrote on Scrubs and I love his writing so much. He's so funny. He's[got] such a unique and creative, fun sense of humor and then also I think put so much heart into the shows; he really cared about the characters. And then when I found out Jason was doing it - Jason and I crossed paths maybe four years ago and met very, very briefly. We did the same play called Modern Orthodox in New York; he was leaving and someone was taking his part, and I was taking over for Molly Ringwald. So we met briefly at the cast switchover and that was it.
I think he's hysterical. And then Tyler Labine whom I've known since I was sixteen, a fellow Canadian. Then Judy Greer who I love and [have known] for years, we've wanted to do a show together. So it seems like we all kind of have been pinching ourselves lately.
Jason, what got you interested in becoming a television lead? People primarily know you from your film work.

Jason Biggs: The idea of kind of not having an exact endpoint necessarily, having a chance to kind of explore storylines and characters, and sort of grow with them is very appealing.I love comedy, and the chance to do it week in and week out is just far too appealing to me. I love this idea, I love this character, and it was just too much to pass up.
And also just on a personal level, this cast is so incredible and I have so much fun coming to work. We're coming upon the end of our season here and it's already getting quite sad. But hopefully, we'll get a chance to do it again.
Sarah, it's sort of the opposite for you. You spent so long on Scrubs, and a lot of actors wouldn't want to be committed to another series again so quickly. What's it been like for you to jump onto this show?
Sarah Chalke: For me, I love the idea of getting to be with the same group of people and finding out new stuff about your character. Last week, I found out Kate was from a farm and then the next day [that] she's like ridiculously clumsy.
This is such a fun, funny group. I'm learning from all of them, too. It's a very collaborative environment and Matt has really set the tone for that. We do exactly as it is written on the page and then, once we've got that, we can try something fun. When you really have a good time together, that makes a difference.
I'm sure you've been asked to separate the show from the recent spate of them that's been arriving on our TV screens this midseason. So what's the difference between this and the others?

Jason Biggs: For one, this is the only show that we are on.
Sarah Chalke: Yes.
Jason Biggs: What I love so much about this show is that it's incredibly funny, but it's also got a lot of heart. I think with sitcoms, you tend to explore some things that are a bit heightened and for the sake of comedy, tend to get broad sometimes. But I feel like, so far, we have explored storylines and ideas that are pretty grounded in reality. So far, we're kind of exploring sort of early relationship stuff. And it's all been very relatable certainly to me. I get it and it's been fun to play for me.
Also, I can't speak enough about the chemistry that this cast has. I feel it every day coming to work. We all get along so well on a personal level and then everyone is a consummate professional. We've already in such a short time come to learn each other's rhythm and timing. We have such similar comedic sensibilities and it just kind of works so brilliantly that I can't help but think it's translating to the screen in a way that is unique and doesn't happen that often.
It's pretty neat that you guys get a Valentine's Day premiere.
Sarah Chalke: It was really cool. We found that out ; we felt so lucky. I think our premiere night was going to be a week later and then they bumped it up to Valentine's Day and we were all super psyched.
Where are you two, personally, when it comes to romance? Do you consider yourselves romantics?
Sarah Chalke: I'm definitely a hopeless romantic. No feet on the ground, neither one of them on the ground. I think that I always have believed in true love.
Jason Biggs: I consider myself a romantic as well. I would definitely consider myself an idealist when it comes to love and relationships. I think I've kind of always wanted to be married and find true love. And I have. Yay.
My thanks to Jason Biggs and Sarah Chalke for this interview. Don't forget to check out Mad Love when it arrives on Monday at 8:30 PM ET/PT on CBS.