Interview: 'Headhunters' Aksel Hennie On Style, Stealing And Playing A Scoundrel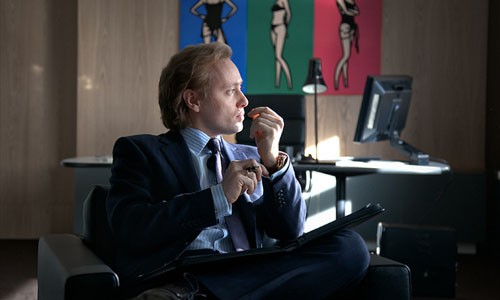 Every memorable flick with heists have a character with smarts and style at the helm – meet Norwegian actor Aksel Hennie.  As the charming scoundrel of the impressive and unpredictable new film "Headhunters" (hitting select theaters April 27 from Magnolia Pictures), Hennie's conniving character goes from man on top to double-crossed victim in one impressive and layered performance that all but steals the show.  (He even really shaves his head mid-movie – now that's dedication!)  We're celebrating the release of the genre jumping flick "Headhunters" (think "The Score" meets "Body Double!") this week beginning with an exclusive one-on-one interview with lead man Hennie, who candidly talks about his character, working again with director Morten Tyldum and his infamous hair cut.  The hunt is on – here's actor...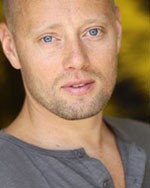 The film starts as a heist/mystery flick and then moves to a brutal action/revenge picture – how would you describe "Headhunters?"
Aksel Hennie:  It's really a mash up a lot of genres and I knew when I read the script.  The first five pages the film is a thriller, then drama, then it goes back to being a thriller, and then it's a comedy.  It's all over really and that's Jo Nesbo's writing.  What I thought was really fascinating about it was a protagonist that has all these crazy aspects of him – his arc is fantastic.  
You character goes through some serious changes throughout the film, but what was your initial approach to the character?
AH: My initial approach was to find out what his core was like.  Who is he – who does he want to be?  He's this little poodle trying to be an alpha dog.  He loves his tailor made suits, his car, his house and all these things, but inside is this little guy who always wants to be big.  And then his transformation is basically finally finding out who he is supposed to be – I wanted it to be honest.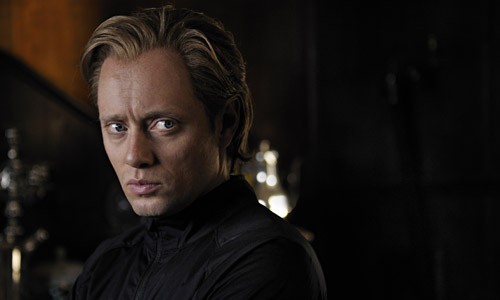 The opening presentation of your character is a slick and well thought out criminal with all the answers – what do you feel led to his eventual downfall?
AH: (Laughs) I mean after I read the first four or five pages of the script I hated the guy.  He is everything I resent in a human being.  He lies, he steals, he cheats and he wears tailor made suits which basically is enough to get punched in the face!  But what is his downfall?  Being dishonest - he's dishonest to himself and his environment.  That's what he learns throughout the film, to be an honest man.  
Now the whole head hair-shaving scenes – real or fake?
AH: That was real!
Wow!  What was the process like in prepping and then shooting those scenes?
AH: That's the cheapest surgery I've ever done!  (Laughs) Prepping is like growing hair out and then shaving it off – nothing to it!  We had this blunt razor - Morten Tyldum is the most fantastic guy and I really love working with him – and both Morten and I go, 'Of course, we need a blunt razor to do it for real!'  But suddenly we're on set and it was like, 'Oh sh!t, we gotta a blunt razor.  We gotta do it.' (Laughs)  And you just have to do it and it gives so much power and realness to the scene and that's everything you want. 
You had some serious physical scenes in the film, from fighting to car crashes, so what was the hardest for you?
AH: I love physical acting.  I love doing my own stunts as much as I can and in this film I could do my own stunts.  Challenging?  Nothing physical really, but the most challenging thing was that I was constantly wet and cold.  We shot in October/November and it was always freezing, so when you're nude in a river is very cold – I was either in poo, blood or water.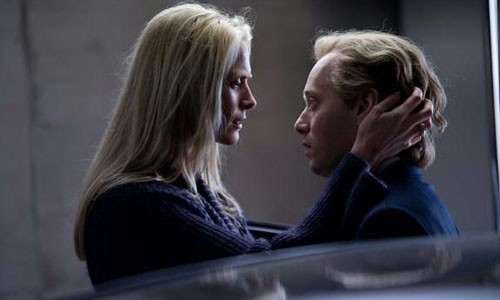 I loved the chemistry between you and Synnove Macody Lund – did you guys have an instant rapport?
AH: I knew of her - she was a girlfriend of a friend of mine.  She's actually a film critic, she wasn't an actress.  We tried out and auditioned all the female actresses in Norway and we couldn't find her.  In the book she's tall and she has this authority and we could not find anyone.  And then suddenly I said, 'What about her?'  And Morten was like, 'Isn't she a film critic?'  'Yeah.'  'Has she ever reviewed any of my films?'  'Yeah, a couple.'  'Were they any good?'  'Yeah, I think so.'  'Okay, let's try it!'  And we tried her out and she just came in more prepared than any other actress I've ever worked with – she was perfect from the first line.   
Since you and Director Morten Tyldum have already worked together, have you developed a shorthand by now?
AH: Morten and I have the best working relationship ever.  He's a dear friend of mine, which helps, and we're not afraid of any creative conflicts or discussions.  When I'm done with one take I just look at Morten and I get it – we don't say anything. 
What's next for you?
AH: I'm waiting for another Norwegian movie to come out in October and it's called "90 Minutter" and I'm shooting a film in September.  And Morten and I are constantly looking for projects to work on together, so eventually that will happened again.
"HEADHUNTERS" HITS SELECT THEATERS APRIL 27 FROM MAGNOLIA PICTURES.