Interview: Gal We Adore 'People Like Us' Actress Elizabeth Banks Talks Back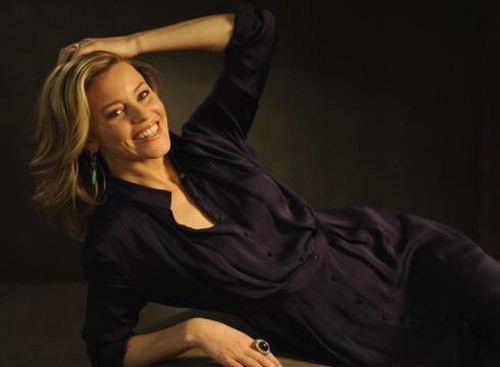 For those who like us who appreciate everything Elizabeth Banks things are about to get really exciting.  Meaning for fans who loved the recent article entitled "Five Reasons We Adore Elizabeth Banks" we're about to give you next best thing – Banks herself.  That's right, Starpulse recently got some much desired one-on-one time with our favorite multi-talented actress and rest assured we left no movie stone unturned.  She's currently starring in a new drama about family secrets titled "People Like Us" (out in theaters June 29 from DreamWorks) that also stars Chris Pine, Michelle Pfeiffer and Olivia Wilde and is the directing debut of famed "Transformers" and "Star Trek" writer Alex Kurtzman.  But we went even further with the delightful Banks to get the skinny on everything from her scene stealing work as bookstore Beth in "The 40-Year-Old-Virgin" to her memorable turn as the flamboyant Effie Trinket via the hit "The Hunger Games."  So read on Banks fans, as this is the definitive interview you (and we!) have been waiting for.  Starpulse meets its object of admiration (and she does not disappoint!) – here's the lovely...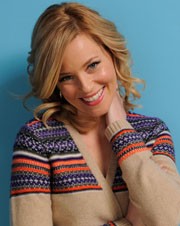 What was it about Alex Kurtzman's script that made you want to make "People Like Us?"
Elizabeth Banks: I just love this character.  It's so rare to read a female character that's this layered and complex and whose story I felt really compelled to tell.  I thought Frankie was a survivor and I recognized her in a lot of the women that I know.  I just really loved her story and felt like I wanted to be a part of it.
The film feels authentically personal – did Alex ever share with you the true elements from his life that went into the story?
EB: He absolutely did.  He really invited everybody into the collaborative process and into his life story.  I got to speak with his sister and his sister informed everything that we did.  So the seed of the movie comes from his life, but everything else is really highly fictionalized.  So speaking with him and speaking with his sister answered the big questions the movie handles.  How do you feel about your dad?  Do you forgive him?  Why did you want to meet your brother?  Things like that are the big questions this movie tackles.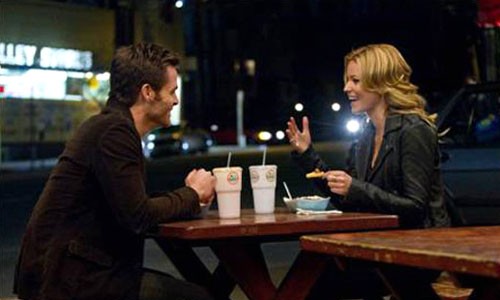 Being a first time director, how did Alex fare?
EB: Yes, he's a first time director, but he is an old pro on movie sets.  He's been doing this a long time and he's made some real amazing movies as a writer and producer.  So he knows movie sets all the way around and he had a great way with the actors and was extremely collaborative.  You always worry when you work with a writer/director - and I've worked with many of them – you always worry that they're gonna be really precious about the words and have a hard time letting go.  Especially when someone is making a movie that they've toiled over for as long as Alex did with this one and as personal as this one was to him.  To his extreme credit he let go and invited everybody into the process.
There's a definite chemistry between you and Chris Pine, which is interesting since you guys are playing brother and sister in the film – how was that to play versus a straight romantic interest?
EB: Honestly, I played it romantic!  (Laughs)  Because I don't know that he's my brother.  Frankie has a lot of walls up and she is a very protective person and for good reason.  She's been disappointed by a lot of people starting with her father and it's very clear that's sort of been the trend in her life.  So she's not about to let this guy easily in anyway.  I also felt the audience would trust that Chris's character Sam was not going to cross the line.  So I really felt to make the betrayal of Frankie as powerful as possible I needed to open my heart up to Sam.  Frankie needed to be open to Sam in a romantic way, so that when she's betrayed it's as powerful as it can be.
Past Work.  You kicked serious comedic ass in "The-40-Year-Old-Virgin"...
EB: Thank you!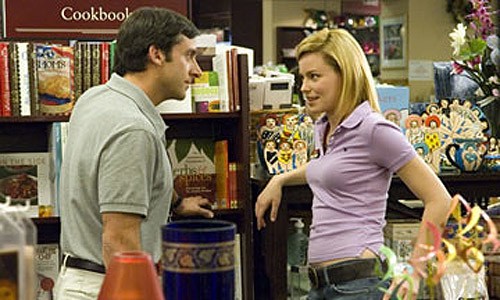 How much of that was on the page and how much did you bring to the part?
EB: I think if you read the script for "The 40-Year-Old Virgin" almost nothing that's in the script for my character Beth actually ended up in the movie.  So the entire scene in the bookstore when I say we have a section of do it yourself – that's all improv.  I think the original scene was that they were at the magazine rack and I think Beth had a hard time pronouncing some words in a magazine or something!  (Laughs)  I mean her characterization was in the script and that is what's so great about Judd.  He gives you everything you need to create the character and then he lets you just run with it.  So Beth, and I love that character, was just somebody I recognized.  I thought I get this girl.  She's a party girl from the Valley who goes to community college or goes to Northridge and works at this bookstore and parties her ass off basically.  At some point she'll figure out what she wants to do with her life, but probably will get married to somebody at some point.  But I just got her.  She seemed like a very average girl and I had a lot of fun with her because of it - I felt like I knew her.   
The climactic scene between the two leads in "Zack and Miri Make A Porno" seems so real that the audience almost feels like they are intruding on a real private moment – how were you able to convey such serious realism?
EB: You know Miri is one of my favorite characters because she falls in love and falling in love is just a really lovely thing to play.  It's very rare that people make true romantic movies and Kevin Smith, I think, is a great romantic.  All of his movies are hugely romantic including this one and Miri is just falling in love.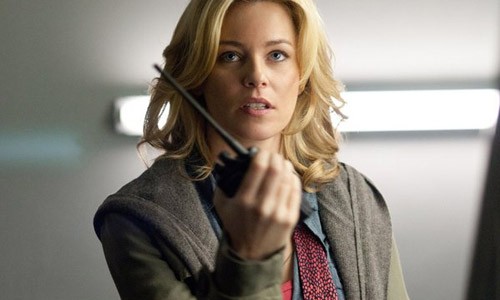 Your sullen, sassy, yet sexy negotiator Lydia Mercer in "Man on a Ledge" seemed to have a ton of back baggage – any past history you did on that character that you can share with us?
EB: (Laughs)  Yeah, I'm pretty sure she slept with Ed Burns' character - pretty sure they just had a stupid night together at one point early on!  No, for the backstory I met with the top female negotiators on the NYPD when I was creating that character and they had a lot of incredible stories.  I took a lot of their stories and just put them into the background.  It's interesting because it's a job for them and it's very important, but the one great thing that they said to me was jumpers jump.  If you get there and you're negotiating then you have a very good chance of saving them because if somebody really wants to kill themselves they go up to the top of the building and jump off.  So by the time you put your pants on and gotten into the car and driven over and had your coffee and got up there and they're still hanging there, you're more likely to save their life.  If at that point they still kill themselves, then it's definitely your fault.  That was really important to me because it's like he's out here and I have to save him now because it really then becomes my fault.
I was curious in the film "The Next Three Days" there's a scene after you push your husband Russell Crowe away where he states he knows you innocent and promises 'this will not be your life' – did you feel your character had any idea that her husband would go to such extremes for love?
EB: No.  We talked about it a lot when we making the movie and the reason he can't tell me that he's gonna try and spring me out of prison is because I absolutely would have talked him out of it.  He has a heroic tendency I don't even think he understood was inside of him.  She was getting to the point where she was finally accepting her fate and was figuring out how to be right with the fact that she was going to be in jail for the rest of her life.  You have to create a scenario for yourself where you can live with that, otherwise you would just commit suicide.  So she had finally figured out how to live with it and he just wasn't going to let her.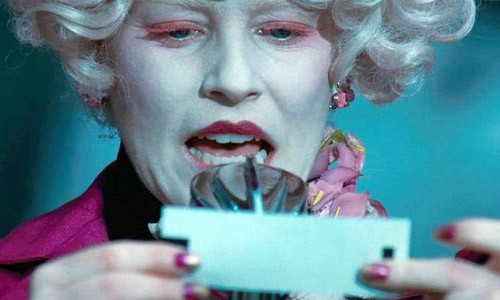 How fun was it to ooze out character names like Primrose Everdeen via "The Hunger Games" and what can we expect from your character Effie in "Catching Fire?"
EB: I very much relished playing Effie Trinket.  She's one of those larger than life characters that is just a gift to actors.  I liken her to one of my all time favorites Rosalind Russell in "Auntie Mame."  "Catching Fire?"  I can't say much about it – it's gonna be based on the book "Catching Fire!"  (Laughs)  I'll be back!
Any other projects with yourself that we can look forward to?
EB: I'm really excited about this movie "Pitch Perfect" that comes out October 5.  It's a movie I produced and it's the hardest I've ever worked on a movie.  I have a small role in it, but more importantly I saw this movie from the very seed of an idea in a book proposal all the way to the big screen and I'm super thrilled to be introducing it to the world. 
"PEOPLE LIKE US" OPENS JUNE 29 FROM DREAMWORKS SKG IN THEATERS EVERYWHERE.