Interview: Director Steve Conrad Elevates Chicago Setting, Sean William Scott in New Comedy 'The Promotion'

(Hollywoodchicago)
– Barring extreme wealth or hermetics, everyone uses the grocery store. It is the great equalizer – the marketplace where all socioeconomic groups can co-exist side by side – in pursuit of daily bread. Inspired by this reality, writer and director Steve Conrad turned it into his feature directorial debut.
It's a notable comedy that was shot in Chicago with the definitive title of "
The Promotion
". HollywoodChicago.com recently interviewed Conrad to glean his take on the dynamics of this unusual movie subject and to offer the lowdown on shooting the film in the city where he also lives.
"Well, it's home," Conrad said. "To me, doing a movie in Chicago means putting Chicago natives in a part of town where they live."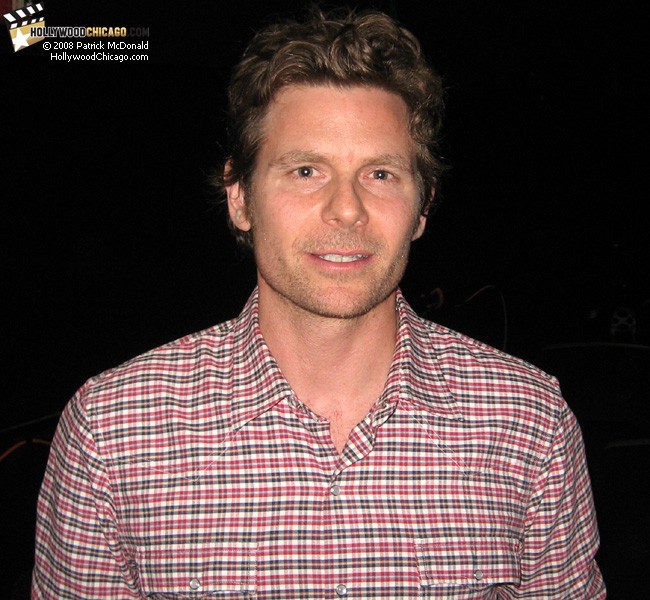 The Promotion writer and director Steve Conrad in Chicago on April 22, 2008
"The Promotion" writer and director Steve Conrad in Chicago on April 22, 2008.
Photo credit: Patrick McDonald, HollywoodChicago.com
Conrad added: "Buildings convey stories, settings convey stories and in order to tell the story right I want to pick the right place. This is easier for me here because these are the places where I walk around. I want to do it better."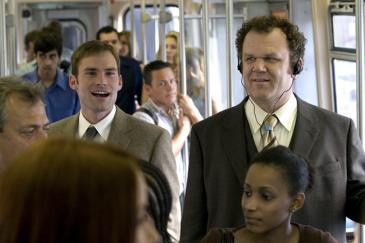 "The Promotion" is a story about two assistant grocery-store managers – Doug (played by
Seann William Scott
, who was Stifler in "
American Pie
") and Richard (
John C. Reilly
) – who are vying for a coveted manager post at the new branch of their Chicago-based grocery chain.
"It was based on a real-life event that happened at a grocery," Conrad said, "and it seemed the most logical place to set it."
Conrad described seeing a store employee at a Chicago chain armed only with a yellow courtesy vest break up some unruly loiterers in the parking lot.
"They hurt him so badly just from taunts," Conrad recalled, "and they absolutely refused to recognize any of his authority. He was completely diminished by it all. He turned around and walked away and I noticed it said on the back of his vest: 'Have a nice day.'"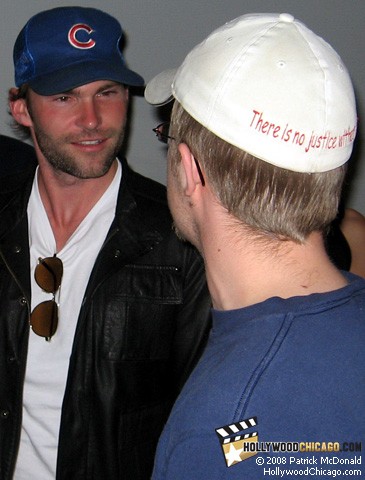 Conrad continued: "So he's walking back to work instead of quitting, which is what I might do or someone of lesser mettle might do. I thought it was heroic of him to go back. I'm not making too much of this. There's so much to be admired in that person's strength."
Through the awkwardness of the store's corporate office to the daily grind of customer problems, Conrad and his talented supporting crew – including Fred Armisen, Jenna Fischer, Lili Taylor and Gil Bellows – interpret this real-life scenario with poignant and hilarious observations.
Conrad describes the process with the talented cast: "I started out hiring people who I thought were actors before they were movie stars."
He added: "I have better luck with actors because they treat the film like a craft. They want it to go well and they will do the work it takes to give the movie a good shot."
Conrad coaxes great performances out of his two leads.
Williams deftly creates the mask of the everyman who tried to do the right thing while at the same time desiring the prestige and money of the new position. Reilly creates an intricate comic character and imbues him with a Canadian accent and a sad-sack soul.
Conrad reflected: "Some people can tell a joke and some people can make you laugh. I was really confident that John and Sean were in that second category. If you asked them, you can count on them to do any number of things."
"I would always try to measure the comedy through real human behavior," Conrad said in summary. "Among others things, it's about carving out the space in America to become your better self, how that challenges you and what it costs. It amounts to the fight of all of our lives. It deserves to be treated with some force and some respect."
There's a running gag in the film culminating into a moment of pure joy that's rarely seen in movies today. Steve Conrad has created a story of everyday people also honoring the small victories that define the meaning of life.
"The Promotion" opened on June 6, 2008. In Chicago, the film is showing at AMC River East and Landmark's Century Centre Cinema.

By
PATRICK McDONALD
Staff Writer
HollywoodChicago.com
© 2008 Patrick McDonald,
HollywoodChicago.com