Interview: Comedian Steve Coogan Rocks Sexy Jesus Character in 'Hamlet 2'

(HollywoodChicago.com)
–
Steve Coogan
is a British comedy icon. Forging a career from creating an array of characters, though, he's not as well known in America (except to BBC cultists).
He brings this talent for characterization to the lead role of an American high school drama teacher in the new film "
Hamlet 2
". Coogan adds some peculiar quirks to the depiction of the clueless soul who seemingly will do anything to project his dramatic "vision".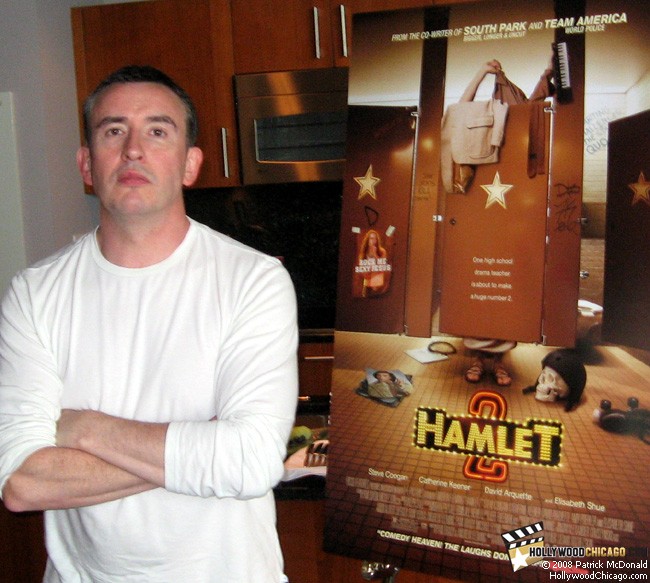 "Hamlet 2" star Steve Coogan in Chicago on July 30, 2008.
Photo credit: Patrick McDonald, HollywoodChicago.com
In a recent HollywoodChicago.com interview with Coogan, he philosophized about the nature of his comedy and how he hopes it can translate both in "Hamlet 2" and within the larger entertainment scope as his career progresses.
Describing the roots of his basis in developing characters, Coogan went back to his childhood in Manchester, England.
"As a kid before cable or VCRs, I used to use an audio cassette recorder to tape TV shows," Coogan recalled.
He added: "[I did it] just to get the audio tracks. Also there was a lot of comedy on records. I would listen to
Monty Python
and older British comedy like Tony Hancock and The Goon Show."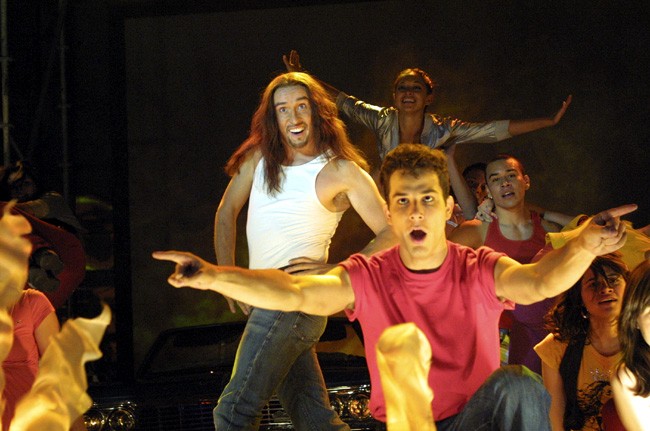 Steve Coogan (center) and Skylar Astin (right) star in Andy Fleming's comedy "Hamlet 2".
Photo credit: Cathy Kanavy

"Often people would describe their favorite moments on the TV shows or records," he continued. "I would say: 'No. You've got it wrong.' I would start to mimic what was accurate on those shows. I would enjoy the retelling of the stuff. I would enjoy people's reaction to it once I did it."
"Hamlet 2" is a bit of a departure from the British scene. It depicts Coogan as Dana Marschz: a down and out American actor forced to teach bad drama in a high school in Tucson, Ariz. His student body consists of two worshipful pupils who do stage recreations of movies like "
Erin Brockovich
".
When Dana is forced to take some rougher students into his classes, it's within the context that the school system is about to cut the drama department entirely. What is necessary is a big production. It must be something the bureaucracy can't ignore.
Dana Marschz will come up with the sequel to one of Shakespeare's best. He'll call it "Hamlet 2". Coogan added: "What attracted me to the character of Dana was that it's a funny part."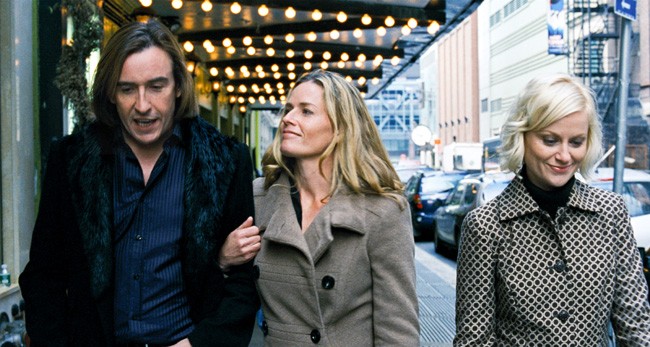 Steve Coogan (left), Elisabeth Shue (center) and Amy Poehler (right) star in Andy Fleming's comedy "Hamlet 2".
Photo credit: Focus Features
He continued: "He is vulnerable, which was a departure from characters I've played who are unlikable. I am attracted toward dysfunctional people because I find them more interesting. It's a challenge to play someone odd or dysfunctional and still make the audience care about them."
While Dana plots his masterpiece, his marriage dissolves around him. Still, the plucky and gullible dramatist forges on.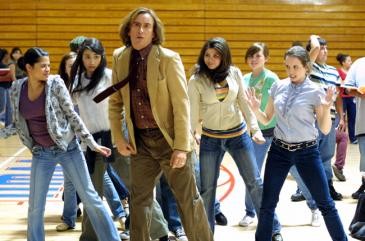 His play will revolve around a time machine (so the dead characters in the first "Hamlet" can be revived), musical numbers and the character of "Sexy Jesus" for the big finish.
"We talked about how to make Jesus sexy," Coogan explained. "That's why we settled on the jeans and T-shirt. The hair was always kind of cool."
"It did make me a little nervous to play Jesus," he admitted. "I did wonder whether (writer/director) Andy (Fleming) was just trying to be provocative to annoy Christians in a certain way or if it was just funny. I wasn't quite sure, but in the end, I just did it."
Coogan also talked about playing Dana as an American and the differences between that freedom and the more repressed British psychology.
"As a generalization, I think Americans are less repressed than British people," he said. "Culturally, people from America come from somewhere else, so there's the risk factor within the personality that makes them more free."
"There is no subtext with Dana," Coogan added. "The challenge was how to make it interesting when he's so big and demonstrative – without making it over the top – especially in contrast with the other characters in the film who are more grounded."
In his final thoughts, Coogan mentioned why he sometimes has trouble being pigeonholed in the way he's cast in movies.
"I like variety. I don't like to repeat myself," he said. "In this marketplace, that is difficult because representatives sometimes don't know how to sell me. I do so many different things. But it satisfies me creatively."
"Hamlet 2," which is written and directed by Andrew Fleming, features Steve Coogan, Catherine Keener, David Arquette, Elisabeth Shue, Amy Poehler, Melonie Diaz, Phoebe Strole and Skylar Astin. The film opened on Aug. 22, 2008.

By
PATRICK McDONALD
Staff Writer
HollywoodChicago.com
© 2008 Patrick McDonald,
HollywoodChicago.com