Interview: 'Come Out And Play" Red-Hooded Helmer Makinov On Starting As An Image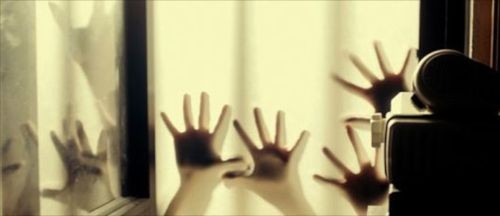 It's rare for a film to come out where both the flick and the director are the subject of controversial attention.  The film in question is the upcoming horror thriller "Come Out And Play" (out March 22 from Cinedigm/Flatiron Film Company), a new askew take on the killer kids theme directed by newbie auteur Makinov.  Besides the film itself, the prolific Makinov has made quite a name for himself not only as someone who subscribes to the inclusion of social conscience in his film, but also someone who then defies it.  Sporting a red sack, the memorable Makinov not only does all press and interviews wearing the strange piece of apparel, but also directs and makes his films with the bag on as well.  It's a fitting match to his equally odd and powerful flick about a couple that finds themsleves stranded on an island with some killer kids.  We got a chance to chat with the fascinating new director not only all about "Come Out And Play," but also some of the secrets behind his flamboyance in remaining anonymous.  So step back and take it all in – here's the magnetic and mysterious...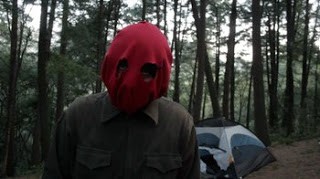 "Come Out and Play" explores themes very similar to the 1972 film "Who Can Kill A Child."  What influence did that film and others dealing with evil kids have on your work and what intrigued you to take on such controversial subject matter? 
Makinov: I was interested on the images of children rebelling against the adults, taking control of an Island.  It's always the children that are most affected by the decisions of the adults, I think they needed a revenge.
Who are some of your filmmaking influences and what drove you to make a feature film now?
Makinov: I had these images in my head that needed to get out and I realized the only way I was going to be able to accomplish it was to make a more conventional film.  I wouldn't say I have direct influences in the making of this film but I felt like I had to consult the classics of the genre.  The night before we began shooting I had "Rosemary's Baby" projected and everyday we would watch a film.  A few I can remember were "The Birds," "The Thing," "The Exorcist" - all the classics.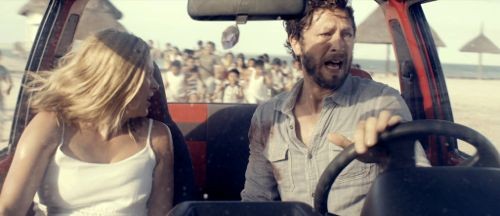 I'm a huge Vinessa Shaw fan and her work here along with Ebon Moss-Bachrach is some pretty intense stuff – what were your thoughts behind casting them? 
Makinov: I was looking for actors to portray Francis and Beth, but I don't know much about actors, so for that I had some help from Pablo, my producer.  I think it was the right choice - they did a good job. 
It's always tricky working with kids – kids that are supposed to be evil probably even more so.  What technique did you use when directing youngsters with such adult themed material? 
Makinov: For the kids it was all a game.  They know much more than most people give them credit.  I didn't say much to them, the real job was to use their energy and make it look menacing.  If you look closely, they're always having fun, even when they die.
There's been much talk about the red bag you wear so let's delve into it.  Did you really wear it on set while directing and did it at all distract the actors or crew when you were making the film?
Makinov: People can get used to much more strange things.  Now I wear the mask for everything I do film related which is almost everything I do.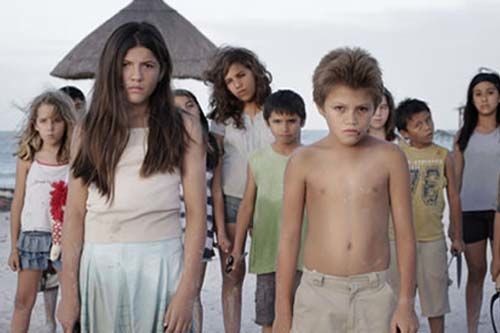 I understand the idea of wanting to be judged based on work and not the artist, but do you think that a read bag could possibly bring more attention then a simple human face in the long run? 
Makinov: At the end, film directors become images themselves.  So why not start as an image?  The mask stops the non-filmmaker part of the filmmaker from being associated with the films.  The person and the creation are all part of the same. 
I totally believe in the idea that cinema can reflect society and be a tool to teach and move people.  But I also believe in the idea of film as pure escapism as well – a chance to embrace and explore the unknown.  What are your thoughts on films that perhaps exist solely to entertain and distract from the ire of everyday life? 
Makinov: There are many films that do that - we need more of the other kind of films.
Will you ever be comfortable to come out from behind the mask and what interesting subject can we expect from your next film? 
Makinov: I see the mask in the future for as long as I can see into it.  Next film is about animals, the forest, discreet life. 
"COME OUT AND PLAY" HITS SELECT THEATERS MARCH 22 FROM CINEDIGM/FLATIRON FILM COMPANY.