Interview: Candace Cameron Bure Is Back In Your Living Room Starting June 22

We watched her grow up on "
Full House
" as DJ Tanner. Now
Candace Cameron Bure
is a wife and mother of three who can be found on the new ABC Family series
Make It Or Break It
. Candace chatted with Starpulse about what it takes to break successfully away from being a child star and how important family is in her life.
SP:
We grew up watching you on "Full House," how does it feel to be back on a series?
CB:
I'm really excited, it's really fun and I wasn't expecting to go back to series television but I really liked the show and the concept. Fans are starting to find out that I'm coming back and the response I've gotten just… makes me warm and fuzzy.
SP:
A lot of child stars seem to be unable to have a normal life as they grow up. Several of your castmates from "Full House" have very publicly struggled with eating disorders and drug abuse. How were you able to get away from that?
CB:
My parents just placed the importance on family, God, and our faith. That's what molded me into the woman I am today, so I can carry those values and try to teach my kids the same principles. They didn't allow show business to take over our lives. I give all credit to them- they were parents first. They didn't set out for us to become television stars.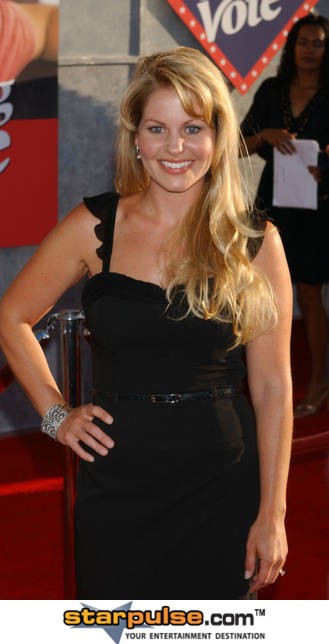 SP:
Was it difficult to grow up in the public eye?
CB:
It was, no one really wants to grow up on television and have people see you getting boobs or having a broken out face. At times it was horrible, but I loved "Full House" and being a part of it. I wouldn't change anything for the world. I would do it all over again.
SP:
Is it difficult to balance work and home life?
CB:
I haven't had to balance much because I've really been a stay at home mom for the past 10 years and I just recently started working again. My family has always been my first priority. It will be a challenge at some point I'm sure.
SP:
How do you keep your children grounded with two famous parents, are they getting to the age that they understand how well known you are?
CB:
They do understand it, when you are living it and you are the child you kind of don't know any different. I know there have been some tough days for them when kids realize who their mom is and then they want to befriend them and ask questions. I think it probably will become an issue, but right now they are just having fun and enjoying the fact that people know who their mom and dad are. It's going to be fun to take them to the set with me and events; to see their faces light up when they meet people from their favorite shows.
SP:
When all of that press came out about you losing weight, did you expect to become such a role model for women?
CB:
It wasn't a goal (of mine) to be a poster girl for fitness. It's been a lifestyle of mine for a very long time. It truly is incredibly important for my family and I to eat healthy, live healthy, and exercise together.
SP:
What's your trick for working out while traveling?
CB:
Unfortunately my workouts have kind of gone out the window. It just gets hard because you start working long hours and you have to cut something somewhere, which means I am just more conscious of what I eat. You start to lose muscle, which is a bummer. It's a lot of pressure when you go back on television, especially on a gymnastics show and you are walking around looking at these incredibly perfect bodies. You have to keep it in perspective- we are who we are.
Favorite thing to do with your kids?
Reading with them and spending summer on the beach, we are big beach bums
Favorite indulgence?
Pinkberry, had it for dinner last night.
Favorite thing to do with your husband?
Dinners with him, getting dressed up for each other and going to a great restaurant- we are huge foodies.
Favorite TV show right now?
Lost
, I didn't see the season finale and I'm kind of dying over that.
Favorite episode of "Full House?"
The Love Letter
Catch more of Candace Cameron Bure on "Make it or Break it," premiering on ABC Family June 22nd at 9pm EST.
Story by
Kristen Schoels
Starpulse contributing writer