Interview: 'Ai Weiwei: Never Sorry' Doc Filmmaker Alison Klayman On Her Controversial Muse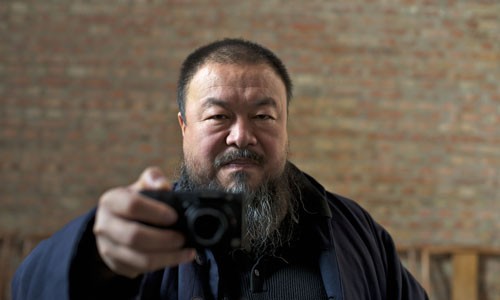 In the realm of freedom of speech and expression, nobody is more outspoken and prolific then activist and artist Ai Weiwei.  From his bold statements about the unfair practices of China to his meaningful and controversial art, Weiwei has become a symbol of freedom no matter what the cost.  Documentary filmmaker Alison Klayman was inspired by the exploits of the Chinese government's most feared citizen – so much so she made a film.  The result, "Ai Weiwei: Never Sorry" (currently playing in NY and opening August 3rd in LA from Sundance Selects) is a moving doc that shows the determination of one man looking peace – and the price it costs him.  We're celebrating brilliance of the man and his story with some one-on-one conversation with Director Klayman, who talks about everything Weiwei and his world.  One man.  One voice.  Making a difference.  Here's filmmaker...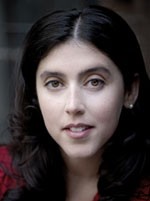 How do you come to find out about Ai Wei Wei and what ultimately inspired you to make a documentary on him?
Alison Klayman: I was already living in China at the time - I went there after graduating from college in 2006.  In 2008 I was just about to get my journalist accreditation and my interest in going abroad was to be a journalist and a documentary filmmaker.  So my roommate introduced me to Ai Weiwei because she was working on an exhibition of his photographs for a local gallery in Beijing.  She said it would be great if the show had a video to go with it – would I want to make it?  So I said absolutely and it was a show about his New York photographs so it was about his time in New York.  Which was essentially how I got to know him - looking through those images and talking to him about that time.  I was really lucky that my exposure to Ai Weiwei was coupled with the opportunity to meet him and to film him, so I was grandfathered into it.  Making a longer documentary film – I wanted to know more about him. 
How long did you spend shooting his life and art?
AK: I shot all through two years.  Then at the end of 2010 and beginning of 2011 I was firmly in the editing process after they demolished his studio and that was the epilogue of the film, but once he was detained obviously that extended the life of the project.  So we were in production and post production at the same time – all in all over the course of three years?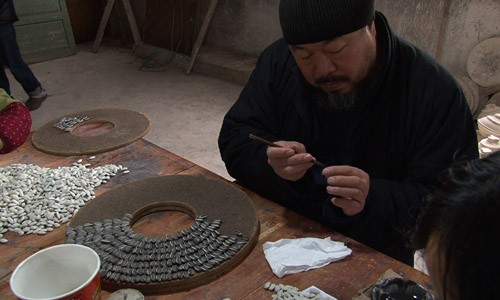 There are some harrowing events that happen to Wei Wei – anything personally that gave you pause during shooting?
AK: Honestly even to this day every time he says something incredibly bold, direct and critical of China it still shocks me a little bit.  Not just saying it, but saying it in front of a reporter or putting it online.  Filming day in and day out it was really the trips to Chengdu where I was with him that were the most tense.  As a daily thing in Beijing I didn't really run into any difficulties, but when we were going to police stations and to courthouses and coming with a bevy of cameras those days we all wondered what was going to happen.  I really see those as situations where we were going into the lion's den.
Wei Wei seems almost nonchalant and perhaps even a tad apathetic when it comes to his private life with his mom, wife and child – what was your take on the more personal side of him?
AK: I definitely saw the more personal side as an area that I was interested in examining.  Not in the gossipy kind of way, but in the way where here is someone who receives a lot of media coverage and puts so much of his life online that I felt doing my project I wanted to get those quiet moments.  What are the moments where we're going to see him in a way that nobody else is trying to capture?  For me that included seeing him with his son and also seeing him with his mother – those were two figures that he was more private about.  In terms of the issue that his son is from another woman and not his wife, I felt I didn't need to delve into that too much.  But it was interesting to see how he deals with that because he's someone who talks about transparency and lives so much of his life very openly and publicly – it turns out he has a private life too.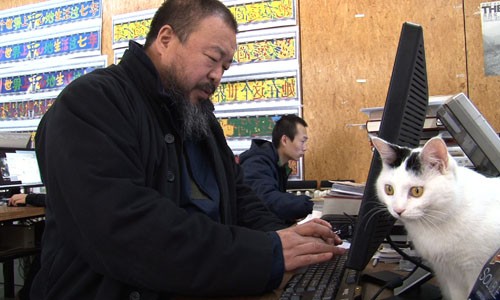 There seemed to be a real push to release Wei Wei from being detained – even from First Lady Hillary Clinton.  Why was no one able to get him released sooner?
AK: That's the thing about China – they don't really like to be told by other countries what to do.  It took a few days to even acknowledge he was being detained in the first place and they never really revealed where he was or what authority had him.  The mystery of why he was taken when he was and why he was released when he was it's not totally clear, but ultimately I do think that international pressure played a really big role in his release.
Did you sense that being detained had a profoundly negative effect on the spirit and fervor of Wei Wei – is he as outspoken as he once was?
AK: I think that what he values and the importance of his life's work has not been shaken in him, but his ability to gage where the lines are he's walking and how he can maneuver is difficult for him right now.  They put a lot more pressure on him on a regular basis then they did during the years that I was filming with him.  I do think the detention has had an effect, but more importantly the way that they treat him he is just living under different conditions right now.
What, if any, is the news on the various lawsuits pertaining to his assault by police and will he ever see justice?
AK: I think at this point the police assault he hasn't forgotten and he keeps various Google docs recording every single exchange with authorities, but the big thing he is fighting is the tax charge.  The latest development on that is that recently the court ruled on his appeal and they refused to overturn that charge and he has said that he will not rest and file lawsuits and continue to press.
"AI WEIWEI: NEVER SORRY" IS CURRENTLY PLAYING IN NEW YORK AND OPENS IN LOS ANGELES AUGUST 3 FROM SUNDANCE SELECTS.