Interview: Actor Linus Roache on TV's Titanic, Being 'The Friendly Man' And The Process of Chris Nolan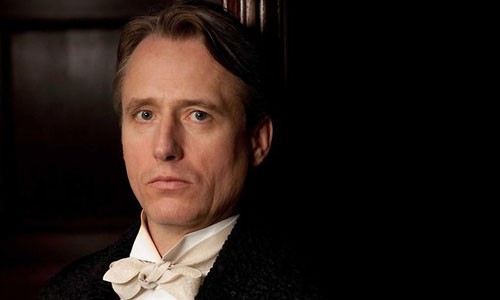 In the realm of notable actors nobody does classy, quirky and sometimes even creepy like British performer Linus Roache.  For those who don't instantly recognize his very memorable face, he's the actor behind such iconic movie roles as the man of the cloth in Antonia Bird's controversial "Priest," the mysterious 'Friendly Man' in the thriller "The Forgotten" and Bruce Wayne's proud papa in Christopher Nolan's "Batman Begins."  Roache recently headed up a large scale cast in the four-part miniseries period drama "Titanic" (now available on Blu-ray from Entertainment One), based on the sinking of the infamous ship liner.  Written by multi-award winner Julian Fellowes, Roache plays the privileged Earl of Manton in a character focused re-telling of the classic oceanic disaster.  Marking the 100th Anniversary, we're celebrating the release of the mini-series on Blu-ray with an exclusive one-on-one chat with Roache, who talks about what attracted him to the series and his highbrow character, plus we dip into some past work that spans from Christopher Nolan to Sidney Lumet.  Grab your lifejacket and hit the lifeboat, here's...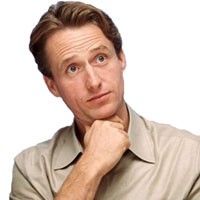 Since the titanic saga is such a well known story that has already been told in many different ways, what about the mini-series attracted you?
Linus Roache: It's a good question because a lot of people are saying, 'We've done it, we've seen the story, why bother?'  But nobody has really, as far as I know, attempted to try to tell the story of the whole ship.  To really go into the multiple lives and represent them all more fully.  So Julian's idea was to represent first class, second class, steerage and crew and give you a full section of experience of life in 1912 and the whole range of humanity that is trapped in that steel hull.  I also really liked the narrative style, which I thought was very ambitious and interesting since we all know it's going to hit the iceberg, we all know it sinks.  So why not cut to the chase and we hit the iceberg every episode, but you go back and revisit scenes from different perspectives and new information comes to light and all these lives start to cross over.  I thought it was a skillful piece of ensemble writing that makes for good television.       
The character you play in the "Titanic" miniseries Hugh, Earl of Manton - was he a real person?
LR: No, it was a fictitious character.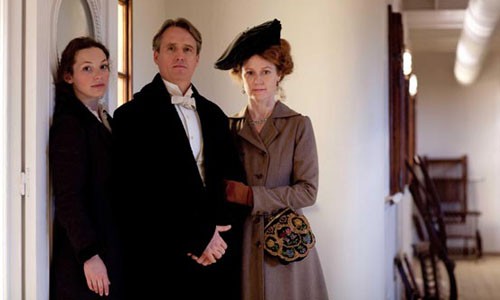 So how did you prepare for the role?
LR: I didn't worry about trying to base it on anybody that was there for real - it was more about the aristocracy of that period and that time.  To be honest its really trusting Julian Fellowes writing because if anybody can write for the upper class it's him.  He knows it inside and out and I felt to be really honest the character was very much on the page.  I did do a fair amount of research into etiquette and accents of that period and contemplated with Geraldine Somerville who plays Lady Manton my wife.  We talked a lot about what their lives had been like on a daily basis and trying to understand that type of entitlement was the main event really.  But really it's about getting in the mindset and then trusting the script.
James Cameron had a ton of documented mishaps on his set – any interesting challenges for you while filming?
LR: I think the most challenging part was the fact that it was a huge ensemble.  So there were sequences where there would be ten main actors involved and background actors involved of up to sixty people doing one sequence around a lifeboat.  And because the scene would play in multiple episodes they had to be shot from different perspectives and we would spend two to three days on just one sequence - over and over again.  That was the most challenging.  The piece was never going to be James Cameron's movie and have the big blockbuster special effects – this was a character driven piece.  That being said there was a lot of action and we were spending a long time running around, so it was demanding.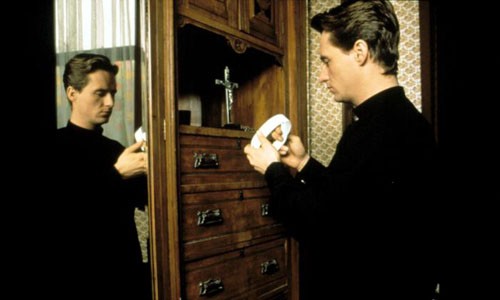 Past work - at the time, Antonia Bird's "Priest" was a fairly controversial release for then newbie studio Miramax.  Did you think it would raise as much attention and controversy as it got?
LR: I didn't really think it would raise that much.  I think everybody rode on the controversy and enjoyed it as well in terms of it helping the movie, but I do believe it created a very good platform for those issues, which are still relevant and need to be talked about today.  I was very proud that the movie provided a dignified platform to do that – it was a very thoughtful and thought provoking movie.
"The Wings of the Dove" had you alongside memorable ladies Helena Bonham Carter and Alison Elliott – what was that film like to shoot?
LR: It was great.  Helena I had worked with before - we'd done a radio show together and just never stop giggling the whole time.  It was an interesting project.  I think that I wasn't totally clear about it at the time, what I was doing and why I was doing it, but I had a great time.  And although it wasn't the movie I most loved, I've learned to accept it as a piece of work over time.  I saw it again four years ago and I thought it's a pretty good film.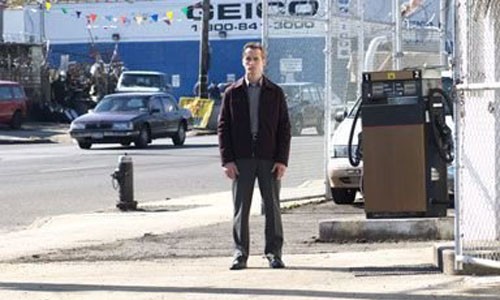 Your character in "The Forgotten" is left rather ominous for the audience to decide – what was your take on who he was?
LR: Yeah…I'm trying to remember how I approached that.  It was one of those roles where I just basically tried to detach myself from all human emotion and sentiment.  (Laughs)  It wasn't like trying to be an alien; it was just trying not to be human.  Playing somebody who was in this body, but not attached to this body.  My character was called 'The Friendly Man' – he didn't even have a name.  It's challenging doing that kind of stuff because you're at the mercy of the director and the movie as to how it lands.    
"The Chronicles of Riddick" seemed like a very large-scale production – was it daunting to shoot?
LR: That was like going on a big adventure with David Twohy and Vin.  They'd been cooking that thing up for a while and they were just playing Dungeons and Dragons and having a ball creating this whole Universe and Underverse and Necromongers.  A lot of the time I didn't know what was up or down, but it was a hell of a fun thing to do.  Plus I've worked on a couple of big budget films, but nothing quite like that.  The scale of it just blew me away.  You walked on the set and there were miles of set that you were working on – the whole concept was kind of breathtaking.  I'm fascinated by that movie because it didn't seem to do very well critically, but I don't know anybody who hasn't seen it.  Everybody has watched it and people talk about it to no end.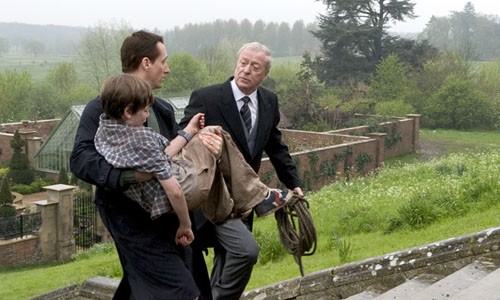 There's much secrecy over the actual directing style of famed filmmaker Christopher Nolan.  What did you think of him when you did "Batman Begins" and specifically what is his process directing on-set?
LR: I didn't actually have that much time on the set - it's not a huge character.  But I still remember being very impressed by Chris because what's great as an actor is when you work with a director who is very precise and clear about what they are doing.  And I was very aware of the fact that he was working on a huge scale with millions of dollars and big sets and effects, but when it came to your bit that's all that mattered.  That little moment – and he was there for it.  When I actually did my dying, which was suppose to be to the young Bruce who was underage and had to go home, I was holding Chris's hand.  (Laughs)  He was there for me and I have such respect for his work.  But that's what I love about his process – he doesn't inhibit you at all.  If I had the chance to work with him again I would do it in a heartbeat.
"Find Me Guilty" had you both working again with Vin Diesel and famed helmer Sidney Lumet – what was your experience doing that film?
LR: That was awesome.  I mean to work with Sidney, he's a legend and his process is very different from someone like Chris Nolan.  He works it like a play, he rehearses it like a play and then when you get out there on the set and he's like one take and your done – you move on.  You trust him.  He's fast and a ball of energy.  It was nice time being with all these amazing actors in New York – being this Brit allowed into this world was incredible.  And it was very interesting for me to work with Vin on something so radically different from Chronicles of Riddick – he was wonderful in the role.  There we were on this huge set with money and the Hollywood thing and then we were down to hardly any money on this Sidney Lumet nitty-gritty movie where you're in at seven in the morning and bang you're done by five.  No messing around.
So what's coming up for you next?
LR: I shot a pilot for ABC, which I'm a bit confused about what the actual title is – I heard it was called "Chosen."  It's directed by Roland Emmerich - the master of disaster himself - and it's his idea and concept for the show that's a supernatural thriller about good and evil set in contemporary modern day New York.  I get to play a very ambitious Senator who's got his eye on The White House.  I just shot it a few weeks ago and I loved working with Roland – I hope the show gets picked up.
"TITANIC" THE FOUR PART MINISERIES IS AVAILABLE ON DVD/BLU-RAY FROM ENTERTAINMENT ONE.