Internet Sensation Grumpy Cat Getting Her Own Hollywood Movie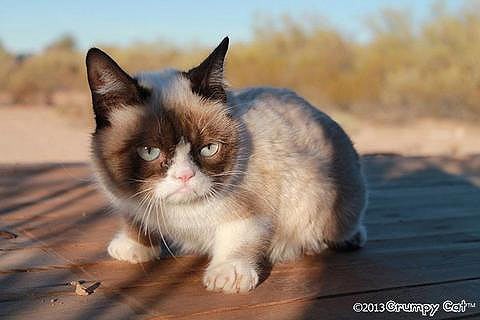 Internet sensation Grumpy Cat is getting her own movie. The cat's agent, Ben Lashes has inked a deal for a movie that features the cat, real name Tardar Sauce, according to the Wall Street Journal.

The film will feature the feline in a speaking role and be produced by Broken Road productions. Unfortunately Broken Road productions was the company behind Adam Sandler's dismal 2011 film Jack and Jill, which swept the 2012 Razzie Awards, winning 10 prizes including both Worst Actor and Worst Actress for Sandler.

Lashes, who is an "agent for internet cats," according to the WSJ, told the paper that Walt Disney is his inspiration.

"What would Walt Disney do if he created Mickey Mouse and it went viral on YouTube?" he said.

The cat's official YouTube channel has well over 100,000 subscribers and over 20 million video views.

Grumpy Cat became an internet sensation after Bryan Bundesen took a picture of his sister Tabatha's cat Tardar Sauce, named (and misspelled) by her daughter because of its color, while visiting her in Arizona. He posted the photo on Reddit.com and since then the picture has been captioned with an almost endless number of sayings like, "I had fun once. It was horrible."

The cat made an appearance at this year's South by Southwest festival in Austin, Texas, and was one of the biggest hits of the event.

Maroon 5 singer and The Voice star Adam Levine has yet to comment on the news, but we're guessing he'd say something like, "I hate this country."