Inside The Shocking Defense Of Accused Killer Casey Anthony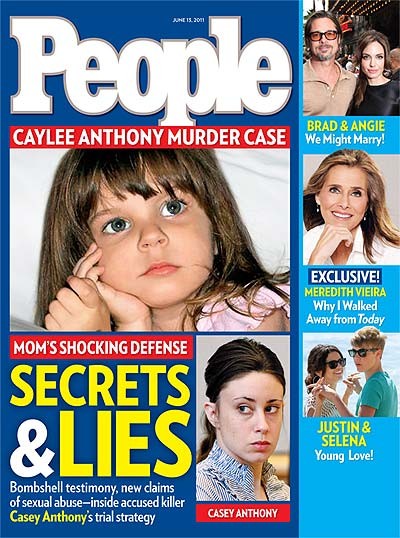 Nearly three years after little Caylee Anthony first disappeared, the case is finally being tried in Florida, kicking off with dramatic opening arguments that offered more twists and shifting allegiances than an entire season of Law & Order. This week's issue of PEOPLE looks inside the bombshell defense of Casey Anthony, who is accused of killing her two-year-old daughter Caylee in June 2008.

Thirty days elapsed before anyone reported the disappearance of Caylee. This staggering number has always stood as one of the many dark secrets at the heart of the murder case against Caylee's mother, Casey. Thirty days during which a then 22-year-old Casey casually rented movies with her boyfriend, lived it up at a "hot bodies" contest at an Orlando nightclub and betrayed not even the slightest hint that anything was wrong - a point even her lawyer conceded in his explosive arguments on May 24th in an Orlando courtroom. "How in the world can a mother wait 30 days before ever reporting her daughter missing?" defense attorney Jose Baez asked a mesmerized jury. It's insane. It's bizarre. Something's just not right about that."

To some legal experts, his defense strategy - spanning everything from shocking allegations of sexual abuse by Casey's father, George, to the involvement of the meter reader who found Caylee's body - seemed to include a grab bag of explanations. "It felt like Jose Baez threw everything against the wall and is seeing what sticks," says Orlando criminal defense attorney Richard Hornsby. The risk, says Hornsby, is "throwing everything together and saying there was some conspiracy. Everyone did something wrong - but not Casey. That's not realistic." Adds a prosecution source: "The defense says that Casey was abused, intimidated and scared, but what is that really? Smoke and mirrors."

Or the unexpected truth? Riveted jurors and seasoned trial watchers alike, prosecutors argued that the bubbly toddler was murdered by Casey in a coldhearted bid to rid herself of the responsibility of motherhood. Dropping the first of many bombshell claims, Baez countered that Caylee - whose remains were found in the woods near the Anthonys' home in December 2008 - actually drowned in the family pool, a tragic accident that, Baez argued, was covered up by Casey's father, George Anthony, 59, a former police officer. Said Baez, "It snowballed out of control."

According to the defense, Casey had learned to keep secrets after being sexually abused by her father as a child - allegations that George Anthony denies. Asked by the prosecution on May 24th if he was present when Caylee died, George replied through tears, "When I heard that today, it hurt really bad, 'cause if I would have known something happened to her, we wouldn't be here today." He added, "I would have done anything to save [Caylee's] life."

On May 28th, when Casey's mother, Cindy, 53, took the stand, she was asked about her last memory of her granddaughter. "It was a very special moment the three of us shared," Cindy testified, referring to Father's Day 2008, when she, Caylee and Casey looked at family pictures together. "I remember it like it happened yesterday." Now the parents who once said they stood behind their daughter "100 percent" have subtly but critically shifted their stance. "They support the justice system," says Anthony family attorney Mark Lippman. "They hope for the best."


*Also In This Week's 'People'*

Meredith Vieira Exclusive: "Health Is Fleeting…Celebrate It While You Still Have It"
Will Brad & Angelina Wed? "The Kids Ask About Marriage...It'S Something We'Ve Got To Look At"
Blake Lively & Leonardo DiCaprio Heating Up In Europe!
Heather Graham's Celeb Crush: Harrison Ford