Inside The Secret World Of First Lady Jacqueline Kennedy Onassis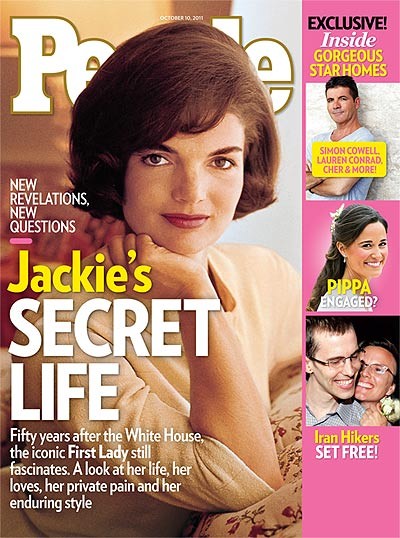 Fifty years after Camelot, Jacqueline Kennedy Onassis still holds a lock on the public imagination. This week's issue of PEOPLE takes an intimate look at the loves, lifestyles and legacy of the iconic former First Lady, who longed for privacy – yet 17 years after her death, still fascinates. "She let us know what she wanted us to know," says Kenneth Battelle, her longtime hairstylist. "Anything beyond that was hers."

From the moment she stepped onto the world stage in 1960 to the day she died of non-Hodgkin's lymphoma in 1994 at age 64, the world could never get enough of America's 35th First Lady. "You just were compelled to watch her," says Jackie's Vassar classmate Susan Wilson. "She wasn't like mere mortals." As Jackie morphed from glamorous, breathy-voiced White House hostess (Jackie Kennedy!) to jet-setting wife of a Greek tycoon (Jackie O!) to Manhattan book editor (Jackie!), the public paring of her name suggested a growing intimacy and familiarity. In reality, Jackie's privacy was non-negotiable – and thus a matter of insatiable fascination to a world that hungered to know about her marriages, her style, her two children.

Now, from the grave, Jackie is letting us know that there is more she wanted to share – but only with the distance of time. Just four months after the 1963 assassination of President John F. Kennedy, a bereaved 34-year-old Jackie sat for seven interviews with historian Arthur Schlesinger Jr., after he agreed to seal the tapes for 50 years. The resulting Jacqueline Kennedy: Historic Conversations on Life with John F. Kennedy, released a few years early by daughter Caroline to mark the 50th anniversary of JFK's inauguration, has raced to the top of bestseller lists. "Today we know everybody's dark secrets," says her friend John Perry Barlow, "so nobody can rise to the mythological grandeur of Jacqueline Kennedy Onassis." Jackie "finally has her say," in the interviews, says Laurence Leamer, author of The Kennedy Women. "And has it her way."

Did she know about her husband's affairs? Jackie "knew as much as she needed to know" about the marital infidelities that came to light years after JFK's death, Leamer says. Was the queen of denial, as he calls her, aware of "the details? No. Did she know the pattern? Of course she did." What about that breathy voice and wide-eyed stare? Jackie worked it. "I don't think I've met a more accomplished flirt," says her friend John Perry Barlow. "It was the best I'd ever seen because it was based on genuine interest. She could be talking to five or six guys and have each of them think he was the real object of her focus."

She married Aristotle Onassis in 1968 because "she wanted security," says former Secret Service agent Clint Hill. Her friend Peter Duchin says she also "loved him dearly." However, she found deeper companionship with diamond merchant Maurice Tempelsman. "They enjoyed each other on an intellectual level," says John F. Kennedy Jr.'s pal Rob Littell. "To them a good book was like a five-hour rave." After Jackie's death, Tempelsman told a friend, "She's an impossible woman to forget."


*Also In This Week's 'PEOPLE'*

-Exclusive: Inside The Gorgeous Homes Of Simon Cowell, Cher And More
-New Details On U.S. Hikers In Iran : "We Heard The Screams Of Other Prisoners Being Beaten"
-Joe Jonas: "I Downloaded [Ex-Girlfriend] Demi Lovato's Album Today"
-Maks Chmerkovskiy: "I'm Ready For Marriage"

Check out the new issue of PEOPLE magazine, on newsstands everywhere now & check out more at PEOPLE.com!