Inside The Interview Room At The Oscar Nominees Luncheon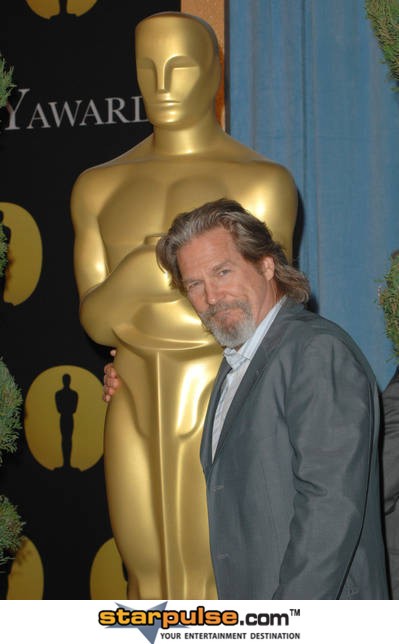 Yesterday, I had the opportunity to sit with approximately fifty other journalists to interview the 83rd Annual Academy Award nominees at the annual Nominees Luncheon at the Beverly Hilton. It is a terrific opportunity for all of the honorees to celebrate their accomplishments in film for 2010 without the pressures of the red carpet, a global audience, and the fact that only one person will go home with that coveted Oscar statuette. The luncheon is a very private and supportive event where nominees individually receive a certificate honoring their nomination. The interview room is pretty intimate with a small podium surrounded with ten rows of seats. I managed to grab a third row aisle seat, so I took in all of the action up close. Here is how the afternoon went down:

9:45 AM: After wading through a maze of security, credentials, and rooms, I finally find my spot, the interview room. Nearby is a photography room, a VIP waiting area (Where I spot show producer, Bruce Cohen, being interviewed.), and the ballroom, which is decorated in cool purples and black. I purposely make a trip to the restroom so I can take a final scan of the ballroom. By the time I return, the curtains were drawn and the luncheon room is closed off.

10:05 AM: I take in all of the amazing entertainment reporters joining me in the room from the legendary Jeanne Wolfe from Parade Magazine to Sam Rubin from KTLA. Jeanne holds court with all of the other journalists chiming in on her lively conversations. She's a pistol, so everyone is immediately drawn to her.

10:12 AM: I realize that all of the seasoned journalists have newspapers and magazines to while away the time since they pack us in early and we are not allowed to have cell phones or cameras on us. I am feeling a little lost without my iPhone at this point.

10:18 AM: Today was not the day to eat only a banana for breakfast as I peruse the Nominees Luncheon menu: Sesame Seared Ahi Tuna, Chllled Mediterranean Grilled Shrimp, Miso Yuzu-Marinated Alaskan Black Cod, and Raspberry Sorbet in a Cookie Shell. My stomach growls, it's going to be a long morning.

11:05 AM: I am still waiting around, but I read up on some of the facts and figures of this year's luncheon: 150 nominees in attendance, six are double nominees, and two are triple nominees. Wow! There is no Table 13, guess that is considered unlucky.

11:30 AM: Tick, tock. The interview room is still waiting for the arrival of the first nominee. Who will walk through the door first?

11:45 AM: Our first interviewee is a big one who is met with squeals of delight from the ladies in the audience, Javier Bardem. He talks about what an honor it is to be nominated for a movie filmed entirely in Spanish. A few reporters ask him questions in Spanish as I struggle to translate in my junior high-level Spanish.

11:48 AM: Jeremy Renner quietly takes to the podium. He talks about his Academy Award experience the second year in a row and how he is still "wide-eyed about the whole process." He's currently in Vancouver filming "Mission Impossible 4" with Tom Cruise. Okay, that's impressive.

12:05 PM: After all of that waiting, we wait a little more until Jennifer Lawrence, nominated for "The Winter's Bone" waltzes in. It's the first time I truly realize that this girl is twenty. She's young, fresh-faced, and full of energy. She received a lot of laughs when she reminisced about "eating linguine and a lot of take out" while watching last year's Oscars. Ah, what a difference a year makes.
12:08 PM: This is when the pace becomes fast and furious, one nominee after the other. Jesse Eisenberg from "The Social Network" nervously takes the spotlight, shaking hands and all. I realize how new some of these actors are to this whole process. He likens his awards season to being thirteen in a suit and off to a bar mitzvah each weekend. He has the pressroom in stitches. He is incredibly cute and dorky.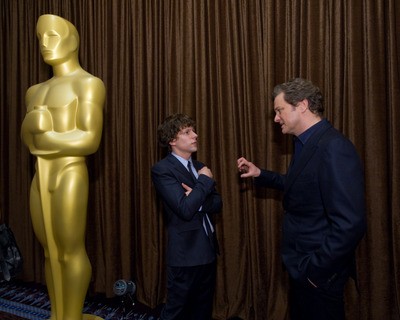 12:12 PM: Next up is Melissa Leo, from "The Fighter". She is another one who is a bundle of nervous energy. I think the intimacy of the room throws a few of the actors off. A lot of the questions are directed at her sweeping the entire awards season. This makes me a bit nervous as there is always one category where there is an upset and now, I feel like we are jinxing her with this discussion.

12:16 PM: Mark Ruffalo comes in looking a bit rumpled, but very open and friendly with the press. An Italian outlet immediately says, "You are the man with the two lesbians", not a question, just a statement. Why, yes, he is. He also mentioned he loves the "free lunches" of award season. Who doesn't?

12:19 PM: We have the beginning of "The King's Speech" trifecta with Geoffrey Rush leading the way. He is wearing a dapper eggplant-colored beret and when asked about his what it would be like to win another award to go with his huge collection of awards, he refreshingly responded, "It would be an overload, but I wouldn't mind it."

12:22 PM: Mr. Darcy! Yes, I am still stuck on "Bridget Jones' Diary", but Colin Firth is a fantastic actor with so much range. I truly got stuck on his handsome face, didn't hear a word he said, and I forgot to raise my hand to ask a question. Sigh, I will save it for the Oscars.

12:24 PM: Jacki Weaver from "Animal Kingdom" approaches the microphone next. She is so petite that the mic covers half of her face. She just acquired a U.S. agent, lawyer, and manager, and she cannot wait to start "playing Americans" in film. Watch out, American actors, she might be stealing your next job!

12:26 PM: This may have been my favorite interview of the day, Helena Bonham Carter. She is just a breath of fresh air: irreverent by slipping off her high heeled shoes, hilarious when predicting her Academy Award dress as a "catastrophe", and stylish with her burgundy hair, British hat, and elegant gloves. I love her more and more as the season progresses.

12:31 PM: Amy Adams walks into the room to mild applause, so she responds with, "That was tepid". Ha, that made me laugh since I know she is a gal who doesn't take herself too seriously. She talked in depth about working with Christian Bale who is a very method actor and who stays in character while on the set.

12:33 PM: The entire room almost jumped up when Annette Bening entered the room. She is clearly a pressroom favorite as she talked about the importance of the movie's message. Hands are flying in the air to ask her a question. Someone give her an Oscar already!

12:38 PM: One of the surprise nominees from Nomination Day, John Hawkes from "Winter's Bone", awkwardly walks into the room and looks like he wants to hide. I am not sure if he is enjoying this whole experience and he talks about "ducking" the press because he wants to remain a mystery.

12:40 PM: Occasionally, someone walks into a room and you think, "Now, that's a star!" That person is Michelle Williams. She is light and wispy, but she commands your attention the second she hit the floor. She talked wistfully about missing Ryan Gosling through this awards show process. Then, just like that, they took her away from us. We only got a minute with her; it was too short a time.
12:41 PM: This next nominee surprised me with her openness and cheerful attitude since I somehow view her as frosty with the media, Nicole Kidman. She made several lovely comments about her fellow Aussie, Jacki Weaver, mentioned that her daughter, Sunday Rose, spent the morning at the Farmer's Market, and how she may turn up in a tutu on the red carpet if Sunday Rose has her way.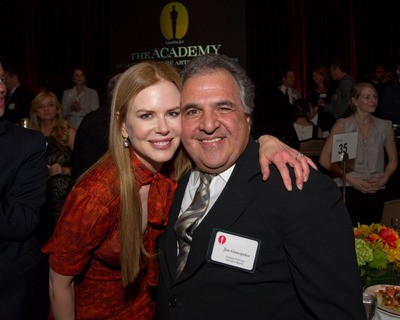 12:46 PM: There was a short pause in the proceedings until Hailee Steinfeld waltzed in. Holy cow, she's 15 years old and an Oscar nominee. She usually watches the red carpet at home and now she will be on the red carpet. What do you do when you are 16 years old? How do you top a year like she is having?
12:48 PM: How awesome is Jeff Bridges? He takes the time to talk about his charity, No Kid Hungry, not himself during the interview. He is relaxed and clearly comfortable in his own skin, a real likeable guy.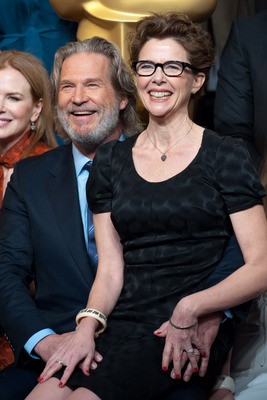 12:52 PM: The host, the nominee, the Renaissance man, James Franco electrifies the room when he hits the podium. Is there anything he cannot do? He gives his reaction to the media harping on The Academy trying to lure in younger viewers: "Yeah, duh!" How can you not love him?

12:56 PM: Bringing up the rear and clearly under the weather was Natalie Portman. She was a bit short with one reporter who asked about her dress for the big night. She was dismayed that the focus has been on her growing belly and her wardrobe. I don't blame her, but the exchange was uncomfortable.

So, the Academy Award journey continues. We are only nineteen days away from the big show and I will have all of the coverage from the red carpet and the pressroom on Oscar night. What are your impressions of the nominees so far? Do you think there will be an upset in one of the major categories? Let me know your thoughts as we build to Hollywood's biggest night!