Inside the 19th Annual Screen Actors Guild Awards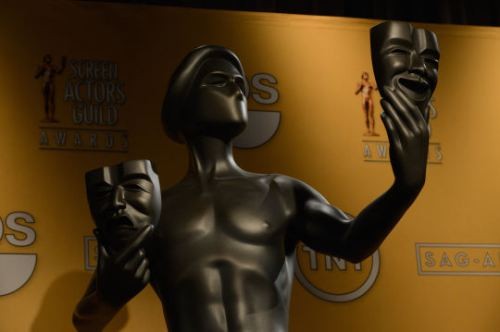 It's time for the 19th Annual Screen Actors Guild Awards, and BFTV recently stepped behind the scenes at The Shrine to get a glimpse of what it takes to put together tonight's two-hour, star-studded broadcast.
Producer Kathy Connell spoke about what sets the SAG Awards apart from the other major ceremonies. "We are separate because this is an award that's given by actors," she explained. "It's given by the actors' union, SAG-AFTRA. There's no other voting group that's larger than ours, and they're professionals who know what it takes to give a fine performance. Everybody in this room will have gotten a ballot and a chance to vote for everybody else."
On that note, she called the spirit of the ceremony "very personal. They admire each other so greatly. We invented the concept of the cast and ensemble award, where we're acknowledging a team of actors, and that means a lot to them."
Connell also praised The Shrine, where the SAG Awards have been since their third outing, for both the main room and the venue's ability to host the official afterparty. "The fact that we can put the tent and the party thirty feet from the room, so people just go seamlessly from one to the other, is terrific for us," she said. "It's a unique feeling in this room. These actors love being in this room."
A tremendous amount of effort goes into setting up The Shrine for the evening's show - more than you might think. "We probably take about eight months," said production designer Joe Stewart. "We come up with an initial concept, I'll pitch a couple of ideas, and then we narrow it down and that becomes a guide for the rest of the room."
"This particular concept is more about kind of a theatrical space," he continued. "There's two things that I have to be aware of. The people that are going to be on this set are usually going to be very well-dressed, so you would look appropriate for that, [and] then you need a screen for playback."
"Last year's set was very gold colored," he said. "This year's set is more platinum. This year, this set is going to take on very many different aspects with lighting design. It'll become very, very colorful."
Stewart added that audiences watching from home will still be able to enjoy the presentation. "It's always fun to be here, but it's terrific to watch on television," he said, "because it is primarily designed as a television show."
Viewers will also have some help from actress Busy Philipps, who serves as the Screen Actors Guild social media ambassador for this year's awards, taking over from last year's ambassador, Regina King. "They've been doing this gig for a couple years now, and it's just supposed to be something fun," explained the actress of her role in tonight's festivities. "I feel as though no one just watches TV anymore. Everyone's on their computer as well, at the same time. I think it's fun to have both views of what's going on."
She's enjoyed the role immensely. "It's been great. SAG has been so supportive and excited to have me on board," she said. "All my tweets have been genuinely from me and what I'm excited about or looking forward to. I hope on the day of the show I get as much behind the scenes gossip and action as I can get, and maybe some fun Twitpics."
For everyone involved in the SAG Awards in any capacity, it's no small task. Even after all their hard work has paid off, it will already be time to move on to the next SAG Awards. Said Connell, "We're already starting to talk about next year, for the 20th anniversary."
The 19th Annual Screen Actors Guild Awards air tonight at 8 PM ET/PT on both TNT and TBS.
For more from Brittany Frederick, visit my official website and follow me on Twitter (@tvbrittanyf).
(c)2013 Brittany Frederick. Appears at Starpulse with permission. All rights reserved. No reproduction permitted.