Inside Lindsay Lohan's House Arrest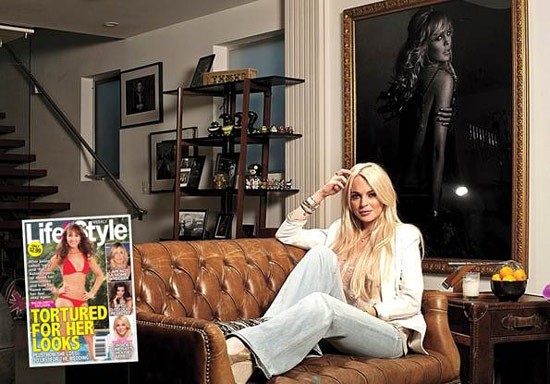 On June 18, Lindsay Lohan invited "Life & Style" inside her $2.25 million 3,000-square-foot pad in Venice Beach, Calif., to reveal what it's like to be locked up in her own home.

"I'm a very social person, and I like being outside, especially in Venice Beach. I'd like to get out more — just going out and having dinner," Lindsay says in the new issue of Life & Style — on newsstands now — about being confined to her three-bedroom, four-bathroom triplex. "I was really upset not being able to go to my little brother's birthday party. He just turned 16. That bummed me out."

Lindsay was forced to give up her fancy dinners, partying and shopping sprees when a judge sentenced her to house arrest in May, but the star still gets to have frequent visits from friends and family. "I've been having a lot of work-related meetings. Sometimes my friends come over. And I get to see my sister, Ali, which is nice," Lindsay says.

Although, she insists, there is no booze, no matter what. "When my friends come over, they're not drinking," she notes. "Alcohol is not in my house, so it's just not a part of my life." But when Lindsay is released on June 29, it won't necessarily mean the end of nightclubs for her. "I don't think you should ever say never," she explains.

The 24-year-old actress has her fair share of critics who believe this is not a real punishment and that she may never recover, but she's ready to prove them wrong: "I've grown up — and I'm willing to do what I have to do to prove that."

She plans to start out on the right track. "This may come as a shock, but I mean it: I want to start my community service. I want to finish that so I can work in August and September," Lindsay tells Life & Style. Most important, she says, she loves acting and hopes that someday she can be taken seriously again. "You go through experiences. I do understand that I need to gain some of the respect back, but I'm willing to work hard for that. I understand the situations I've put myself in, and I don't want to go back to that."
For the full interview and more photos inside Lindsay's house arrest, pick up the new issue of "Life & Style", on newsstands now in New York and nationwide Friday!