'Inside Combat Rescue: The Last Stand' Is A Gripping, First-Hand Account Of Combat In Afghanistan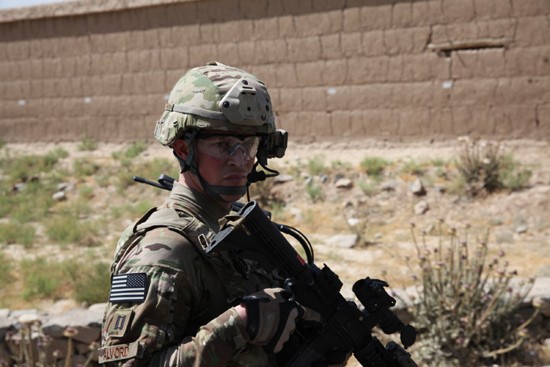 "Subhanullah. He's a Taliban commander, and he's the number-one bad dude that we're looking for," says Master Sergeant Eddie Ray in a voiceover for "Inside Combat Rescue: The Last Stand," a two-hour special that airs Sunday night on National Geographic Channel.

The documentary, filmed in summer 2013, follows an elite Air Force group known as the Reapers as they hunt down an elusive Taliban leader and the pararescuemen (PJs), who take care of the critically wounded who fall in combat. Viewers get an inside look at the action via GoPro cameras mounted to the airmen's helmets, helicopters and MRAP (Mine Resistant Ambush Protection) vehicles as they enter Taliban-controlled villages, negotiate with Afghan leaders, and make daring helicopter rescues.

Major Chris Hagemeyer said the 822nd Base Defense Squadron (Reaper Team 5) and the PJs of the 83rd Rescue Squadron agreed to be filmed so people get a better understanding of their jobs. "Who else is going to tell the story? The general public doesn't realize the detail of what we do out there," he explained.

Those details make for engrossing television.

Viewers are immediately thrust into the action in what appears to be a perimeter breach at Bagram Airfield in Afghanistan, which is home to 36,000 people. "Intrusion, intrusion, intrusion," echoes an automated voice in the control room, and airmen are immediately dispatched to investigate.

"Ultimately, there are a lot of people outside that fence line that want to kill us," an intelligence officer explains.  "They're trying to show us that we're not safe…To be honest, we're not safe. There's nothing about being in Afghanistan that's safe."

"Inside Combat Rescue: The Last Stand" focuses on Reaper Team 5 and their search for a man who's responsible for many American deaths - Taliban leader Subhanullah. The GoPro cameras capture the team heading to "Taliban central" to meet with village leaders in order to stop them from protecting the Afghan commander. The Reapers travel in a hostile territory, constantly aware they may be driving into an ambush. Despite the inherent dangers of entering a Taliban controlled environment, the airmen are intent on locating Subhanullah. They want payback. They want to put a bullet in his head.
The two-hour special also features the PJs, who fly into Kabul to rescue a pair of critically injured men. They must move quickly because their sensors detect a possible incoming missile. These men and women put their lives at risk to help others, and ultimately 12,000 people have been saved by combat helicopters.
The documentary also shows how the airmen deal with their six-month deployment away from their families and how they handle life when they return to American soil.
Tune in to watch Reaper Team 5 narrowly avoid being blown up by an improvised explosive device (IED), see the PJs responding to a rocket attack, and find out whether the 822nd Base Defense Squardron ends up getting the Big Bad -- Subhanullah. You won't be disappointed.
"Inside Combat Rescue: The Last Stand" premieres Sunday, June 15, at 9 p.m. ET/PT on the National Geographic Channel. Miss the first season of the series? It airs the same day, starting at 3 p.m.
"Inside Combat Rescue: The Last Stand" trailer: