Inside Catherine Zeta-Jones' Private Struggle With Bipolar II Mood Disorder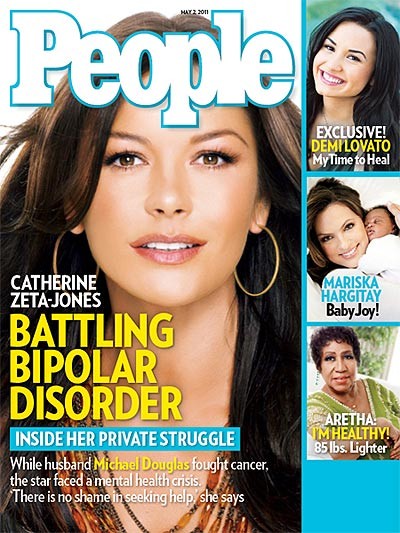 In early April, Oscar and Tony-winning actress Catherine Zeta-Jones checked in to a mental-health facility in Connecticut and was given a diagnosis during her five-day stay there that surprised many, including even the star herself: bipolar II disorder, a mental illness marked by prolonged periods of depression alternating with episodes of mild mania. In going public with her diagnosis, Zeta-Jones, 41, hopes to destigmatize the illness and help others who are undergoing similar struggles. "This is a disorder that affects millions of people and I am one of them," she tells PEOPLE in a statement. "If my revelation of having bipolar II has encouraged one person to seek help, then it is worth it. There is no need to suffer silently and there is no shame in seeking help."

Just as she and husband Michael Douglas, 66, united in the face of his diagnosis and successful treatment for throat cancer, the couple are confronting this latest challenge firmly side by side. "It takes a lot of courage to seek help, and I am very proud of Catherine for doing something positive about her situation," Douglas tells PEOPLE. "It's onwards and upwards for us both." Their support for each other has helped them get through the toughest of times. "They're everything to each other," says family friend Barry Landau. "They're soulmates, they're lovers, they're in awe of each other. They complete each other. I know it sounds corny, but they do."

The crushing weight of her Oscar-winning husband's illness and brutal eight-week treatment took a toll on Zeta-Jones, who had trouble sleeping and getting out of bed in the morning. "The simple things would just seem overwhelming, like going out to dinner," says her friend. "She would almost have to psych herself up to be able to do it. It didn't fit with our Catherine." She did such a good job of masking her troubles that few in her circle realized how seriously she was struggling. "To be honest Catherine functioned quite well," says a longtime colleague. Still, in phone conversations, "you could just feel in the tone of her voice a degree of sadness," adds the colleague. "I just knew something wasn't quite right." Adds the couple's close friend: "She kept up appearances. She is Carys and Dylan's mom and Michael's wife," referring to the couple's 8-year-old daughter and 10-year-old son, respectively. "And she kept going even though she didn't feel well." But her problems lingered even after Douglas got a clean bill of health.

Although she went into therapy and was put on medication, "she definitely wasn't on the right medication, and it wasn't making her feel good," says the close friend. So far Zeta-Jones, who is taking a new course of medication, seems to be responding well to treatment. "She's feeling much better - we've been laughing nonstop the last few weeks," says her close friend.

Zeta-Jones and Douglas' relationship, friends say, has helped fuel both of their recoveries. "Michael said that when he was going through chemo, all he kept doing was closing his eyes and picturing Catherine coming down the aisle," says Landau. "To me it's one of the most successful marriages." Now their pals are hoping smoother sailing awaits the couple. At their star-studded wedding in 2000, "I heard them pledge for better or worse," says the close friend. "They have really seen the worst. They're due for some better now. I don't think they'll ever take it for granted."

*Also In This Week's 'PEOPLE'*

Exclusive Demi Lovato: "I Was Manic. I Was Hurt. I Just Exploded."
Mariska Hargitay's Baby Joy: "We're Just So Happy She's Here"
Aretha Franklin: "I Feel Fabulous"
Audrina Patridge: "I'm A Karaoke Fanatic"
The new issue of PEOPLE is on newsstands everywhere now!
Click for more great Catherine Zeta-Jones pictures: