Inside A City on a Lake's Self-Titled Debut LP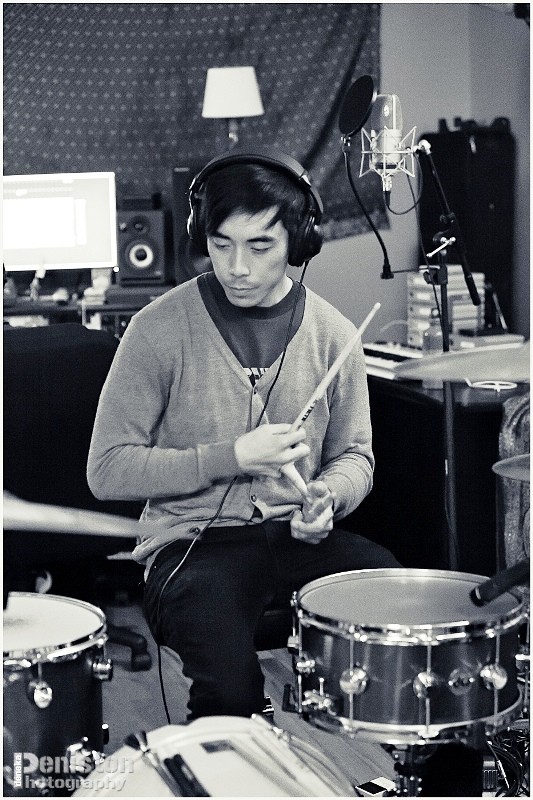 The self-titled debut album from A City on a Lake arrived in July, and it's definitely something different: an interesting cross-pollination of electronic sounds with classical songwriting, the kind of album you can put on, sit back and have deep thoughts to. It's not your everyday indie music, that's for sure.
It's the brainchild of Alex Wong, who's collaborated with the likes of Vienna Teng, Ximena Sarinana, and Ari Hest (the latter two of whom appear on the album). Alex recently sat down with me to talk about being the driving force behind A City on a Lake and what led him to tackle such a different project.
"Maybe out of ignorance or naivete or something, I never really questioned it," he said of his interest in becoming a professional musician. "The two careers I was most attracted to as a kid were music and cooking. Music was really like the thing I had been doing my entire life since I was like five. I always said I was going to go into classical music, but then I ended up joining a rock band in college."
"I kind of came to pop and rock music backwards," he continued. "My first real music exposures were kind of classical music. Classical music was the first music that really emotionally got to me. It was the first sort of music that made me have a real reaction. Still to this day, I think that's the most powerful music for me.
"Then I started listening to really horrible pop music in high school," he quipped, adding that "The first bands I really connected to were like Pearl Jam and Smashing Pumpkins and Radiohead."
He brought this marriage of classical and modern to earlier collaborations such as The Animators and The Paper Raincoat, but A City on a Lake is the first project that Alex has really driven. Why this project - and why not just release it under his actual name?
"I haven't released anything under my name before," he explained. "I've always used a band name. The Animators and The Paper Raincoat were both duo projects; I was co-fronting a project with another person. I did consider going under my name for awhile and I tried playing a few shows under my name, but the reason I decided not to on this one was something wasn't resonating.
"Creatively, I wanted a little bit more flexibility and something that could incorporate a wider swath of sound. There's a certain perception of singer-songwriter or solo artist music. I didn't want to be limited to songs about my feelings. I just wanted to find a name that felt like it could handle [more]."
Stepping out more on his own was also something important to Alex as he continues to grow as an artist. "One of the things doing this solo project, it was very much a personal hurdle that I wanted to get over," he said. "I still collaborated on some of the writing on this record. I wrote with some of my good friends. I love collaborating so much. Just having somebody else there and the dynamic of that really helps me creatively. I definitely wouldn't say that this would have happened without all of the other people that I was lucky to work with.
"But as far as driving the project, I think there's a huge difference in saying 'Yes, this is mine and I stand behind it one hundred percent and there's nobody else to blame anything on.' That's the main difference for me."
He wants to pursue further growth with this new venture, which is much more about creative fulfillment than just producing new work under a different title. "I would like this to be able to do different types of collaboration with different types of artists out there," he said. "Perhaps be able to do a soundtrack by A City on a Lake, or another type of collaboration with this brand. I'm looking forward to pushing myself to be very creative and not just put out album after album, but think of other ways to express the point of view of this music."
It's clear that Alex has put a lot of thought into A City on a Lake, which is particularly appropriate considering that his arrangements are thought-provoking and intriguing themselves. With this material, there's clearly no limit to what he can do.
You can find out more about A City on a Lake by visiting the official website; you can also follow Alex on Twitter (@highceilings). And check out the official video for first single "Oceanside" below!
For more from Brittany Frederick, visit my Starpulse writer page and follow me on Twitter (@tvbrittanyf).
(c)2012 Brittany Frederick/Digital Airwaves. Appears at Starpulse with permission. All rights reserved. No reproduction permitted.