Ink-fatuation: 16 Celebrities Who Are Obsessed With Tattoos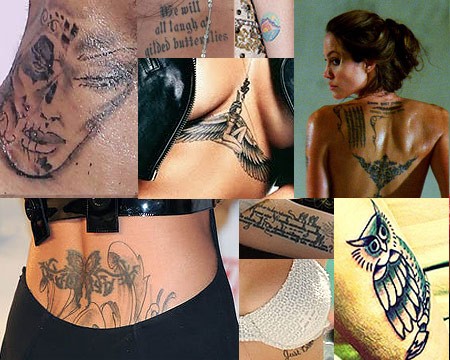 Thanks to celebs like Angelina Jolie and Megan Fox it seems like every celebrity under the age of 30 has an infatuation with getting tattoos; and many stars are beginning to stray from the typical images of flowers, butterflies, skulls, hearts and barbed wire (perhaps the lamest tattoo ever) to having words, phrases and book or poem exerpts permanently injected under their skin.

Some celebs have even gotten a bit obsessed with getting new ink on a regular basis -- most of them small tattoos -- but enough to become a makeup artist's nightmare for those in the acting business.

Others, like John Mayer and Cher Lloyd have opted for full sleeve tattoos, putting them amongst the likes of rockers Motley Crue and celebrity tattoo artist Kat Von D. And while Mayer's sleeve of ink on his right arm is an afterthought for the musician, others like British Idol star Lloyd have proclaimed their love of the medium. Cher says she wants ink all over.

Check out our list of celebrities who are obsessed with being human canvases and marking themselves regularly -- many of whom head right for twitter afterward to show off their painful new artwork...