Infidelity, Jealousy & Fighting: Inside Jennifer Lopez & Marc Anthony's Shocking Split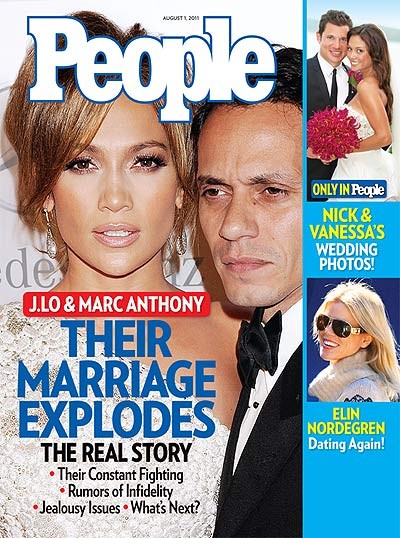 Jennifer Lopez and Marc Anthony: What went wrong? This week's issue of PEOPLE takes a look inside the real story of the power couple, who seemed to be so in love, but insecurities and constant fights over family vs. career tore their seven-year marriage apart. "We have decided to end our marriage," they said in a statement to PEOPLE on July 15. "This was a very difficult decision." And one that, according to a source close to the family, followed "two months of non-stop arguing. They just couldn't get along anymore, and it made them both miserable. They decided it's best to go their separate ways for the sake of their two kids."

The news shocked fans who had only seen them as the blissful parents of 3-year-old twins Max and Emme. But those who know the stars say there were issues on both sides. For Lopez, who turns 42 on July 24, multiple sources point to Anthony's jealousy and desire for control. "Marc would show up on-set and wait in her trailer," says a source on the set of her 2010 movie The Back-Up Plan. "During breaks from shooting, he never wanted her to socialize with anyone else." And when she became an American Idol judge, "Marc suddenly got very envious about all the attention she got," says the source close to the family. Not true says the Anthony insider: "He has always been very supportive of Jennifer's career. But they got to the point when they started to see life differently. For Marc, life is about enjoying life. There are people that think life is all about work."

Several sources also say both sides feared infidelity. "Jennifer suspected Marc was not faithful, and it's been eating away at her," says the source close to the family, adding that Anthony, also 42, did not like that his wife spent time with William Levy, 30, the Cuban telenovela star who played her love interest in her sultry "I'm Into You" video. "Marc would go crazy every time he was mentioned." (Levy told PEOPLE in May he doesn't keep in touch with Lopez and said in a July 18 statement that the relationship "has been strictly professional.") In addressing the cheating rumors, the Anthony insider will only say, "From what I know, that hasn't been the case from either party."

Things got so bad that by mid-May, "Jennifer started to kick Marc out of their house, and he'd stay for days at a time at a hotel," says the source close to the family. "When he would yell, she would shut down," says another source who worked with them. (Counters the Anthony insider: "If he feels he is being disrespected, he will definitely react to it.") He was a regular at Idol, but the two rarely interacted. And at a May event sans Lopez, Anthony, who'd had a few drinks, was heard by several people making an unflattering remark about his wife.

In June "Marc spent more time at the hotel than at home," says the source close to the family. Lopez, meanwhile, flew to Europe for work, took her kids to Disneyland and stopped returning his calls. "Jennifer seemed to make up her mind and wanted to end the marriage," says the source. During the July 4 weekend, Anthony left home for good, crashing with a friend. The source close to the family says Jennifer "seemed happier after no contact with him for several days." As fraught as their relationship turned, Lopez and Anthony seem headed for a battle-free divorce. "We have come to an amicable conclusion," they said in their statement, "on all matters," including custody arrangements for their twins. In terms of assets, "there was no fighting over payment or who gets what."

Twice-divorced Lopez, who had survived painfully public splits from Sean Combs and fiancé Ben Affleck, thought she had found lasting love with Anthony, who she secretly wed in 2004 just five days after his divorce from former Miss Universe Dayanara Torres was finalized. Now Lopez is in a familiar position, picking up the pieces and healing her broken heart. "Jennifer is sad it didn't work out," says the source close to the family, "but she feels she tried everything." (They even went to counseling.) "This is a very difficult stage," says the Anthony insider. "These people will just learn to love each other in a different way. I think he's hoping she can find happiness."


*Also In This Week's 'PEOPLE'*

-Exclusive Photos! Nick Lachey & Vanessa Minnillo's Wedding
-Elin Nordegren Dating American Investor Jamie Dingman: "She's Happy"
-Casey Anthony's Life On The Run: "She Will Be In Danger. She Will Need To Lay Low For A While"
-Dessert With Mila & Justin: "I Have Four Illegitimate Irish Children," Says Timberlake

All this and more in the new issue of PEOPLE, on newsstands now!