Industrial Band Godhead's "The Shadow Line" Hits Stores August 29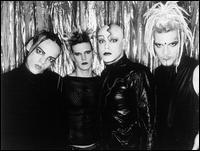 Just as
Godhead
is emerging as a true international rock attraction, the band roars into its second decade as the first act to release an album on Cement Shoes Records, the new hard rock label distributed by Fontana/Universal which re-establishes the importance of true artist development.
"
The Shadow Line
", set for release Aug. 29, embraces Godhead's hammering industrial-rock identity with no compromise, resulting in the band's most melodically potent album since forming in Washington, DC in the mid-'90s. The newly unrestrained Godhead sound is succinctly exemplified on the anthemic first single, "Trapped in Your Lies," impacting at active rock radio now with early airplay from XM, Sirius and Music Choice and influential radio stations such as WIIL/Chicago and WJJO/Madison.
The politically charged "Trapped in Your Lies" video, with its war-torn imagery, is included on a free bonus DVD featuring a behind-the-scenes documentary and two other music videos that come with the album packaging. Other standout tracks include the incisive ballad "Fall Down" and the haunting "Another Day." Fans can hear the single and view the "Trapped in Your Lies" video now on the band's web site (
www.Godhead.com
) and on their
MySpace page
.
Godhead will be supporting the release of "The Shadow Line" as part of a five-week tour with newly signed Cement Shoes label mates
Ill Niño
and RA, launching in late September.
"This is the first time we were able to create an album completely on our own terms," says Godhead front man Jason C. Miller. "We picked everyone we wanted to work with, and that's because Dan Catullo, the president of our label, lets the artist be the artist, which is so rare to find. He knows what it means to be an artist and he lets the artists create without stifling them."
"The Shadow Line", the fifth U.S. release from Godhead, was co-produced by the band with Ben Moody (
Evanescence
) and Julian Beeston (
Billy Idol
,
Nitzer Ebb
), and mixed by Jay Baumgardner (Papa Roach). Joining Miller (lead vocals, guitars) in Godhead is Mike Miller (lead guitar), Ullrich "Method" Hepperlin (programming/bass) and new drummer Glendon Crain.
Godhead stepped out of the garage for good with 2001's
2000 Years of Human Error
. The band was suddenly in demand worldwide once radio stations and MTV embraced their version of "Eleanor Rigby" and "The Reckoning." Godhead started showcasing its talent as songwriters and players as hits soon began to appear on major motion picture soundtracks such as
The Blair Witch Project
,
Dracula 2000
and the gold-selling
Queen of The Damned
. Success continued in 2003 with Godhead's
Evolver
, when the single "The Hate In Me" quickly became an MTV2 hit and also appeared in the movie
Galerions: Rion
, and "Far Too Long" was featured on CBS Television's NFL Today.
"We have more opportunities now than we've ever had before," says Miller. "And we've got a group of people behind us who won't take no for an answer... who won't stop until we get to the next level."
Cement Shoes Records, formed in 2006 by industry veterans Daniel E. Catullo III (President/Founder of Music DVD company Coming Home Studios), Peter Koepke (former President/Partner of legendary London Records), and Philadelphia Phillies shortstop
Jimmy Rollins
, seeks to re-establish true artist relationships and development neglected in recent years by major labels. An independent label distributed by Fontana/Universal, Cement Shoes Records believes the artist comes first and needs to be properly developed through relentless touring and focused marketing efforts to "The Street," where the true music fans are.
The full track listing for "The Shadow Line" is as follows:
1. Trapped In Your Lies (3:29)
2. Hey You (4:19)
3. The Gift (4:39)
4. Fall Down (4:19)
5. Push (3:37)
6. Another Day (4:54)
7. Once Before (3:51)
8. Unrequited (3:55)
9. Through The Cracks (4:29)
10. Goodbye (3:41)
11. Your End of Days (4:31)
12. Inside Your World (3:47)