Indian Icon Amitabh Bachchan Lands Hollywood Debut Opposite Leonardo DiCaprio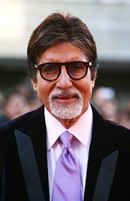 Bollywood icon Amitabh Bachchan is set to make his Hollywood debut in Leonardo DiCaprio's new movie The Great Gatsby.

The veteran Indian actor has landed a role in the big screen adaptation of F. Scott Fitzgerald's classic tale, as Meyer Wolfsheim - a Jewish man with a penchant for gambling.

Production on the film recently began in Australia, and director Baz Luhrmann is overjoyed to welcome Bachchan to the set.

The filmmaker says, "(I am) personally thrilled that one of the world's greatest screen legends, Amitabh Bachchan, is joining the cast.

"Over the years, Amitabh's films have made a tremendous impression on my life and work. His film Sholay was my introduction to Indian cinema."