In Purely Exploiting Gratuitous Violence, 'Death Race' Remake Kills All Comedic Value

(HollywoodChicago)
– While 2008's "
Death Race
" makes no secret about being a remake of 1975's "
Death Race 2000
" with
David Carradine
as the title character Frankenstein and
Sylvester Stallone
as his archrival Machine Gun Joe Viterbo, what's perhaps less obvious but still clear when you read between the lines is how the film steals from others.
Though the story had a different book cover,
Jason Statham's
character as Jensen Ames and then the masked Frankenstein can be directly correlated to (as just one example)
Nicolas Cage's
character in 1997's "
Con Air
". We've certainly seen this before: a man who's supposedly in the slammer innocently and has a monster axe to grind.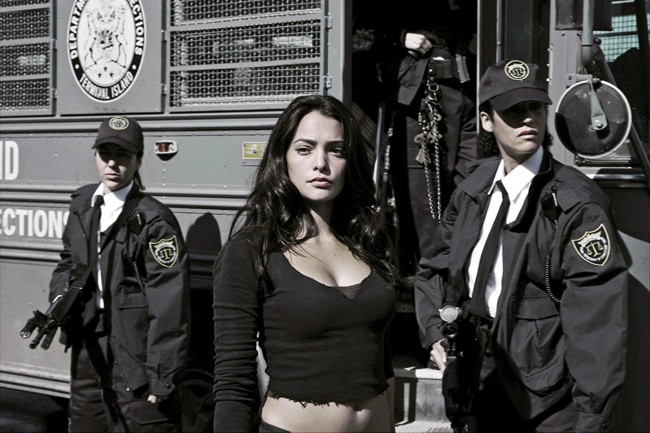 Navigator Case (Natalie Martinez) arrives from the women's prison in an action-thriller set in the near future with the world's most brutal sporting event as its backdrop in "Death Race".
Photo credit: Takashi Seida
While films today can be rewarded for being quality remakes of quality yesteryear memories, today's "Death Race" not only disappoints in its unoriginal ripping from other films but ultimately loses face in its mission for unadulterated gratuitous violence.
"Death Race" is yet another display along the lines of so many second-rate Hollywood products we see today that feel pressured to blow stuff up bigger and badder while servicing the human need to fantasize in the utterly ridiculous. All the while, a weak story is slapped on top of what essentially just amounts to an anthology of big booms.
Sometimes films succeed in being pure entertainment and don't attempt to have underlying meaning or instigate inspirational change. When they do, though, they're most successful when their fundamental purpose at least has some redeeming value.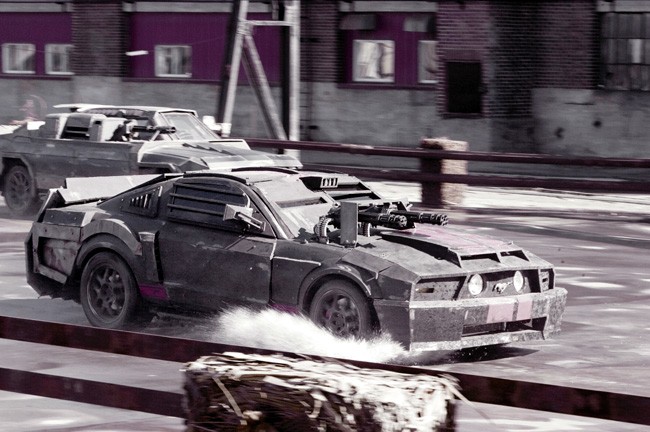 Jensen Ames (Jason Statham) drives Frankenstein's Monster in an action-thriller set in the near future with the world's most brutal sporting event as its backdrop in "Death Race".
Photo credit: Takashi Seida

The unfortunately simple message of "Death Race" merely says we're living in a time and place where financial corruption can allow us to prostitute ourselves to charge $250 to watch one guy violently off another for our viewing pleasure. In the film, 70 million morbid viewers take the plunge.
To keep our sanity and our hope, we have to believe our society won't ever come to that.
Perhaps the most interesting choice for "Death Race" was to send it entirely astray from "Death Race 2000" in its lack of comedy. The 1975 version was only part violence and very much part comedy, too. This time around, there's also no presidential plotline.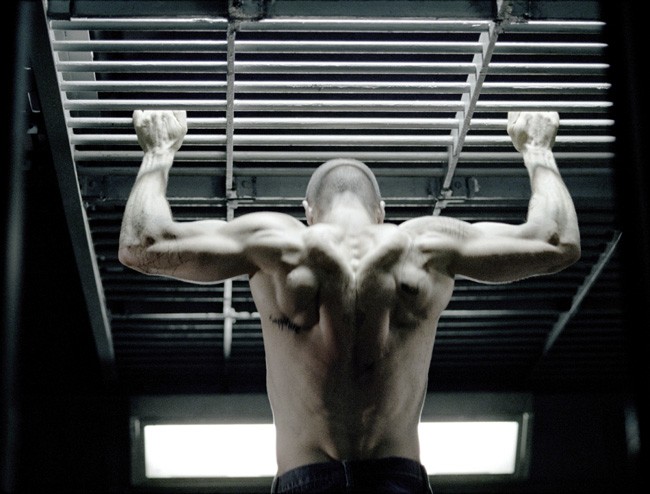 Jensen Ames (Jason Statham) kills time in his prison cell in an action-thriller set in the near future with the world's most brutal sporting event as its backdrop in "Death Race".
Photo credit: Universal Pictures
Instead of winning the 1975 death race for the chance to meet the president, the modern version offers the winner the chance to leave prison scot free.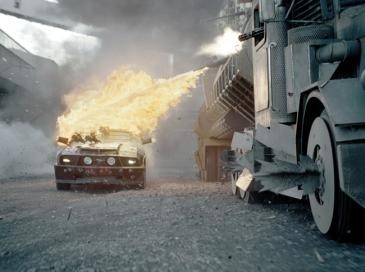 The relatively unknown supporting character Frederick Koehler in this "Death Race" is actually one of the most standout and appreciated roles in the film.
While not exactly comic relief, he plays a memorably tense character named Lists who essentially serves as Wikipedia for Statham's race-to-the-death team.
As for the decision to cast Joan Allen in 2008's version, we can only pray that she doesn't continue her current line of typecast roles.
Playing the warden in "Death Race" is directly akin to her Pam Landy government character in 2007's "The Bourne Ultimatum" and 2004's "The Bourne Supremacy".
While her character is no surprise based on her past work, that exact opposite can be said about Tyrese Gibson's role in "Death Race". The real-life model plays Statham's archrival Machine Gun Joe Viterbo as well as an Old Navy model trying to sell ultra-luxury chic on a fine designer's runway.
With a strangely unnecessary homosexual spin scripted for Gibson's character that doesn't make any meaningful sense as to why his sexual orientation would even matter, even though he attempts to sell you on being a man who gets down and dirty you're still afraid for him to break a fingernail.
One of the film's one and only redeeming values is its decision to cast Statham as the title character.
Following his work on 2002's "
The Transporter
" and then 2005's "
Transporter 2
," his ability to sell grit continues to get the job done here. Statham will deal his Frank Martin character a trilogy in 2008 with "
Transporter 3
".
Famed filmmaker Paul W.S. Anderson (who directed and wrote "Death Race" and also directed 2004's "AVP:
Alien vs. Predator
," 2002's "
Resident Evil
" and 1995's "Mortal Kombat") continues playing to the darkest parts of the human heart and filling them with sludge.
Anderson in 2009 will next attempt to butcher a film version of "
Castlevania
" based on the beloved video game.
"Death Race," which is written and directed by Paul W.S. Anderson, stars Jason Statham, Joan Allen, Tyrese Gibson, Natalie Martinez, Ian McShane, Max Ryan, Jason Clarke and Frederick Koehler. The film opened everywhere on Aug. 22, 2008.

By
ADAM FENDELMAN
Editor-in-Chief
HollywoodChicago.com
© 2008 Adam Fendelman,
HollywoodChicago.com