In Prison With 'Orange Is The New Black's' Uzo Aduba, Danielle Brooks And Lea DeLaria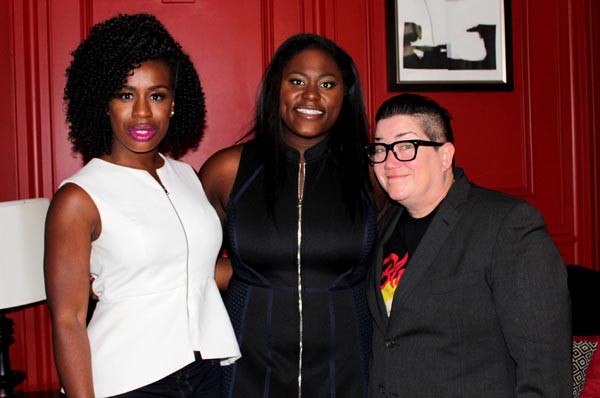 By now, everyone and their mother have heard of the show "Orange is the New Black." If you are a diehard fan, you must have seen some, if not all, of season 2's stream on Netflix. What made last Friday such a grand day for OITNB was not only the premiere of season 2 but also their screening and panel at the 2014 ATX Television Festival.
After the panel, Starpulse had the opportunity to sit down with Uzo Aduba (Crazy Eyes), Danielle Brooks (Taystee) and Lea DeLaria (Big Boo) for an intimate OITNB discussion. Of course, we made it our goal to get to know the rad chicks firsthand. But before we presented our exclusive "In Prison With" game, we got some show details for the newcomers to the series. "It's a comedy. We are in a comedy. That goes without saying. But you see that the first episode, of this season, has a darkness to it. It's still funny, but there is a darkness to it and that carries through the season," DeLaria says.  Heading back to jail in season 2, the cast has claimed that the writing is even better than the first time around.
So to mix things up from the countless number of interviews the ladies were doing, Starpulse created the "In Prison With" game for OITNB cast members. In the fictional world, sure Uzo, Danielle and Lea spend much time in prison. But in reality, they don't. So, what would their lives be like if they actually were in prison right now? Here is what they revealed:
1. What item would you take to prison with you?
DeLaria: Natalie Portman.
Aduba: What!?
DeLaria: That's my answer. Natalie Portman.
Brooks: I would totally take a bunch of chocolate. Tons of chocolate because you know mother earth happens and every woman gets that time. That'll be great for trading.
2. Between Solange Knowles and Jay-Z, who would you rather have as a jail mate?
Brooks: Jay-Z for me. I was going to say Solange because of her fashion tips but I think Jay-Z because of his knowledge. I would at least be able to have a good rhyme or something.
Aduba: Yeah, and Jay-Z can build something out of nothing so maybe he can build a way out of jail.
3. What prison item would you steal and hide, in case you ever needed it to protect yourself?
Brooks: Maybe a mirror. I don't know, I would have to think about it.
DeLaria: A toothbrush.
Brooks: The leg of a bed.
DeLaria: I'm going with toothbrush.
Brooks: And it's little.
DeLaria: Yeah, you can carry it.
Brooks: We gangster. We are so gangster.