In Memoriam: Why 'Wedding Band' Will Be Missed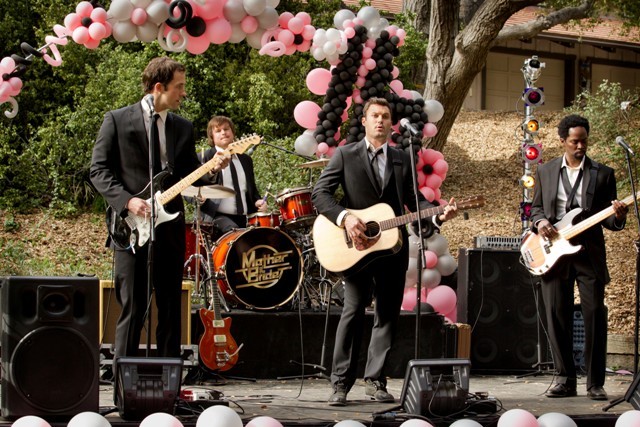 On Tuesday, TBS pulled the plug on Wedding Band, electing not to renew the comedy for a second season. It's a sad ending for a show BFTV earlier called the best new comedy on television, but it's also an opportunity to celebrate the ride. Here are five reasons why I'll miss rocking out with Mother of the Bride.
1) The music. You can't have a show called Wedding Band without good music, and it was hugely surprising how great the music was - not only because it was catchy, but because it was real. Shepherded by music guru Adam Schlesinger (from Fountains of Wayne and who also wrote the ridiculously catchy title track to the Tom Hanks flick That Thing You Do!), the four members of Mother of the Bride - Brian Austin Green, Peter Cambor, Harold Perrineau and Derek Miller - were actually singing and playing their own instruments, and not just on run of the mill pop-rock music. They were asked to master everything from Jay-Z's "99 Problems" to an Indian take on LMFAO's "Party Rock Anthem," and they never missed. For example, check out Perrineau's wonderful vocals on the show's cover of "Superstition."
2) The characters. A must for any good TV series is embraceable characters. This show had them across the board. You either knew someone like at least one of these people or you were at least one of these people. Eddie represented everyone who's ever worked a day job and dreamed of being able to do something awesome off the clock. Tommy going on a spiel about romance novels was one of the funniest monologues on TV in a long time. It wasn't something most leading men would've ranted about, and that was what made him great. And Ingrid - Eddie's wife, a devoted mother and a no-nonsense crime scene investigator - was one of the most awesome female characters on a comedy in awhile.
3) The actors. Who'd have thought this ensemble would come together? Yet Wedding Band gave the spotlight to some wonderful actors who deserved the attention. It's time to can the 90210 jokes and realize that Brian Austin Green is a legitimate actor. Peter Cambor is just effortlessly likeable. Harold Perrineau, who was so hilarious in ABC's The Unusuals, was even better here (after playing a villain on FX's Sons of Anarchy, no less). It was a pleasure to see Jenny Wade back in an ensemble after FOX's The Good Guys. Kathryn Fiore and Melora Hardin played characters that were strong women, yet also had a great sense of fun about them. Then there was Derek Miller, master of the one-liner. There was no weak link in this group. Throw in guest appearances from the likes of James Marsters, Donald Faison and Train's Pat Monahan, and the casting just couldn't get any better.
4) The great setpieces. Wedding Band could easily have been one of those series where the characters' occupation ended up taking a back seat to love triangles and character issues. Thankfully, it wasn't one of those shows. Co-creators Josh Lobis and Darin Moiselle took the idea of a wedding band about as far as it could have possibly gone. Mother of the Bride's gigs included the aforementioned Indian wedding, a divorce party, Oktoberfest and a nudist get-together. It was always great fun to see where they'd play next and what songs would be on the set list. Fittingly, the band's final performance was at an "end of the world" party.
5) The vibe. In the simplest of terms, this show was just a great way to spend a Saturday night. It was always funny, but as Derek Miller pointed out in our interview, the humor wasn't mean-spirited or snarky. While the characters would poke fun at one another, we never lost the sense that they ultimately cared about and supported each other. That sentiment rubbed off on the series as a whole; here was a show with a big heart. The episode "99 Problems" centered on the band trying to convince a couple not to get divorced, and that was a typical story for Wedding Band. Things might not necessarily go well, but Mother of the Bride always found the positive in every situation, and with everything else going on in TV and in the world at large, that was something really nice to see.
The best in this situation is that audiences had the opportunity to experience ten episodes of an honestly unique, warm-spirited, and hilarious comedy. Thank you to the cast and crew of Wedding Band for a fantastic run, and thank you to TBS for allowing us to enjoy it in the first place. It's just a shame that we won't be getting an encore.
For more from Brittany Frederick, visit my official website and follow me on Twitter (@tvbrittanyf).
(c)2013 Brittany Frederick. Appears at Starpulse with permission. All rights reserved. No reproduction permitted.