In Memoriam: TNT's 'Monday Mornings'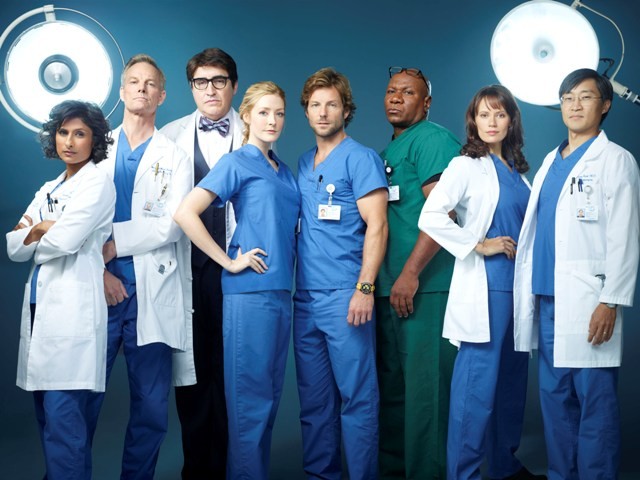 TNT has opted to check out of Chelsea General Hospital, cancelling Monday Mornings after just one season. It's the unfortunate demise of an outstanding television series - yet as we lament the bitter end, we can also reflect on the multitude of great things that emerged over the ten episodes that we got to spend with this memorable band of doctors.
Here's a not at all short list of reasons why Monday Mornings will be missed and ultimately, left a strong fingerprint on not just medical dramas, but the entirety of television.
1) The pedigree. It's not often that you get a production team together like this: people who are not only big names, but also uniquely suited to the program. Dr. Sanjay Gupta wrote the source material, and rather than just handing it off to the TV folks, stayed onboard to lend his expertise as not just the author of the book but a medical professional, too. David E. Kelley and producing partner Bill d'Elia were two of the forces behind one of TV's best hospital dramas, Chicago Hope. TNT really couldn't have asked for anyone better steering this particular show.
2) The cast. The series shone the spotlight on a group of actors who deserved the recognition. Alfred Molina finally got a leading role he could sink his teeth into after seeming wasted on NBC's Law & Order: Los Angeles. Ving Rhames is Ving Rhames; need we say more? Jamie Bamber's been one of the best actors working on TV since Battlestar Galactica; there's nothing that he can't do. Jennifer Finnigan was a leading lady who stood strong, avoiding the tropes of the traditional female doctors on TV.
Then there's Sarayu Rao and Emily Swallow, two talented actresses who proved they can and should be more than supporting players. Keong Sim stole pretty much every scene he was in even when he had only a handful of words sometimes. And kudos to Bill Irwin for making a character that 99% of other actors would have played as someone we loved to hate into somebody we actually loved. In most casts, there's usually one or two folks you love, but probably also someone you dislike or can't remember. On Monday Mornings, this cast knew how to work as a team - and we embraced every single one of them.
3) The guest stars. Monday Mornings gave us Jason Gray-Stanford back on our televisions on a fairly regular basis, like we'd been hoping for ever since Monk went off the air. It featured the awe-inspiring Hal Holbrook in an episode appropriately called "The Legend and the Fall." There was a Hornblower reunion of sorts when Ioan Gruffudd appeared in "Truth or Consequences." Jonathan Silverman had a wonderful recurring role. When so many shows use guest stars simply to fill in the blanks of the main cast's story, here it was exciting to see who was going to arrive each week, because not only did we know they were going to be talented, but the writers were going to use them to their full potential.
4) The production. We didn't get to see the countless folks on the Monday Mornings crew, but we did get to see the results of their hard work, and it was obvious that they really loved the show by the quality of the finished product. Fans of the art form that is television could appreciate the great camera shots, the beautiful sets, the music that never got in the way of the scene. Chelsea General looked, sounded and felt like a real hospital that we were actually in for an hour every Monday, and that wouldn't have been possible if a lot of hard-working people hadn't brought it to life the way that they did.
5) The intelligence. This was a series that absolutely could not be watched passively, whatever way you sliced it. If you wanted to look at it as just entertainment, it was a program that gave us characters which did not fit into the usual hospital drama stereotypes and plots that avoided all too common pitfalls. Even the slightly cliched workplace affair story had its moments. Yet if you were willing to dig deeper, Monday Mornings just unfolded with so much, whether it was stories about uncommon medical conditions or characters who were fully realized people. And most importantly, while it juggled complicated issues and lots of jargon, the show never, ever made the audience feel inferior.
6) The heart. As smart as it was, another great quality the show had was its tremendous amount of spirit. Where other medical shows strayed so far from medicine that they felt like series about people who just happened to be doctors, or could get downright depressing with how bleak a picture they painted, Monday Mornings was a true medical drama that always had hope. Even when characters made mistakes or did something that infuriated the audience, the show never made us hate them or dwelled too long on their failures. We cared about these people and their patients, saw that they cared about each other, and were able to believe that they'd get through whatever happened next.
7) The perspective. The greatest blessing that Monday Mornings gave us is that from the outset, it was something more than just a TV show. It gave the audience a deeper understanding of what it means to be a medical professional - not just the standard 'does the patient live or die?' pressures that the genre usually mines for drama, but the day-to-day grind of living in that high-pressure world, both inside the hospital and out. It asked tough moral, legal and personal questions, and in so doing invited us to answer them ourselves. We were able to see these doctors not as superheroes, or as quirky characters with messy personal lives, but real people that had their strengths, weaknesses, fears and beliefs just like we all do. They made us look at medicine, and at ourselves, just a little bit differently, and that's something that we can carry with us for the rest of our lives.
8) Author's note. I personally have so much to thank this series for. It allowed me the opportunity to meet one of my favorite actors of all time, Jamie Bamber, when I thought I'd never have the opportunity. It introduced me to another friend in Keong Sim. And as I wrote in my April editorial, visiting the Monday Mornings set in December enabled me to confront my fear of hospitals - a huge step I never would have taken in any other circumstance, because wanting to support Jamie and a show that I believed in created motivation greater than my insecurities. Covering the series for the last six months completely changed my perspective on the medical profession. The experiences I've had through the show have made me a stronger person. It has been an absolute honor to be a part of Monday Mornings.
If you somehow missed Monday Mornings when it aired, the complete series is still available on iTunes. You can also revisit all ten episodes with my episode reviews and cast interviews in the BFTV archives. Thank you to the cast and crew for all your hard work on a remarkable series; it will not be forgotten.
(c)2013 Brittany Frederick. Appears at Starpulse with permission. All rights reserved. No reproduction permitted. Visit my official website and follow me on Twitter at @tvbrittanyf.