In Command: Andre Braugher Leads ABC's 'Last Resort'
Andre Braugher's role as Captain Marcus Chaplin on ABC's Last Resort is a perfect fit for the award-winning actor. He may not be a household name, but television buffs know that Braugher is one of the most commanding folks ever to have graced the small screen.
Whether it was as Detective Frank Pembleton on NBC's Homicide: Life on the Street, as Nick Atwater on FX's short-lived Thief, as Owen Thoreau on TNT's Men of a Certain Age or even in guest roles on series like House and Law & Order: SVU, very few people have  the screen presence of Braugher. He's fully believable not only as someone who would be in charge of a Navy nuclear submarine, but someone that you'd want to follow into battle.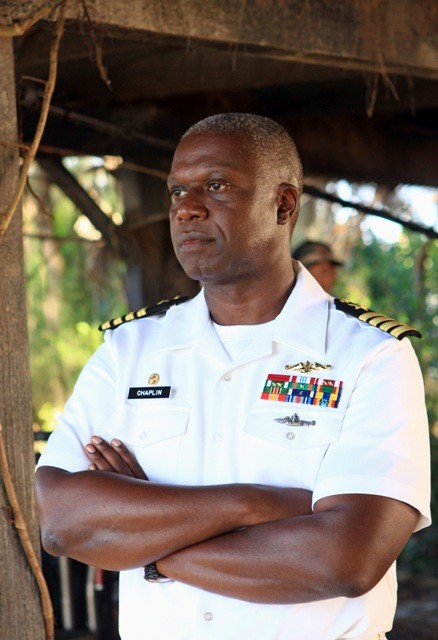 As Last Resort continues its impressive first season, Braugher recently took time to discuss what it's like for him to work on such an ambitious series and his thoughts on the character of Marcus Chaplin.
On face value, the role appealed to a common theme that the veteran actor knows well. "All the roles I've played, they really center around either the great conflict or how the great conflict affects the people that I love," he reflected. "When I go back to any of the miniseries I've done or the series I've done, the heart and soul of the show always centers around how the people that we love are affected by our decisions.
"I've been cast often times as a hard-nosed, hyper confident kind of guy and so this seems always to be the main consideration, how to help the people that I love live with the decisions that are necessary for our survival - so it's a challenge that I've taken on before."
Yet there was also something distinctive about Last Resort that attracted Braugher in a different way. When he was handed the pilot, "What was going through my mind is [that] this is really an opportunity," he said. "We do serialized television and really it's an opportunity to explore a world that you usually don't in procedurals. Procedurals always stand alone every episode is essentially the same. I mean, that's true of Homicide - the episode is going to open with someone dead and we're going to avenge that person. That happens again and again and that's typical of SVU or the other cop shows that I've been on.
"But to absolutely do a serial means we're going to go forward and we're going to progress as characters and in terms of story. And so I look up and I just say to myself, Shawn Ryan was able to do that brilliantly with The Shield and so I'm going to take on the challenge of living and breathing in this character and growing with this character. He's going to be transformed and I want to be there for every step of the way. Rather than developing a character and then freezing it, it's just much more exciting to really live in this guy's skin and go through the changes that he goes through."