Imprisoned Ja Rule Delays Album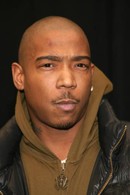 Incarcerated rapper Ja Rule has postponed the release of his new album until 2012.

The "Always On Time" hitmaker put the finishing touches to his upcoming project, "Pain is Love 2," shortly before beginning his two-year prison sentence for weapons charges in June.

The project was scheduled for release this month, but fans will now have to wait until January 17.

Ja Rule's original jail time stems from a 2007 arrest in New York, but he was recently ordered to serve an additional 28 months behind bars for separate allegations of failing to file his income tax returns.