Iggy Pop Misses Being Poor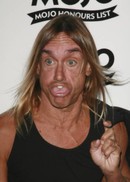 Rock legend Iggy Pop pines for his poor days as a young musician living in dives.

The punk icon has been famous for more than 40 years, after shooting to fame with his band The Stooges, and has amassed a fortune through millions of record sales and endless touring.

But the rocker admits he misses his impoverished youth in Michigan, because all his happy memories of hearing great music hail from that period.

He says, "Most of the great listening experiences I had I associate with the cheap, poor living condition-type homes my friends and I had. I would hear a record at someone's house and now, 50 years later, I can still see where I was.

"I'm well off at this point in my life but I've never been as happy as I was then, and that's due to being able to let the feelings come in, the feelings that come with good music.'"