Iggy Azalea Covers The August Issue Of Cosmopolitan Australia As She Makes Rap History On The Charts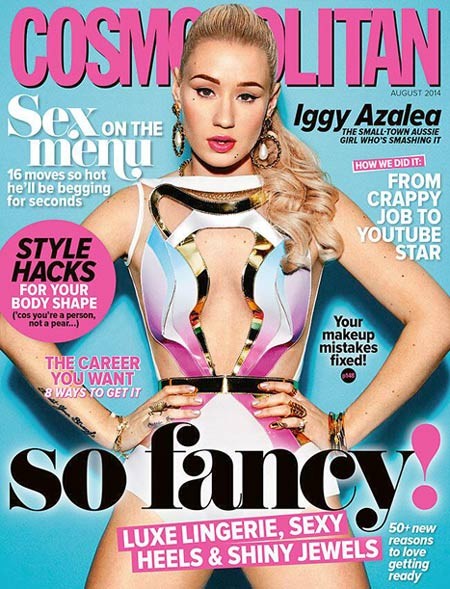 While rapper Iggy Azalea is making chart history in the U.S., she's landed the cover of the August issue of Cosmopolitan magazine in her native Australia.

The "small-town Aussie girl who's smashing it" wears a cutout leather catsuit on the cover, which exclaims "so fancy!"

Speaking of "Fancy," Iggy's single, featuring Charli XCX, has topped the Billboard Hot 100 chart for the sixth straight week, a record for a female rapper. The single has surpassed Lil' Kim's number-one collabo with Christina Aguilera, Mya and Pink, "Lady Marmalade," which sat atop the list for five weeks in 2001.

Another single featuring Iggy, Ariana Grande's "Problem," is also in the top five, dropping a spot to number three.

Iggy may be topping the charts, but last week at the BET Awards fellow rapper Nicki Minaj called her out for not writing her own lyrics.

"What I want the world to know about Nicki Minaj is, when you hear Nicki Minaj spit, Nicki Minaj wrote it," Minaj said while accepting an award, aiming the dig Azalea's way.

The rapper later explained that her comment was about the "desire to motivate women to write," saying, "Our voices have to be heard. I hope I inspire up & coming females to do that."