IFFBoston Review: 'V/H/S/2'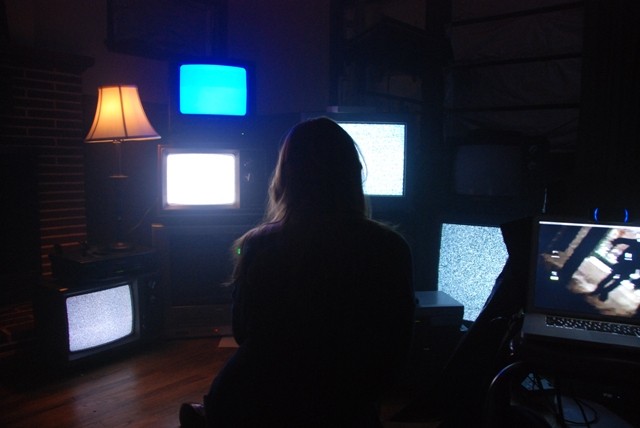 When the creators of last year's wicked horror anthology "V/H/S" sat down to make a sequel, it seems like they were reading from an audience suggestion box. That's because "V/H/S/2" addresses many of the major complaints people had with its predecessor. And although the movie still isn't perfect, it vastly improves upon the formula established by the first film, to tell more engaging stories.
For those who missed "V/H/S," here's the setup: People break into a house and stumble upon piles of mysterious VHS tapes. In this particular case they're a couple of private investigators checking on a missing college student. You assume their point of view as they begin watching said tapes, which contain screwed up, horror shorts by different writers and directors from the genre. As the pair in "V/H/S/2" watches each video, they start to realize that there are dark forces behind the student's disappearance and that they may not be alone in the house!
Perhaps the most noticeable difference between "V/H/S" and "V/H/S/2," is the number of shorts that they feature. In response to criticism that the prior one was too busy, this movie has four tapes instead of five. The benefit of fewer shorts is better character and plot development all-around. Each piece not only makes more sense, but its longer running time allows you to get more invested in its outcome.  
Another major change with this picture is the creative personnel involved. The only two writer/directors that return are Simon Barrett and Adam Wingard, which means that "V/H/S/2" is infused with fresh blood and ideas from John Davies, Gregg Hale, Eduardo Sanchez, Gareth Evans, Timo Tjahjanto, and Jason Eisener.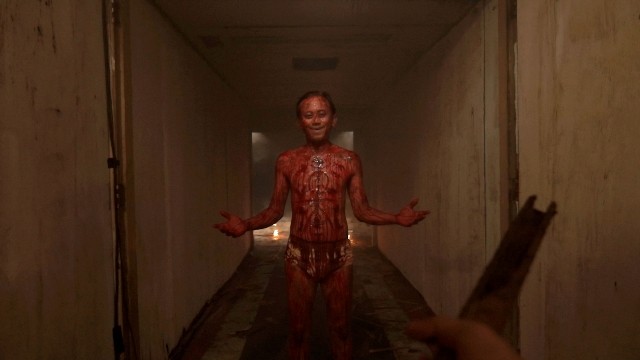 Even without the new folks however, the portion involving the couple, which Barrett writes and directs, is much more coherent than the wraparound piece in the first film. "Tape 49" as it's called, ties everything together well and doesn't feel as extraneous, as "Tape 56." Wingard's piece "Clinical Trials" is also intriguing for its unique concept involving a futuristic eye implant. Unfortunately though, aside from a couple of quick jump scares, it's not terribly frightening.
The remaining tapes think outside the box as well for their setups, especially "A Ride in the Park" and "Safe Haven." These two pieces are probably the most fun because they contain enough nasty blood and guts to fill horror junkies up for at least a week. "Safe Haven" is truly the crowning achievement of "V/H/S/2," telling a graphic, disgusting tale which starts out slow, but turns into a frightening frenzy of violence, chaos, and just plain f**ked up s**t. Despite all the nightmarish stuff that occurs, it somehow successfully ends on this silly note, which is incredibly impressive.
After all that "V/H/S/2" does right, it still suffers from some of the same issues as its predecessor. Because the first and fourth tapes are not nearly as strong from both a horror and a narrative perspective, the whole thing feels a bit uneven. Additionally, the fourth tape uses enough shaky cam to make you queasy and has large portions which are almost unwatchable since you can't see what's going on clearly. These grievances aside, kudos gentlemen for listening to the feedback and giving your viewers more of what they want! If you decide to make a "V/H/S/3," I'll be there to see it.
My Grade: B+...as in Bravo! Borderline Bodacious!
IFFBoston 2013 has ended, but you can still support the festival or learn more about its year-round activities by visiting www.iffboston.org.