IFFBoston Opening Night Review: 'The Spectacular Now'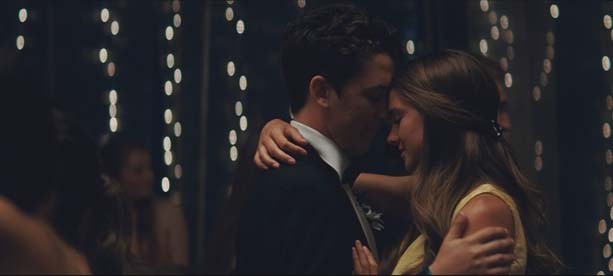 Independent Film Festival Boston opened Wednesday night with a screening of "The Spectacular Now," which I was lucky enough to attend.
James Ponsoldt's film "The Spectacular Now," draws inspiration from John Hughes and Cameron Crowe '80s teen flicks, to tell an unabashedly earnest tale of young love. In fact, Ponsoldt's movie is so unapologetically honest, that his lead actors don't even wear make-up. This decision keeps the picture grounded and relatable though, because when you see their imperfections up close, you actually feel like you're watching real kids in high school.
One of those kids is Sutter Keely (Miles Teller), a goofball slacker with a giant heart. Sutter is caring and lovable like Lloyd Dobler from "Say Anything," except he has zero ambition. He's an uber popular dude who doesn't take anything seriously, revelling in the here and now, washing it down with lots of booze. Life is peaches and cream for Sutter until his girlfriend (Brie Larson) dumps him for someone more focused on the future.
In his mourning period, Sutter meets Aimee Finicky (Shailene Woodley) a bookish, soft-spoken outsider who becomes the Diane Court to his Lloyd Dobler. At first Sutter sees Aimee as a pet project, someone who needs attention, encouragement, and friendship, but as he gets to know her better, he falls for her; and she for him. Sutter realizes that Aimee is beautiful inside and out and that she's fiercely loyal. He helps her to come into her own, however his penchant for drinking starts to rub off on her in a bad way.   
As you might expect, the two young lovers face trials which drive them apart, although their issues aren't caused by the typical traumatic events that teenagers endure. In this way it makes the conflict seem anticlimactic, however if you consider it for a moment, it's just a more tasteful approach. And while MAADD make have a problem with the amount of drinking and driving in the picture, Ponsoldt doesn't assume a judgemental stance against Sutter's behavior. It's portrayed as negative without getting preachy.
"The Spectacular Now" is co-written by Michael H. Weber and Scott Neustadter, the team behind "500 Days of Summer," and adapted from a novel by Tim Tharp. Unsurprisingly, the film contains the same type of beautiful highs and bittersweet lows as Weber and Neustadter's previous collaboration. It also has a cute awkwardness to the budding relationship piece that feels legitimate and a lingering tenderness that's most pronounced by its long fades to black. These fades work in the majority of the movie, but start to become overused toward the end. The teenage clumsiness becomes a bit protracted in an uncomfortable way as well, especially during the film's big love scene.
Before discussing the leads, it's worth noting that the adult characters portrayed passionately by Kyle Chandler, Jennifer Jason Leigh, and Bob Odenkirk add a lot of affecting emotional depth to the movie. The chemistry between Miles Teller and Shaleine Woodley is strong, so the development of their relationship feels just as earnest as the rest of the tale. Teller is charming and puts in a tremendous effort, but the real dynamite performance comes from Woodley.
Although Teller's character is the narrator, "The Spectacular Now" is clearly Woodley's film, as evidenced by her powerful performance and by the post-screening Q & A where Ponsoldt explained that her interest was the catalyst for finally bringing this project to fruition after years of development. Woodley's wonderful turns in this film and in "The Descendents" show that her career has incredible potential, so I'm definitely looking forward to where seeing what she does next.
My Grade: A...as in Amazing! A Must-Watch!
Look out for "The Spectacular Now" in theaters this August. IFFBoston continues through Tuesday April 30, 2013. For more information, visit www.iffboston.org.