IFF Boston Review: 'We Are Legion: The Story Of Hacktivists'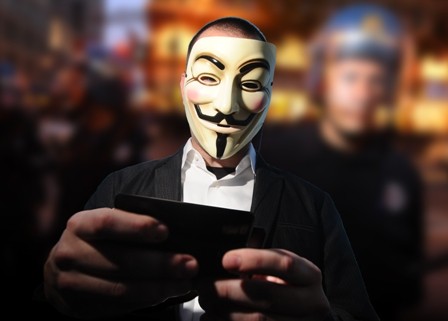 You don't have to be an internet nerd to appreciate Brian Knappenberger's entertaining and educational documentary "We are Legion: The Story of Hactivists."  That's because he thoroughly explains internet culture without being condescending.  If you do spend all your time online however, that will only add to your enjoyment of his film, since it is chock full of humor geared toward you. 
"We are Legion" explores the origins of computer hacker culture, concentrating most of its energy on the formation and impact of the hacker collective Anonymous.  Starting with the image board website 4Chan, Knappenberger describes the group's rise from anonymous joke posts, showing examples like "Over 9,000" that hackers could use to identify and communicate with one another.
Once Knappenberger establishes the foundation of hacker culture, he chronicles the politics of Anonymous from 2009 through the present.  He does this by using a solid mixture of interviews with internet experts, former operatives from the group, and disguised current members of Anonymous who have recorded statements via webcam.
In these interviews you're introduced to the idea of hacktvisim, i.e. using hacking as a means of civil disobedience.  Hacktivists utilize their skills to communicate a political message or to raise awareness about the dirty dealings of citizens and governments.  "We are Legion" makes you privy to ways hacktivism has been implemented against organizations that Anonymous felt were infringing upon freedom on the internet.
An upbeat electronic score keeps a high energy for the documentary, while rapidly shuffling tiles shoot across the screen during transitions, as part of a large mosaic.  Web aficionados will chuckle when they recognize the tiles as screenshots from various internet jokes like "LOLCats."  For non web savvy, Knappenberger defines terminology like "trolling" and showcases tools like the "Low Orbit Ion Cannon," which is used during denial of service attacks.  One of the interviewees even displays how someone could theoretically use the program to flood a website with traffic until it crashes.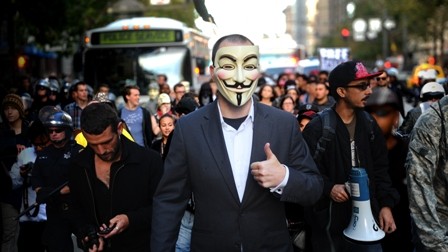 The documentary largely glorifies the exploits of hackers by showing the positive results of Anonymous and other hacker groups have achieved.  A poignant example is how hackers helped people in Egypt and Tunisia subvert government internet blocks to inform the world about the crimes and oppression by their leaders.   
"We are Legion" further celebrates hacktivism by describing it as a digital form of protest.  One expert even compares denial of service attacks to sit-ins that were used during the American Civil Rights Movement.  Knappenberger attempts to balance praise for hacking though, by exposing audiences to the harsh penalties imposed on those caught hacking. One young man spent a year in prison, while a young woman faces potentially 15 years behind bars.
There are really only two minor aspects that are bothersome about Knappenberger's documentary.  One is that he rather tenuously ties hackers to the Occupy Movement, and the other is that he doesn't indicate what the future might bring for hackers. These two bits aside, "We Are Legion" is a compelling film which attacks the negative stigma about hacking and should cause the average person to reexamine their opinions about hackers.  For anyone already part of the internet scene, watching "We are Legion" is a chance to see how hackers strive to keep the web open and free for all to enjoy.
My Grade: A
IFF Boston runs through Wednesday May 2, 2012.  For more information on the festival, please visit www.iffboston.org.