If You Work In R&D You Are 'Better Off Ted'

There are flashes of manufactured goods and a gentle female voice-over advertising a company called Veridian Dynamics. The commercial claims, "What we make, makes life better….usually," as video of missile destroying a bunker comes across the screen. The ending tagline says "Veridian Dynamics, Life. Better."
At first you think you are watching a really bizarre advertisement, then you realize that you're actually watching ABC's new comedy "
Better off Ted
." Each episode begins with an advertisement for the company prominently featured in the series, based on the theme of the episode.
Meet Ted (
Jay Harrington
). He is the narrator and main character, as well as the head of Research and Development for Veridian Dynamics. Ted is a problem solver, constantly faced with dilemmas brought to him by his boss Veronica (Portia de Rossi) like how to turn pumpkins into weapons or how to make use of mysterious fabric.
Veronica is cold and emotionless, dedicated to the company no matter what the cost. A great deal of humor comes from her awkward interactions and lack of emotion with the other characters. Veronica is constantly pressuring Ted to meet company expectations by making unethical decisions. As viewers we follow Ted on his quest to do the right thing, while he makes successful products with the help of his team.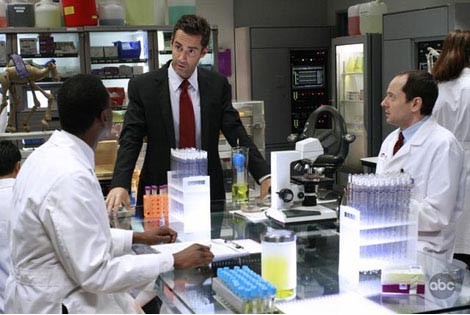 Better Off Ted © American Broadcasting Companies, Inc.
First, there is Linda (
Andrea Anders
), Ted's woman in charge of testing. Linda enjoys little acts of rebellion against the company she feels are justified like stealing creamer packets. Ted and Linda very clearly have a budding romance, which Linda tries to pursue but Ted attempts to fight, claiming he already used his one office fling sleeping with Veronica.
Ted also has a crack team of scientists named Phil (
Jonathan Slavin
) and Lem (
Malcolm Barrett
). Lem and Phil can solve any complex scientific issue, but they have been working together for years and as a result they argue hilariously like a married couple. One of their biggest disagreements comes in the first episode when Phil decides much to Lem's dismay, to let the company freeze him as an experiment.
Phil agrees to be frozen by the company for a year, but the experiment goes awry when employees moving his freezing chamber drop it and accidentally thaw him out prematurely. When he returns to work, he is plagued by ridiculous outbursts in which he stops what he's doing and screams at a very high pitch.
Veronica and other higher ups at Veridian believe Phil's outbursts are linked to the failure of their freezing experiment. She pressures Ted to fire Phil for his erratic behavior, claiming it will damage their productivity. Ted struggles with the idea of having to fire Phil, continuing to find ways to convince Veronica they can keep him around.
The most valuable asset in Ted's decision making process is his daughter Rose, who he is raising on his own. Ted confides his work troubles to her through scenes at their home. Rose's childlike innocence, and wisdom beyond her years constantly call Ted's ethical dilemmas into sharp relief, causing him to truly examine the conflict between his desire to do the right thing and his loyalty to the company. The series sets her up as Ted's moral compass and guide to making ethical decisions.
"Better off Ted" is a very funny and well-written show. The dialogue is snappy and delightfully self deprecating. Characters share awkward interactions that mimic real life office relationships, especially those involving sexual tension between male and female characters. The show's dark portrait of corporate America is made humorous by the absurdity of its characters their problems.
Sandwiched between "
Scrubs
" and "
Lost
" on Wednesday nights, the show has found a good time slot to attract viewers, who might already be tuned in for the other long-standing programs. If you enjoy the dark humor of shows like "
Arrested Development
," you'll feel right at home with "Better off Ted."
Story by
Evan Crean
Starpulse contributing writer